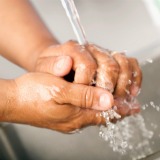 Hundreds of thousands of customers 'were badly let down' by their water supplier when the Beast from the East struck earlier this year.
In a damning review, regulator Ofwat concluded that many water companies did not provide "the service that customers deserve" with Severn Trent Water, South East Water, Southern Water and Thames Water emerging as the biggest offenders.
The thaw from the heavy snowfall in late February and March - which caused widespread leaks and bursts in water mains and pipes - left 200,000 homes in England and Wales without water for at least four hours and more than 60,000 high and dry for several days.
Ofwat announced it was to quiz water firms over the shortages earlier this year to, it says, "make sure lessons are learned and changes take place so that things are better for the future".
"Customers were effectively left to fend for themselves"
Ofwat's report summarises the widespread disruption to people's lives including: "radio silence on what was happening, businesses shut down and customers forced to make long journeys to pick up bottled water", and it also criticised water companies for not doing enough to support their customers.
Its chief executive Rachel Fletcher said: "The freeze and rapid thaw earlier this year was forecast and was not unprecedented. Too many companies were caught off-guard and let people down, causing real hardship as a result. Our report shows there is no excuse for this level of failure."
She added that customers were "effectively left to fend for themselves".
The regulator has written to each of the 17 water providers across England and Wales with actions it expects the companies to address with the worst four performers - Severn Trent Water, South East Water, Southern Water and Thames Water - to publish plans by the end of September.
If you were affected, your provider should already have issued compensation. For more info see our Homes left without water MSE News story including what to do if you feel the compensation you were given wasn't adequate.