Ryanair increases baggage fees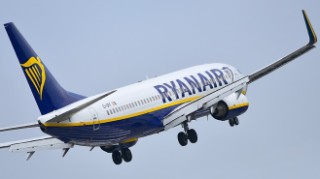 Ryanair has raised the cost of flying with a 10kg bag by hiking hold luggage and priority boarding prices, after twice cutting its cabin baggage allowance last year.
Passengers now have to pay between £6 and £10 to get priority boarding, which is now the only way you can take a 10kg wheelie bag into the cabin – previously there was a flat fee of £6. And checking your 10kg bag into the hold will now set you back between £10 and £12, up from £8.
Since last November, Ryanair customers have only been allowed to take one handbag-sized bag into the cabin with them for free, after the airline changed its baggage policy for the second time in a year.
The change comes as Ryanair continues to face criticism from passengers who claim they've been unfairly charged name-change fees for incorrect surnames on their bookings despite them having correctly entered their details. MoneySavingExpert.com founder Martin Lewis today called on Ryanair to refund affected passengers.
Master the airline's mega-strict rules for cheap flights with 20 Ryanair Tips.
How have prices increased?
Ryanair hasn't officially announced the price increase, but its website appears to have been updated last week with the higher costs. Here's what's changed:
Priority boarding, which allows you to take a 10kg bag into the cabin, now costs between £6 and £10. It's not clear whether this price varies by date, destination or some other factor – we've asked Ryanair and will update this story when we hear back. But the price will be the same regardless of when you purchase – previously Ryanair charged a flat fee of £6 at the time of booking or £8 afterwards.
Checking in a 10kg bag now costs between £10 and £12. Again, we don't know what determines the exact price, but the cost won't be affected by when you pay. Previously there was a flat fee of £8 at the time of booking or £10 afterwards.
Printing your boarding card at the airport now costs £25, up from £20.
What are Ryanair's luggage rules?
Ryanair first shook up its baggage policy last January, making passengers who didn't pay extra put wheelie bag-sized hand luggage in the hold when they got to the gate. It then tightened up the rules further in November – since then, passengers have had to pay extra to take anything bigger than a handbag onto the plane, even in the hold.
It's worth familiarising yourself with the new policy, as if your hand luggage is too big when you arrive at the airport you'll need to pay £20 at the bag-drop desk or £25 at the gate to put it in the hold.
The current rules are:
Non-priority customers can only bring one free small cabin bag onto the aircraft measuring 40cm x 20cm x 25cm (around the size of a handbag or laptop bag), which must go under the seat in front of them. They don't get a second bag free of charge.


If you pay between £6 and £10 for priority boarding you can bring a 10kg wheelie bag into the cabin, as well as a small bag. You're also able to use the priority queue.


If you want to put a 10kg wheelie bag into the hold instead you can pay between £10 and £12 to check it in during the flight.


If you've more luggage, you can pay £25 to check a 20kg bag at the time of booking, or £40 at any point after booking.
What does Ryanair say?
We've approached Ryanair to comment on the increased fees, and will update this story if we hear back.
What to read next...
For more help with mastering rules and fees when travelling, see:
For all the latest deals, guides and loopholes simply sign up today – it's spam-free!
Join the MSE Forum discussion