13 cheap or free kids' book tricks
We're going on a bargain book hunt! To mark this week's World Book Day (5 March), we've rounded up 13 free and cheap ways to turn your little ones into bookworms.

Whether your child reads more than Matilda, or needs a little nudge, you don't need to be a Billionaire Boy to fill your home with wonderful books. Our tricks include tokens for freebies, how to listen to pricey audiobooks for free and free books every month for some under-fives.

If you or your Little Women (or men) have any more tricks to get books at Gruffa-low prices, we'd love to hear them. Please Poppins them in the comments below (last pun, I promise):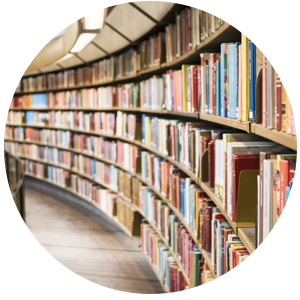 Love your library
Of course, one of the easiest and cheapest ways to fuel your child's reading habit is a trip to the library (find your nearest). Why not build it into your weekly routine, for example, swap books every week before Brownies, Cubs or swimming?
These days, many libraries have a wealth of free e-books and digital audiobooks, and you can also reserve or renew online with a few login details.
It varies by local authority area, but most under-16s do not pay library fines. Though with your adult card you will, so make sure kids borrow the books under their own names.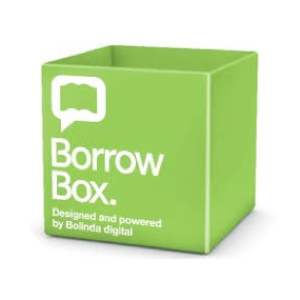 Enjoy 100s of best-selling e-books and digital audiobooks for FREE

Many libraries allow access to a vast catalogue of adults' and kids' e-books and digital audiobooks for free. I especially love the audiobook service, as you can often borrow the same book with the same narrator as you'd find on Audible.
As an example, our local library in Essex uses a brilliant app called Borrow Box. All you need is a login, then you can borrow up to seven audiobooks and seven e-books at a time from a selection of hundreds. You may need to wait a month or so to 'borrow' popular books if there's a queue, but often there's not.
My daughters' – and, who am I kidding, my – current favourite is the audiobook of Mummy Fairy and Me by Sophie Kinsella. Other kids' audiobooks we've seen include Noughts & Crosses, Captain Underpants and The Dinosaur That Pooped a Planet.
It's worth noting you can't usually read library e-books on a Kindle (except for the Kindle Fire tablet, as you can download the Borrow Box app on to it). You'll need a compatible device such as an iPhone, iPad or Android phone/tablet.
All libraries are different, but every one we checked had some kind of digital service, so it's widespread. The best thing is to head down to your local one to see what's on offer.
Sift through charity shops for second-hand bargains
Charity shops are an Aladdin's cave of cheap children's books. We've bought armfuls of books from our local Save the Children at 50p each.
Your money goes to a good cause, plus it's green and teaches kids to recycle and reuse. Some charities even have specialist book shops in some areas, including the British Red Cross, National Trust and Oxfam.
To take home the best tomes, establish a rapport with your local charity shop volunteers. If you're looking for a specific author, it's worth asking if they've any new donations out back. See our Charity shop bargain-hunting tips blog for more ideas.
Other top sources of used books include eBay, Facebook Marketplace and Freecycle.
Grab one of 12 FREE kids' books with a token, including Dog Man
Each year, the World Book Day charity dishes out free book tokens, which your child can swap for one of 12 selected books, including Dog Man, Supertato, Amelia Fang and Evie in the Jungle (see this year's full list). Or, if there's nothing on the list they fancy, you can use the token to get £1 off any full-price book instead. You can only use one token per book though.
All you need to do is take the token to a participating bookseller – which include many supermarkets and branches of WHSmith – before closing time on Sunday 29 March. World Book Day itself is on Thursday 5 March.

The majority of schools are registered to get the tokens for a free book or £1 off, so have a rummage in your little one's school bag if you haven't seen one.
If you're buying one anyway, McDonald's Happy Meals will also have the same World Book Day tokens included on the outside of the box until Tuesday 17 March.
Get a free Braille or CD book from RNIB, incl Bing's Splashy Story
To celebrate World Book Day, the Royal National Institute of Blind People (RNIB) is giving away thousands of books in Braille and audio CD to children with vision impairment across the UK.
Kids can choose from 13 titles, including Bing's Splashy Story, The Day We Met the Queen and The Kissing Booth (see full list). To order yours, call its helpline on 0303 123 9999 or email helpline@rnib.org.uk. You need to apply by Tuesday 31 March. RNIB produces the books on demand, so says there's plenty of availability.
Children with vision impairment can also join the RNIB's free library. The service features 60,000+ items, including Braille and giant print books, as well as audiobooks on CD and USB stick. Items are delivered free by post. There's also an app that lets you access thousands of digital audiobooks.
To join, call its helpline on 0303 123 9999 or you can print and post a registration form.
Pick up cut-price collections, eg, 10 books for £10
Online booksellers The Works and Scholastic do cheap bundles where the price is much less than if you bought copies individually. These can make a fab alternative to plastic-filled party bags, or even sweets at Halloween (you'll be the most popular house in town).
For example, Scholastic has 10 Little People, Big Dreams books for £25.99 with free delivery (£2.60/book). The books are normally £5ish each when bought separately elsewhere (it also gives a donation to your chosen school). Alternatively, The Works has 10 picture books for £10, including some Large Family ones, though delivery's £2.99 unless you collect for free.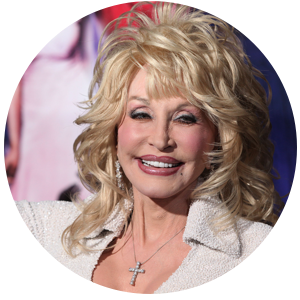 Some lucky under-fives can get a free book every month... from Dolly Parton
If you're lucky enough to live in an area where this generous scheme runs, it's well worth signing up to the Imagination Library.
Dolly Parton's Dollywood Foundation charity sends all children who live in those regions a free book by post every month until they turn five, including The Tale of Peter Rabbit.
The scheme runs in 200 districts across the UK, including Aberdeen, North Lincolnshire and Southwark. Enter your postcode online and if eligible, you'll be asked to give your details to sign up. If your child's already a member, we'd love to hear what you think.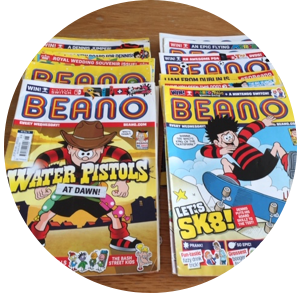 Buy bundles of second-hand comics, eg, 50 Beanos for £7.50 (15p each)
Magazine subscriptions are brilliant, but the cost can add up if your kid whizzes through them. So head over to eBay, where you can often pick up huge bundles of pre-loved comics for a few quid.
I recently bought 50 copies of the previous year's Beano for £7.50 (15p each, see photo). The paperboy 'delivers' an old comic to our house at the same time as the weekend paper, which makes it all the more exciting.
We've also seen 28 issues of Horrible Science magazine sell for 1p (yes, 1p) and 12 issues of National Geographic Kids for £10.
Snuggle up with a free story-telling session
Many Waterstones branches run free weekly story-telling sessions, often with free colouring afterwards. Sometimes you even get a visit from the author. For example, the Enfield branch has a pre-schooler session on Mondays and St Andrews a storytime session each Saturday.
Other stores have special one-off World Book Day sessions with readings of everything from Zog to Izzy Gizmo. It varies by location – search on Waterstones for your nearest event.
Most local libraries run regular free fun sessions too, such as 'rhyme time' for toddlers and author visits for older kids. Our local independent bookshop runs similar events – following the social media pages of libraries and shops is a great way to stay up to date.

Got a printer? Make use of free 'bookish printables', including free personalised storybooks
The internet is a treasure trove of free literary activity pages to print off online. Check out the National Literacy Trust and HarperCollins for tons of fun options.
I love these free personalised colouring storybooks for siblings from Hooray Heroes. Just pop in your kids' names and details, and it emails you a lovely personalised book to print.
Get 1,000s of free Kindle classics, eg, Treasure Island
Got an old Kindle knocking around? E-readers can be a great way for older kids to get access to thousands of free classics alongside the many e-books you have to pay for.
Amazon is heaving with Kindle books that are permanently free, from Treasure Island to Alice's Adventures in Wonderland to Grimm's Fairy Stories. Most are out of copyright because the authors are long dead. See Amazon's list of free classics.
If those don't quite match your child's virtual to-read pile, our 11 cheap Kindle book hacks blog has more tricks, including how to get any book from the Harry Potter series for free.
A date for your diary – take the Summer Reading Challenge
The Reading Agency charity's Summer Reading Challenge 2020 hopes to inspire children aged four to 11 to read six library books over the school summer holidays.
Just sign up for free at your local library. The vast majority in England, Scotland and Wales are taking part, but check with yours. This year's challenge is called 'Silly Squad' and will be a celebration of funny books.
The challenge starts in England and Wales on 11 July 2020, and Scotland on 20 June 2020. It's not on in Northern Ireland, unfortunately. Local variations can apply, so check with your library.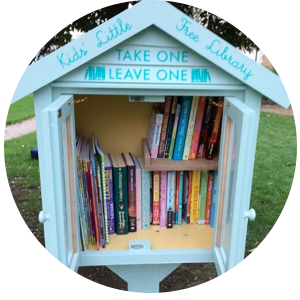 Borrow from a 'Little Free Library'

The Little Free Library project is run by volunteers across the globe. It's a community book exchange where anyone can leave a book or borrow a book – and children's titles often pop up.
There are now 50 of the tiny hutch-sized libraries in front gardens, playgrounds, phone boxes and bus shelters across the UK. For more details, see MSE Rhiannon's Little Free Library blog.
My friend Krystyna runs a tiny cheery yellow library from her front garden:
We love our Little Free Library. As well as doing our bit to promote literacy, it's a great conversation starter with neighbours! My kids love to excitedly tell me when they spot someone having a rummage or donating a book. It's such a lovely community initiative.
Join the MSE Forum Discussion
Have your say
This is an open discussion and the comments do not represent the views of MSE. We want everyone to enjoy using our site but spam, bullying and offensive comments will not be tolerated. Posts may be deleted and repeat offenders blocked at our discretion. Please contact fbteam@moneysavingexpert.com if you wish to report any comments.