Free or cheap Easter kids' activities
Including cheap Easter baking, make your own 'Play-Doh', virtual tours and family movies on free TV
All of these ideas you can do from home or the local area, and where you need ingredients or materials, we've tried to pick things that you'll hopefully already have to help keep the costs down. So... let's get cracking!
Is it even Easter without baking? If you have a bit of flour, margarine and sugar then you can make cheap vegan biscuits using this BBC Good Food recipe. You could always make them more egg-citing by using a little bit of orange or lemon zest, or whatever flavouring you can get your hands on.
TOP TIP: Halve or quarter the recipe if you don't have enough flour (or enough of a substitute ingredient), or if you just want to save a bit more money by using less. You'll still get some biscuits to decorate and eat at the end.
If you don't have decorating icing, you can colour some white icing with food dye, put it in a sealable sandwich bag and snip off the corner to make your own.
Chocolate nests – cheap and simple to make, and good if you've no flour
There are a number of ways you can customise a chocolate nest recipe, such as the one at BBC Food. You can use shredded wheat, popped rice or cornflake breakfast cereals if your usual choice is sold out. You can also use whatever chocolate you have, and replace the butter with margarine or even oil if need be. As long as an adult melts the chocolate, kids can get involved with every other stage quite easily.
TOP TIP: If you've an egg-shaped chocolate mould, you can make your chocolate 'nests' into egg shapes directly – good if you can't get shredded wheat or cornflakes for some tasty rice krispie chocolate 'eggs'.
25+ family movies on free-to-air TV including The Lion King, Matilda and Ice Age
There's a good selection of movies on TV this Easter for when the kids take a break from arts & crafts, or when you need a break from the kids. Below is a day-by-day round-up, including a mix of family movies that are on free-to-air TV, plus some that require a paid subscription such as Netflix or Prime.
Ikea free in-store Easter activities for the kids'
If you go to the Ikea 'Store Events' page and select your local Ikea, it'll bring up all of its in-store events. When we checked on Tue 12 Apr, events included a free 'Easter children's crafting' session at the Birmingham store, a free 'Eggstravaganza trail' (where you'll be given clues to find all seven hidden Easter eggs) at the London Wembley store, and a free 'Easter wreath making' session at the Cardiff store.
It's worth double-checking the event information as some will ask you to pre-book as there are limited spaces but others will show 'no registration required'. We expect these events will get booked up quickly, so go quick if you see one the kids' would like to go to.
Kids' eat for 'free' or '£1'
If you're planning on taking the kids' out for some lunch over half-term, we've a round-up of kids' eat for 'free' or '£1' restaurant deals to help keep the costs down.
Make your own 'Play-Doh' salt dough to save on the branded cost
Branded Play-Doh usually costs about £4 for a pack of four 112g tubs, but you can easily save money by making your own playdough. You only need four common household ingredients (vegetable oil, plain flour, table salt and food colouring, plus warm water), which should cost about £3 total, and you'll be able to make more than four small tubs, so you'll save money in the long run. You can use an online recipe, such as BBC Good Food's playdough recipe.
TOP TIPS: Use less food colouring to make a lighter shade, for example, make pink playdough with a small drop of red food colouring. It's probably best to make lighter colours anyway, as the salt dough can stain clothes and other soft furnishings.
MSE Rhiannon warns not to let the kids loose with red food dye. Her dad still has nightmares about the time her sister got hold of red food dye – literally catching her red-handed.

Free virtual museum tours including the Natural History Museum and Anne Frank House
Some of the most famous museums in the world offer free online tours, where you can take a virtual 'walk' around the exhibits, as if you were actually there. Here are a few of the top tours...
London's British Museum covers the history of cultures across the world. You can take a virtual walk through the museum at Google Arts & Culture, or take a look at this interactive timeline dating back to 2,000,000 BC, where you can select various artefacts that are housed in the museum and learn more about them through images, text and audio.
The ecology of African elephants, the skeleton of a massive sea turtle, human evolution, and of course dinosaurs are just some of the exhibits in this Washington DC museum. You could spend a lot of time in here as it's a biggie, spanning three floors. As if it were Night at the Museum, you've got the whole place to yourself, even the empty café… which seems a tad odd, but it does contain a jaws-dropping 52-foot-long model of a mega-toothed shark.
We're now into spring, and for families that often means a trip to the local open farm for a peek at some cute little lambs and other farm favourites.
Animal Farm Adventure Park in Burnham-on-Sea gives a virtual tour on its Facebook page or YouTube channel, introducing us to its resident animals – including pigs, llamas, George the raccoon and triplet lambs (all together now... "awwww"). Here's one of its videos...
Compare the meerkats and more animals at Chester Zoo with free virtual video tours
For more exotic animals, you can find virtual tours around Chester Zoo introducing its red pandas, Asian elephants, tigers and more. Check out all the past virtual zoo days at the Chester Zoo YouTube channel:
Here are the baby meerkats...

Baby meerkats eating breakfast at Chester Zoo
Embedded YouTube Video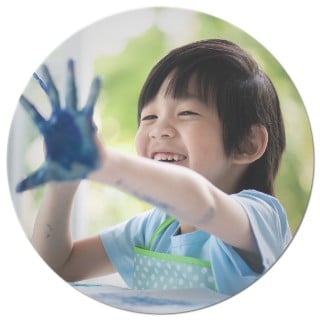 Easter baskets are another popular festive craft, and there are a few quirky ideas at Good Housekeeping which use common household materials, so you shouldn't need to buy anything special. Raid your recycling for empty jam jars and you'll be able to make a decent Mason jar Easter basket.
Of course, you can use anything you have, like a clear plastic bottle or other recycling to make Easter baskets – just make sure to tape any sharp edges if you cut anything up to use before your little one gets involved. You can even paint your old yogurt pots to look like these Micky and Minnie Easter baskets – great fun if you're planning an at-home egg hunt (see below).
Free printable Easter colouring page and card... or make your own
If you're feeling really creative, have a go at designing your own card with the kids – it's fun and MoneySaving, too. Have a look around the house for items you can repurpose. A good place to start is the recycling bin – just don't let the lil' darlings raid your stash of expensive headed paper you use for work.
For some inspiration, here's the card MSE Jules made from coloured paper, a black Sharpie and double-sided sticky tape:
TOP TIP: Reuse cut-outs from any past Easter decorations you've squirrelled away.
At-home Easter egg or scavenger hunt, including free downloadable clues
A big part of Easter is the fun of a scavenger hunt! You can always hide small chocolate eggs in foil around the home, or if you've not got any eggs, why not use small toys or other treats instead? If you already have reusable plastic eggs that pop apart (think the inside of Kinder Surprise eggs), then you're set – but otherwise small Tupperware or plastic food containers filled with snacks, choc, small toys or even jokes would work.
Hobbycraft has free clue sheets you can print to help you set up the hunt, or they're eggs-tremely easy to make yourself if you've got paper and pens.
What are you planning to do with the kids over Easter? Do you have any top Easter craft ideas? Let us know in the comments below, or on Twitter.