My 13 lucky years at MoneySavingExpert.com are ending – a sneak peek inside MSE Towers for the highs, lows, laughs and when I sabotaged Martin Lewis's blog
Today is my final day as deputy editor of MoneySavingExpert.com, the biggest website dedicated to helping everyone save money and fight for financial justice in the UK.
I'm proud to have spent almost 13 years at an organisation which does what it says on the tin, or in web speak, what it says on the masthead: "Cutting your costs, fighting your corner".
So I thought I'd pen some thoughts about my time, but this blog isn't just about me, it's mainly about life at MSE Towers (albeit somewhat virtual MSE Towers more recently) to give you an insight into how we operate to help save you money. But I'll do it in a series of short stories from my perspective in what will be the final time I can say "we" to describe what MSE produces, before I embark on an exciting new role elsewhere...
'Helping people is more important than telling a story.' Martin's wise words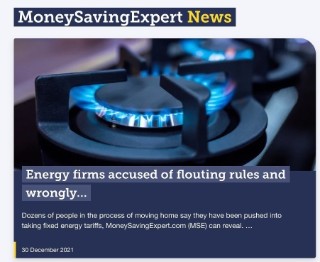 One of my earliest memories, having joined as news editor in early 2009 to launch MSE's now hugely successful news service, was Martin Lewis coaching me to try to ensure every story or piece of content I created, edited or commissioned was something people could act upon to save money, make the most of their money or claim what they were due.

Where that wasn't directly possible, such as regulatory announcements, it needed to at least explain what it means for the reader, listener or viewer.
I had spent a year before joining MSE as an assistant producer on Martin's It Pays To Watch series on Channel 5, but before that I worked as personal finance reporter at the Daily Mail and at two newspapers for the financial trade, as well as occasional football reporting.
So my background was in breaking news stories and telling interesting tales. This was different to MSE's sharper focus on giving you news you can use for your financial benefit. Don't get me wrong, the Daily Mail's Money Mail section had much of that ethos too, but not with the same single-minded focus on helping people as at MSE.
And that is really important to understand when you use the site – everything we've done is with an eye to helping our millions of users save money. I know from the thousands of thankful emails and social media posts over the years that we've done that, and from the many surveys that have placed us among the most trusted brands in the UK.
We haven't always been perfect, but even when I or others have occasionally slipped up you can be sure our intentions were always to help you.
The day the Prime Minister delayed my Morrisons meal deal lunch – and the day the power of MSE hit home
It was just a normal Friday in our former Shepherd's Bush office one October day in 2011 when everyone was thinking about their weekend plans, until one of the team said something like: "Guy, there's a call for you." I replied: "Sorry, can you tell them I'm going for lunch, I'll call them back." She said: "It's David Cameron's office."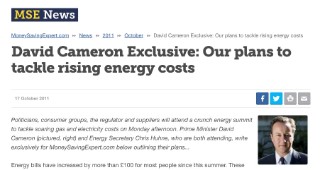 I thought it was probably the right thing to delay my trip to Morrisons and yet another cheese sandwich to answer a call from the then-Prime Minister's team. He was about to announce moves to tackle rising energy costs (oh, the sad irony given today's dire energy market) and wanted to do so via a comment piece on our news pages which I was in charge of.

I'd been at MSE just over two and a half years by then, but that was the day the penny dropped for me about the incredible influence we had. Martin probably knew it as the founder, but I perhaps didn't.
The day I was mistaken for the head of the British Parking Association – while bashing parking firms on TV
There are few more annoying things (as first world problems go) than a dodgy parking ticket.
At MSE, we campaign hard to uphold your rights on appealing unfair tickets from councils and private firms, which is why many other media outlets turn to us for our views when they cover similar stories.
One such time in 2014, I got a call from the BBC and made my way to its central London studios to do a regular interview on the balcony overlooking its giant newsroom. By that stage, I had moved from being news editor to managing editor, and with that promotion came more broadcast opportunities, which have continued as I got promoted again a few years ago to deputy editor (my current role).
I cycled back to the office afterwards thinking it felt like a good, normal interview with no dramas, where I had made the key points I wanted to make to help people fight unfair tickets.
But later that day I got a message from a friend who had seen me, with a screenshot of me but with the name Patrick Troy under my face on the screen, while then-British Parking Association chief executive Troy was named as Guy Anker. However, I can assure you I'm the younger looking one of the two below and I'd never defend unfair parking tickets, that's for sure...
The other error is that I was down as an 'adviser', but I'm certainly not one, I'm a journalist. But, hey, like I said above, no one is perfect and we all make mistakes!
The day we stopped a huge potential fraud at Halifax – and we broke the news ethically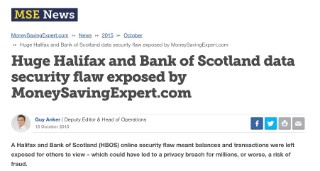 In a recent training session for some of our newest recruits, one of them asked me what the best story I ever wrote was. I picked this story from 2015 of how we uncovered a huge flaw in Halifax and Bank of Scotland's security systems after a tip-off.
That in itself was a big deal to report, and when we did, it was widely picked up elsewhere as you would expect.
But we only reported it once we had alerted the sister banks and they had the chance to shut that loophole that meant balances and transactions were left exposed for others to view – which could have led to a privacy breach for millions, or worse, a risk of fraud.
When we were assured it was fixed, we published, as we knew there was no risk of someone using the info to commit a fraud. Even though other news outlets may have done the same, I'm not sure everyone would have.
So we not only broke a big story, but we did it the right way, and it's more proof of us sticking to our mantra of always helping our users before any other consideration.
The low point: The pandemic – and how we worked day, night and into overtime to help millions through financial pain
I don't need to describe the pandemic or its financial consequences to you, but from an MSE perspective we, like everyone else, have never known a time like it.
I was actually working on it in the early weeks from Dubai, as my wife and I got stuck there while we were visiting her parents in March 2020. Luckily, I had taken my work laptop with me.
While the MSE team was as worried as everyone else about our health and that of our families, I've never seen a group of people work so hard and with so much dedication to turn complex announcements into easy-to-digest guides on the financial implications of the pandemic, and it all still goes on today as you can see from our many Covid guides.
Of course, we were the lucky ones, all still employed and not impacted by the redundancies so rife elsewhere, so this is no sob story.
Instead, it is to document what an amazing team I've had the pleasure to work alongside. They worked all sorts of hours to dissect seismic Government announcements and present them in plain English and in a structured format that is easy to read – perhaps the biggest challenge for any personal finance journalist.
They were the sorts of announcements you'd normally get once a year, but we were getting them at 5pm every other day it seemed (though for me it was 8pm), and had to turn them round quickly for people to be able to speedily know what it meant for them, as so many relied on MSE for help.
Whatever words I use, I cannot do the team justice, as you had to witness or hear it to truly understand.
And finally… a confession: The day I sabotaged Martin Lewis's blog (sorry, boss)
I'm going to end on a confession. It's not my only confession in my time at MSE, as I once had to admit that while a student working for a major bank in its call centre I was asked to mis-sell PPI (it's worth a read for the appalling practices I witnessed).
This confession is more a bit of fun. Back in April 2012, Arsenal beat Manchester City 1-0 thanks to a late goal from now-Arsenal manager Mikel Arteta.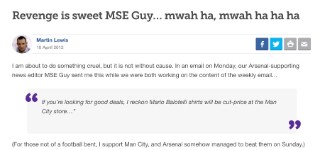 I (an Arsenal fan) sent Martin (a Man City fan) some friendly banter on the back of it, about the fact then-City forward Mario Balotelli got sent off late on in the game. Martin got me back with this fun blog which centred on a rather unfavourable picture of me running in a half-marathon. Anyone who's run long distances probably has a similar horror in their digital or physical vault too.

Though if you click to it now, you'll notice that picture has mysteriously disappeared, and this is my confession. Sometime shortly afterwards (I can't remember when), I went into the image system at MSE and deleted the original picture, so it just appears as a blank in the blog that is live to the world. I guess you could call that revenge on revenge, but all in the name of friendly banter.
PS: Let's not talk about the Arsenal-City game last weekend, as it didn't go quite as well!
Now time to say thanks to the many friends and colleagues I've met along the way
That final tale leads me into something a little more serious, and that is a thank you to so many great people I've come across at MSE.
Let's start with the man you all know, Martin. He had the vision to make MSE what it is today and continues to set the tone, and his energy is incredible. And as announced a few days ago, he's now deservedly a CBE.
Martin has not just been a boss but a friend too, given we can have a laugh like we did with the football, while he was a witness at my wedding a few years ago. Martin took a chance on me to launch our news service in 2009 when he could have gone for someone with more experience, at a time when I'd otherwise have been looking for work given It Pays to Watch had come to the end of its cycle with Channel 5.
That was during the financial crisis when jobs in our industry were not easy to come by, and without that faith I don't know where I'd be now. Martin's mantra is to help people through his work – I'm one of those beneficiaries.
I also want to say a big thanks to our current editor-in-chief and my line manager Marcus Herbert, who is a role model when it comes to organisational leadership to help the team make the most of their abilities – I'd like to think I'm one of those who have improved under his wing, but that is for others to judge.
Former bosses Jason Mills and Andy Hancock (who have both now departed MSE) were similar influences for me. Other former MSE colleagues Archie Luthra, Neil Lock and Kirsty Good have become good friends over the years, after they made huge marks at MSE too.
And I leave MSE with an amazing team in place, as I'm sure you've gathered. Our now-former money editor Helen Saxon was promoted to deputy editor this week, and MSE is in great hands with her in place, and she is someone I will miss working with. You'll struggle to find many people more knowledgeable about the subjects we cover than her.
The problem with naming more names is I'll invariably leave people out, so I won't mention any more from a work perspective, though there are many to thank which I'll do personally.

But I will say I'll miss video and social media manager Anthony Sahdev texting me every Tuesday to celebrate us having got the latest MSE Money Tips email out – Tuesday nights are a big night at MSE Towers and today, my last day, had to be spent getting this week's version out.
I will also miss celebrating and bemoaning the football results with fellow Arsenal fan Gary Caffell, Rhiannon Moorhouse's tips to help me give up eating meat, talking to Tony Forchione about his home town (where my wife is from), sharing links about space and the universe with Katie Watts, and Chris Dickens's almost hourly offers of a cup of coffee when we were in the office (sorry Chris if I didn't offer enough back, though it's hard to keep up with your generosity!).
MSE is a lovely place to work, especially as you can hold your head up high that you're doing the right thing. But after so long, I needed a new challenge and I have a really exciting new role starting in a few days at another organisation with similar values and with some great people which I am very much looking forward to getting started with. But I'll always look back on my time at MSE with fond memories.