Cutting small business energy costs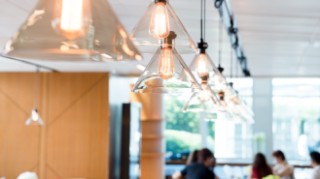 If you run a small business, then just as with domestic energy, it's possible to switch tariff or provider to slash costs. However, unlike with household energy, tariffs are generally bespoke and can vary hugely – it's all about ringing around with a bucket-load of chutzpah and haggling the best deal.
How much can I save? Depending on the size of your business, the savings can be huge. Some are able to slash £1,000s off bills by switching – but because quotes are usually bespoke, it's impossible to quote typical bill prices. On average, however, small businesses spend approximately £5,100 on electricity and £4,100 on gas per year.
A 2015 investigation by the Competition and Markets Authority revealed that around 40% of businesses haven't switched in the past five years, and 39% have never switched, so many could be overpaying massively.
One small office-based business in west London currently has an annual electricity bill of £3,100/year, due to rise to a hefty £3,500/year upon renewal with its current supplier. First, an online quote cut this down to £2,830/yr. Then, after hitting the phones, boom! A spot of haggling cut the cost to just £2,650/year – a whopping £850/year saved in just a few minutes.
How do I compare prices? Always get a breakdown of unit rates and any standing charges (the cost of having an energy supply, much like line rental is the cost of having a phone line and you pay extra for calls). This'll make it easy to compare what you're being offered – an estimated annual cost isn't as much help as estimates of annual use can vary.
How do I nail the best price? Unfortunately, to find the biggest savings you're going to have to put in the legwork.
First benchmark a price online. Many of the comparison sites which say they'll let you do a comparison online for business energy will actually only offer you an indicative quote and you'll still have to call for a precise figure. A few though, such as Energylinx, will let you complete the switch online and so will give you a more precise quote. Use them to get a benchmark price.

Then hit the phones. A number of brokers check prices across a range of providers – it's worth trying a couple, as they cover different suppliers and may be willing to undercut each other.

We like Business Juice* as it covers a decent 30 providers and you can get a £50 Amazon voucher per successful switch via our blagged link. Make It Cheaper* is also strong – covering around 19 providers and you can get £30 cashback per successful switch via our blagged link, regardless of the number of fuels switched.

Haggle, haggle, haggle. The key to getting a better price is to haggle on the phone – it's really a case of who dares wins. Haggle with the brokers, but try haggling directly with providers, too – they may be willing to beat the brokers' best offer, as they won't have to cough up any commission. We've some haggling tips to help (these are geared towards other utilities, but it works the same way).


It's worth noting that some providers only supply certain types of business, and always remember comparison sites and brokers may prioritise the offers they give you based on who pays them what.

PS: You can't haggle with domestic energy – Ofgem rules mean it's impossible. All tariffs need to be available on comparison sites, which means suppliers can't offer bespoke deals. Business energy brokers aren't regulated in the same way though, so the field's wide open.
Can I get a fixed tariff? Yes – in fact, it's the norm. Typically you can get a one, two or three-year fix, but it varies by supplier. Generally speaking longer fixed terms are more expensive, but they protect against future price rises. Some suppliers also offer variable rates, which are generally pricier, but they're not as common as they are with domestic energy tariffs.
Should I go for a dual fuel tariff? Trick question – you can't. Unlike with domestic energy, you don't get business energy tariffs covering both gas and electricity, so you'll have to get separate quotes. But before signing on the dotted line it's always worth checking whether you can squeeze a further discount out of a provider if you get both fuels with them.
What do I need to watch out for? There are three key things:
Once you've signed a contract, there's usually NO cooling-off period. So make sure you're happy with the deal and read the full terms and conditions before committing.

With all business energy deals, you're locked into a contract. You can't usually switch mid-contract – though if your business moves or go under, you can cancel penalty-free.

Many deals automatically renew after a certain period, potentially locking you into another contract. If so, then before your deal comes to an end, you'll have a limited 'renewal period', typically between one and six months. Make sure you arrange a new deal then.
What if I work from home? If you're not working from business premises, then you won't be able to get a business tariff unless a substantial proportion of your energy use is for your business (generally the threshold's 50%).
If you're not using that much, then switch to the cheapest domestic provider for gas and electricity. Our Cheap Energy Club compares all the tariffs on the market – it'll show you your cheapest and then handle the switch for you. Plus, don't forget you can usually deduct a proportion of your household bills as a business expense.
Join the MSE Forum Discussion