Find HIDDEN supermarket discounts in the 'world foods' section – up to 70% off herbs, spices, sauces & more
MSE Update Tue 19 Jun 2018: Although we first published this blog last year, we've updated all the prices below and the general principle of cheaper versions of the same and similar products in different aisles of the same shop still stands.
We've been digging through the shelves of ethnic groceries at four supermarkets – Asda, Morrisons, Sainsbury's and Tesco – and found cooking sauces, dried herbs, spices and more up to 80% cheaper gram for gram than essentially the same product, in different packaging, in a different aisle of the same shop. In some cases, you get a bigger product at a cheaper price, so switching can be a no-brainer.

Plus, the world foods aisle's mostly branded goods. Okay, in the UK we might not know them as well as Uncle Ben's or Dolmio, but, for example, we spotted Lee Kum Kee oyster sauce among the the world foods – a leading brand from Hong Kong, so arguably a more authentic product – cheaper than own-brand equivalents.
What we found in the world foods aisle…
Further down this blog we've more examples in a comparison table, but here's a quick illustration of the sort of hidden bargains we're talking about:
– Rajah ginger (left image below) is 50p for 100g in Asda's world foods aisle, while in a different aisle, Asda's own is 45p for 28g. The big pack's 69% cheaper per gram.
– Coco Fresh coconut milk (right image) is 75p for 400g in the Tesco world foods aisle, while Tesco's own-brand is £1.45. Almost twice the price for the same quantity.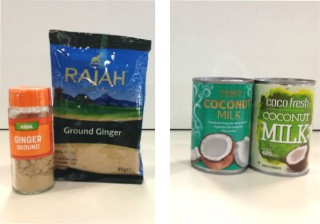 This was the trend across many items we checked at all four supermarkets. In some cases, you initially pay more in world foods but get a bigger product that saves money in the long run. Luckily, most are foods that'll keep well once opened.
Here are a few more examples we spotted when we last looked on Tue 19 Jun:
Product (supermarket)
Product Price

World foods aisle

Other aisle¹

Ground coriander (Morrisons)

64p for 100g

80p for 36g (£2.22 per 100g)

Fish sauce (Morrisons)

£1.50 for 725ml (21p per 100ml)

£1.68 for 100ml of Blue Dragon

Ground ginger (Asda)

50p for 100g

45p for 28g (£1.68 per 100g)

Soy sauce (Asda)

£1.29 for 500ml (26p per 100ml)

£1 for 150ml of Amoy (67p per 100ml)

Oyster sauce (Tesco)

£2 for 510ml (39p per 100ml)

£1.90 for 150ml (£1.27 per 100ml)

Bay leaves (Sainsbury's)

80p for 10g (8p per 1g)

£1 for 3g (33p per 1g)

¹ All products own-brand unless otherwise stated
What's available will depend on where you live, because, although supermarkets almost always have a world foods section – even in some smaller local/express stores – the individual products cater to local demand. So if you live in a very multicultural area, you're likely to have a much wider selection to choose from.
How we did our research, and other things to note…
To keep things fair and above board, when comparing prices we ignored special offers – as these come and go – and we always compared the cheapest equivalent we could find, which in most cases was the supermarket's own-brand. Aldi and Lidl weren't included as they tend to stock just one version of most products they sell, and don't usually have a separate area for world foods.
If you've allergy concerns, we checked with the Food Standards Agency (FSA) and it confirmed all food products sold by UK supermarkets – including the world foods section – have to be clearly labelled with allergen info, and it must be in English (even if there's a foreign language elsewhere on the packaging), so you shouldn't need to worry.
Is it worth switching to world foods?
World foods was cheaper for the vast majority of items we looked at. Not always by much, and sometimes it means paying more for a bigger pack that'll save you in the long run. Yet a few products were slightly more expensive gram for gram, so always check before you buy. See our supermarket guide for more tips and tricks.
Of course, as with any time you switch from one brand to another, it comes down to personal taste. It's possible in some cases paying more means better quality, but as everything we've compared at least looks and smells the same as its pricier counterpart, we reckon it's worth a try if it saves you money.
You can also save on groceries in other aisles simply by 'downshifting' from branded goods to cheaper own-brand equivalents (see MSE's Downshift Challenge).
Have your say
This is an open discussion but the comments do not represent the views of MSE. We want everyone to enjoy using our site but spam, bullying and offensive comments will not be tolerated. Posts may be deleted and repeat offenders blocked at our discretion. Please contact fbteam@moneysavingexpert.com if you wish to report any comments.
Update: We are aware that some users may currently be having issues seeing the comments and we're working on it.