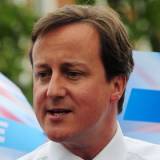 The Conservatives have put their plan to reverse most of the National Insurance (NI) hike next year at the heart of their election manifesto.
The party also promises an emergency Budget within 50 days of taking office to "set out a credible plan for eliminating the bulk of the structural budget deficit over a Parliament".
The manifesto makes no new pledges on income tax but it insists fiscal policy will be directed at keeping interest rates low (see the Top Savings
and Cheap Mortgage Finding guides).
It does not match Labour's pledge yesterday not to raise the basic, higher or top rates of income tax over the course of the next Parliament, or mention VAT.
Party leader David Cameron (right) also states the Tories will encourage home ownership by permanently raising the threshold before first time buyers (FTBs) pay stamp duty.
On personal finance and consumer issues, the Tories have pledged to:
Stop the NI rise for employers and for anyone earning under £35,000. The manifesto says this will save seven out of 10 working people up to £150 a year. The one percentage point hike next April, if it goes ahead, will affect anyone earning over £20,000. The Tories plan to pay for their proposals by cutting £6 billion of "wasteful departmental spending".


Permanently ensure FTBs do not pay stamp duty on properties worth up to £250,000. The present Government announced during last month's Budget that FTBs would be exempt from stamp duty on properties up to £250,000 for two years (see the Stamp duty holiday MSE News story for more info).


Introduce a 'Fair Fuel Stabiliser' facility to provide more stable petrol and diesel prices so fuel tax is cut when oil prices rise, and vice versa (see the Record petrol prices MSE News story).


Reform Air Passenger Duty (APD), which is set to rise later this year, pushing flying costs up. While little precise detail is given on costs, the Conservatives says they will "reform APD to encourage a switch to fuller and cleaner planes".


Ensure no-one is forced to sell their home to pay unsecured debts of less than £25,000 to reform financial services).


Ending the obligation to buy an annuity by age 75.


Raise the inheritance tax threshold to £1 million (no tax is currently paid on estates up to £325,000).


Working with employers and industry to support auto-enrolment into pensions, something Labour is already doing (see the Govt pension charges MSE News story).


Stop paying tax credits to better-off families with incomes over £50,000, cut government contributions to Child Trust Funds for all but the poorest third of families and those with disabled children.


Handing responsibility for banking regulation to the Bank of England instead of the Financial Services Authority (FSA). It is likely a new consumer protection agency will be created to sit alongside the Bank and Treasury in place of the FSA.


Additional reporting by Guy Anker
Further reading/Key Links
Cut costs: House-Buying MoneySaving, Best Bank Accounts, Inheritance Tax, Cheap Petrol & Diesel, Benefits Check-Up