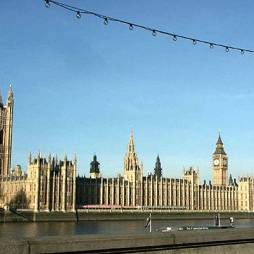 The UK is heading for its first hung parliament since 1974 following yesterday's General Election, but how will this affect your wallet?
The Tories will end up with the most seats in the House of Commons but without an overall majority, meaning it is still unclear which parties will form the next Government.
Many commentators suggest the political uncertainty could have a negative effect on the nation's personal finances. This morning, the pound tumbled against the dollar and euro, and the FTSE 100 shares index fell by 100 points during a turbulent opening.
The uncertainty comes as the UK also tries to wrestle with the biggest budget deficit in history of £163 billion, while the economic crisis in Greece is threatening to spill over to our shores.
However, the forecasts are not all bad for consumers with the hope from some that interest rates could rise, which would bring relief to savers.
Below, we round up some of the key predictions as a result of the hung parliament from a number of experts in five key areas of savings, mortgages, shares, holiday money and pensions.
Savings
The Bank of England base rate, which underpins many savings rates has been at an historic low of 0.5% for over a year, bringing misery to millions of savers (see the Top Savings guide).
Most economists believe base rate is likely to stay low for many more months, though there is some belief a hung parliament could change that, which could push savings rates up.
Douglas McWilliams, chief executive of the Centre for Economic and Business Research, says: "If the pound's slide continues, the Monetary Policy Committee (of the Bank of England) will almost certainly have to raise base rates to hit their inflation target.

"Our analysis of a hung parliament – that it would lead to higher interest rates and a weaker currency – is looking prescient.

"If the Lib Dems decided to support a Conservative budget to deal with the UK's deficit, the situation would change. But it is difficult to see why they would do this."
Mortgages
There are two factors that may influence mortgage rates: the base rate and the money markets, where lenders borrow the cash they lend to us (see the Cheap Mortgage Finding, guide).
If base rate rises, this will push mortgage costs up for many new and existing borrowers. However, many homeowners are enjoying the ultra-low rates with many paying previously unheard of 2.5% standard variable rates (the rate most introductory deals revert to on expiry).
On the money markets, experts are divided on the likely impact, though some think lenders will have to pay more for funds, which could be passed onto consumers (see the Remortgage Guide).
David Hollingworth, from mortgage broker London & Country, says: "We will see very little change initially. A hung parliament is hardly a shock therefore we would expect the markets have already factored this into pricing.
"However, there is uncertainty and in the longer term we will have to see how it is received by the market."
Jonathan Moore, director of roommate finder easyroommate.co.uk, says: "If the wholesale financial market is concerned the hung parliament cannot cut the deficit, and inflation will rise, yields on gilts will rise, pushing up the cost of mortgages."
Shares
The markets reacted with inital concern. The FTSE 100 index of the top 100 shares slumped by 100 points this morning to 5,161 but had recovered marginally by 2.30pm.
Investors will be watching nervously to see how the markets perform in the hours and days to come (see the Share Buying and Discount Brokers guides).
Gavin Oldham, chief executive of The Share Centre, says: "Markets really dislike uncertainty, and this result is about as uncertain as you can get. Shares are therefore likely to remain volatile for several days until a sense of direction emerges.
"Continuing worries about lack of measures to tackle the deficit will particularly hit the pound and bond markets. However, equities could benefit as companies look for export opportunities and higher overseas earnings, providing we see some stabilisation in the eurozone, as the dust settles."
Holiday money/currencies
The uncertainty saw the pound slump today, meaning £1 would buy you $1.45 at one stage, from $1.48 when the markets opened. However, by 2.30pm, the pound had recovered to $1.47.
The pound also fell against the euro to €1.14 (from €1.17 at the start of the day) at one stage. By 2.30pm, it had climbed back to €1.16 (see the Cheap Travel Money guide).

Duncan Higgins, senior analyst at currency firm Caxton FX, says: "The political wrangling will begin in earnest next week, and credible signs of a working government could still be days, or even weeks away. In that time it is unlikely that we will see much reprieve for sterling.
"The fact that the markets have been pricing in a hung parliament scenario for some time now has almost certainly prevented the pound from sliding further against the euro."
Pensions/annuities
If stock markets rise or fall, that is likely to have an impact on your pension savings as many have their cash invested.
However, these are long-term investments so it doesn't necessarily mean you'll lose out when you draw that cash.
Annuity rates – which determine the amount insurers pay you as a regular income in retirement – may also be affected by the political uncertainty (see the Pensions and Annuities guides).
Some, but not all, experts suggest these can rise when gilt yields on the money markets also rise, which means a possible higher retirement income.
Laith Khalaf, pensions analyst at financial adviser firm Hargreaves Lansdown, says: "Although gilt yields may rise in the short term as a result of parliamentary uncertainty, this does not necessarily translate into a rise in annuity rates.
"Over the last three years we have seen a decoupling of annuity rates from bond yields.
"With a hung parliament and capital markets in flux there is doubt about the direction of bond yields and even more doubt about the extent to which this will filter through to annuity rates."
Further reading/Key links
Top accounts: Top Savings Accounts
Housing tips: Cheap Mortgage Finding, Free House Price Valuations, Stamp Duty Calculator
Holiday cash: Cheap Travel Money
Investment buying: Share Buying, Discount Brokers