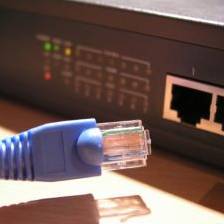 Broadband is getting faster but the gap has widened between download speeds and advertised rates, an Ofcom report reveals today.
The independent regulator's research shows that although UK broadband speed increased by 27% since April 2009 the average consumer received less than half their advertised speed (see the Cheap Broadband guide).
The disparity is even greater for the three-quarters of the UK receiving DSL broadband services, where data is sent through copper cables originally designed for telephone calls.
Ofcom found advertised DSL speeds of 20-24Mbit/second provided an average speed of just 6.5Mbit/second.
In response, Ofcom has updated its voluntary code of practice, which was signed by all the major internet service providers (ISP), to ensure a fairer and more transparent system.
Crucially, the new code will now give customers the right to cancel their contract without penalty if their speed is significantly below the estimate provided by their ISP and the problem cannot be resolved.
'Accurate info essential'
Ed Richards, chief executive at Ofcom, says: "Actual speeds are often much lower than many of the advertised speeds which makes it essential consumers are given information which is as accurate as possible at the point of sale; this is what the new code is designed to deliver."
Currently, broadband services are advertised with "up to" maximum speed figures. However, very few customers ever receive this level of performance.
Therefore, Ofcom wants ISPs to publish a "typical speed range" alongside the headline figure to give potential customers a better real world understanding of the service on offer.
Robert Hammond, from lobby group Consumer Focus, says: "If consumers pay for a Ferrari-style internet service, they should not get push bike speeds. Broadband users should get what they pay for."
Peter Vicary-Smith, chief executive of consumer magazine Which?, adds: "Some ISPs continue to advertise ever-increasing speeds that bear little resemblance to what most people can achieve in reality.
"We want the Advertising Standards Authority to step up to the mark and put an end to these misleading claims once and for all."
Poor rural speeds
Ofcom's report also reveals average urban broadband services were twice as fast as those in rural areas; 5.8Mbit/second compared with just 2.7Mbit/second.
John Petter, managing director of BT's consumer division, says: "BT already gives customers the most consistently accurate prediction of the speed specific to their line.
"We support Ofcom's code but want to go even further and are investing in systems to make our predictions even better, and to have them confirmed in writing.
"BT is investing £2.5 billion in superfast fibre broadband. This will bring speeds of up to 40Mbs/s to two-thirds of the country with a quarter of those premises getting speeds of up to 100Mb/s, the fastest in the UK."
Further reading/Key links
Cut costs: Cheap Home Phones, Cheap Broadband
Protect your PC or laptop: Free Anti-Virus Software
Guard against fraud: Free ID Fraud Protection