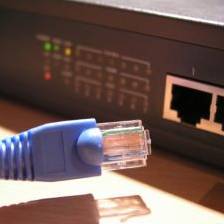 Ofcom has told internet service providers (ISPs) to be more upfront about broadband speeds, after an investigation found many fail to follow its code of practice.
BT and TalkTalk were two of the worst offenders in the communications regulator's mystery shopping investigation.
It found some sales agents had to be prompted by callers to provide speed estimates, despite its code requiring this information should be volunteered as early as possible in the call.
Ofcom's mystery shoppers found that while information was improving overall, there were areas where significant improvement was needed.
The code, introduced in 2008, and updated last year, helps ensure consumers are aware of the likely broadband speeds they can get before signing up.
Both BT and TalkTalk have now agreed to change their staff training and sales procedures.
Customers can leave their provider without penalty within the first three months of their contract, if their maximum line speed is significantly lower than the bottom of their ISP's estimated range, and the provider is unable to resolve the problem.
What Ofcom found
The research shows that in 93% of telephone enquiries made by mystery shoppers, an estimate of the broadband speed was given by the provider, and in 72% of cases an estimate was given in the form of a range.
However, speed estimates were only provided without prompting in 59% of calls.
Providers most likely to give callers an estimated speed without prompting were Karoo (76% of cases), Sky (72%) and Plusnet (67%).
TalkTalk (47%) and BT Total Broadband (48%) were significantly less likely to provide a speed estimate without prompting from the caller.
Ofcom's team completed 1,369 mystery shops online and over the phone as part of the survey.
Further action
Ofcom is talking to ISPs about how information given by phone to customers can be improved, as well as making it clear sales agents should offer a speed estimate early in the conversation.
It will follow up its probe with more mystery shopping next year to check whether improvements have been made.
Claudio Pollack, Ofcom's consumer group director, says: "It is vital that as the choice of broadband services expands, UK consumers get the best possible information when choosing a broadband provider.
"Our mystery shopping shows that, while consumer information about broadband speeds has improved in important areas, there is still more to be done.
"We are working with internet providers to improve information that consumers receive when they sign up to a new service and will continue to monitor this area closely."
For more information see the Cheap Broadband guide and do a free broadband speed test to see what speeds you're averaging.