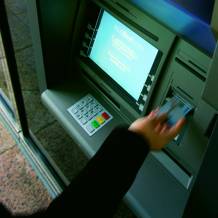 Hundreds of thousands of consumers are in line for a refund of cash which they left in RBS, NatWest, Tesco and HSBC ATMs.
When cash is withdrawn from an ATM, if some or all of the money isn't taken after 30 seconds, it gets 'retracted' – sucked back into the machine.
In most cases, this isn't an issue. Most banks simply re-credit the cash back into the cardholder's account.
But while both the RBS group and HSBC now re-credit retracted cash back to customers in most instances, previously this money was held in a reserve and users had to ask to get it back.
Both providers are now in the process of refunding cash to customers where it wasn't taken from their ATMs.
RBS says it expects about £10 million to be repaid to around 300,000 consumers. HSBC says it doesn't know yet how many are affected, or how much will be paid out.
Martin Lewis, MoneySavingExpert.com creator, says: "It may seem odd to some that people leave cash in ATMs. Yet a mixture of forgetfulness, hurry, sleep deprivation due to new children or alcohol means it's more common than you think.
"It's good to see these banks putting this right, after all they've been taking the cash out of people accounts, then the machines been sucking it back in."
Who gets a refund?
RBS: Customers of any provider who withdrew cash from an RBS, NatWest and Tesco ATM between January 2005 and March 2011 and didn't take some or all of their cash will be refunded, as long as they didn't get this money refunded at the time.
Anyone who has withdrawn cash from March 2011 onwards, when RBS changed its policy, will get their cash back in their account without having to ask.
Those who withdrew cash before January 2005 won't get a refund. RBS says it doesn't have records going back that far.
RBS says where cash is requested and the shutter opens, but no cash is dispensed, this also counts as a retraction and will be refunded.
HSBC: Customers of any provider whose cash was retracted by a HSBC ATM between May 2005 and December 2010 will be refunded – as long as it was logged by the machine.
Funds that weren't fully dispensed will also be refunded where this was logged by the machine.
Anyone who has withdrawn cash from January 2011 onwards, when HSBC changed its policy, should in most instances get any retracted cash debited back to their account without having to ask.
HSBC says it doesn't hold ATM records for transactions made before May 2005, so anyone whose cash got retracted by a machine before this date won't be refunded.
How much will I get?
RBS: You'll get a refund of the full amount requested. If you asked for £50, but only took £30, you'll be reimbursed for the full £50.
Customers will also get a goodwill payment of interest. This will be set at the rate of the highest-paying RBS or NatWest instant access savings account over the period you were without the cash, up until RBS changed its ATM policy.
HSBC: HSBC says affected customers will be refunded, although there are no further details available on how this will work.
How do I get my money back?
RBS: Those affected don't need to do anything. RBS says it started writing to its own customers in August to say a refund will be made into the account used at the time of the transaction, if the customer is still with RBS.
Where customers have left RBS, they'll be written to at the last address RBS has on file and asked where the money should be refunded to.
Non-RBS customers will be contacted by their own provider.
HSBC: Again, those affected don't need to do anything. HSBC says it will contact its own customers directly and will contact non-customers via their own bank about getting a refund.
However, HSBC says it is still working on getting the refund process up and running and is not certain when letters will be sent out and refunds paid.
What RBS and HSBC say
A spokeswoman for RBS says: "We are in the process of proactively contacting our RBS and NatWest customers who, according to our records, at some point have not collected all of their dispensed cash.
"We will be refunding the value of their transactions in full, with an additional goodwill payment."
A spokesman for HSBC says: "The bank is now working with its industry body towards proactively refunding customers who did not take their cash from HSBC ATMs between 2005 and 2010.
"There is no need for customers to take any action – we will contact HSBC customers directly and will contact non-customers via their own bank, to advise details of any refund."
What about ATMs run by other banks?
Barclays: Regardless of who you bank with, Barclays says it's always been its policy to refund any cash retracted at one of its ATMs, without you having to ask for it back.
Lloyds Banking Group: Lloyds Banking Group also says it's always refunded cash retracted at one of its ATMs, whether you are a customer or not.
Santander: If you're a Santander customer and cash gets retracted by one of its ATMs, that money will be re-credited to your account without you having to ask for a refund. But non-Santander customers have to raise a claim with their own bank.
The Co-operative: Regardless of who you bank with, in most cases money retracted will be returned to customers' accounts. Customers who haven't received their funds automatically should contact their provider.
The Payments Council advises consumers to get in touch with their own card provider if cash is retracted, or isn't dispensed, regardless of who the ATM is operated by.