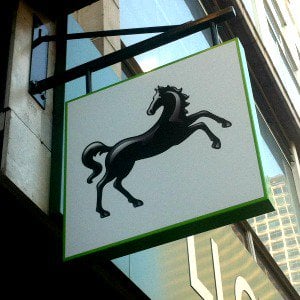 Hundreds of thousands of Lloyds Banking Group customers may be in line for redress after it was fined a record £28 million by the Financial Conduct Authority (FCA) over the way it put staff under pressure to sell insurance cover and investments.
The FCA's investigation, which covered sales between 1 January 2010 and 31 March 2012, found the systems and controls were "inadequate".
In one instance, an adviser sold protection products to himself, his wife and a colleague to stop himself from being demoted. (If you've been mis-sold products by your bank, our Financial Rights guide has help with claiming redress or compensation.)
Products involved included critical illness and income protection cover, and investments such as share Isas.
Lloyds Banking Group's bill for its part in the payment protection insurance (PPI) mis-selling scandal reached £8 billion earlier this year (see the Lloyds' PPI mis-selling bill soars to £8 billion MSE News story).
MoneySavingExpert.com creator Martin Lewis says: "The one silver lining of exposing unpalatable bank practice yet again is that by combining it with PPI, Libor, packaged bank account mis-selling and the rest, people are learning to treat their banks' patter with ever more scepticism.
"We need a form of collective national hypnosis to ensure that when people walk into their bank and see "adviser", they read "salesperson" instead.
"A bank's job is to flog you stuff, and they've proved time and time again that whether customers need it or not, they'll do just that."
The failings took place in branches of Lloyds TSB (which has since split into Lloyds Bank and TSB), Bank of Scotland and Halifax.
Lloyds Banking Group says it has since made significant changes to incentive schemes so they focus on what is right for customers.
What did Lloyds do wrong?
Lloyds advisers were required to meet certain competency standards to be eligible for promotions and bonuses, but the FCA says this control was seriously flawed.
Seven out of 10 advisers at Lloyds TSB and three out of 10 at Halifax still pocketed monthly bonuses even though a high proportion of their sales were found by the firms themselves to be unsuitable or potentially unsuitable.
Even worse, 229 Lloyds TSB advisers picked up a bonus even though all their assessed sales were deemed unsuitable or potentially unsuitable. 30 of these advisers got repeated bonuses.
Managers had their own performance measured against sales targets, which the FCA says is a "clear conflict of interest".
I think I was mis-sold a product. Can I claim?
Lloyds is already reviewing whether the 690,000 customers sold investment and protection products between 1 January 2010 and 31 March 2012 are due redress.
It says it is already contacting customers, and will continue to do so over the coming months. It adds that customers don't need to take any action at this stage to be included in the review and they will be contacted in due course.
The FCA says it won't be able to say how much redress will be paid until Lloyds has identified how many customers are affected.
But as always, if you have any concerns or want to complain, or if you think you were mis-sold to outside of the time frame the FCA investigated, you can do so by contacting the bank via its customer service team.
If you don't get a satisfactory answer, you can complain to the free Financial Ombudsman Service, which arbitrates in disputes between banks and their customers (see our Financial Rights guide).
Record £28 million fine
Lloyds' £28 million fine is the biggest ever imposed for the way banks sell products. It was increased by 10% because Lloyds had already been warned about poor practice going back at least 10 years.
But as Lloyds agreed to settle at an early stage, the FCA gave it a 20% discount – without which, the total fine would have been £35 million.
A crackdown on inducements began in September 2012, with FCA's predecessor, the Financial Services Authority, warning one firm it faced a massive fine. That outfit has been confirmed as Lloyds (see the Watchdog cracks down on mis-selling inducements MSE News story).
What the FCA says
Tracey McDermott, the FCA's director of enforcement and financial crime, says: "The findings do not make pleasant reading. Financial incentive schemes are an important indicator of what management values and a key influence on the culture of the organisation, so they must be designed with the customer at the heart.
"Customers have a right to expect better from our leading financial institutions and we expect firms to put customers first – but firms will never be able to do this if they incentivise their staff to do the opposite.
"Both Lloyds TSB and Bank of Scotland have made substantial changes, and the reviews of sales and the redress now being made should right many of these wrongs."
What Lloyds says
In a statement, Lloyds Banking Group says: "The group launched its new strategy in 2011 to fully refocus the business on its customers. As part of that approach, the group has been addressing historic issues and ensuring that customers get fair and appropriate outcomes.
"As soon as these issues were identified in 2011, the group acted immediately to make significant changes to ensure that all its schemes focused on doing the right things for customers and providing good service.
"The FCA has acknowledged that we have made substantial improvements to systems and controls governing incentives.
"The group recognises that its oversight of these particular schemes during the period in question was inadequate and apologises to its customers for the impact that they may have had. We are determined to ensure that any customer impacts are dealt with quickly and fully."