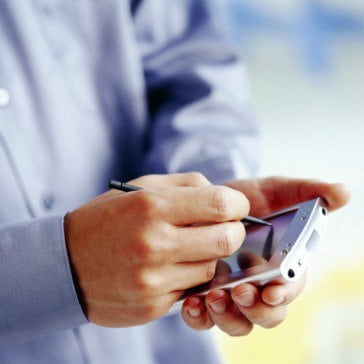 Update: 18 November 2014: Customers of Clydesdale and Yorkshire banks are able to send and receive Paym payments from today, while Isle of Man Bank, NatWest, RBS and Ulster Bank customers are able to receive Paym payments from today. These customers should be able to send payments from the middle of 2015.
Since writing this news story First Direct customers have also become able to send and receive payments using Paym.
Millions of smartphone users can now pay for goods and services simply by using the recipient's mobile phone number, under a new scheme launched today.
The service, called Paym, is available for customers with current accounts at nine of the UK's biggest banks and building societies, with more due to follow in the near future (see our Best Bank Accounts guide if you're thinking of switching).
You can send up to £250 each day through it, although some participating banks and building societies offer a higher daily limit.
The Payments Council, which is behind the scheme, says Paym can be used to split a restaurant bill with friends or pay traders without having to know sort codes and account numbers.
It adds the industry-wide project is the first service with the potential to link up every current account in the country with a mobile phone number, although Barclays' Pingit app, which launched in 2012, already allows customers of any bank to send and receive payments using just a mobile phone number.
Chief executive Adrian Kamellard says:"Paying someone back just got easier for millions of people. Paym is another safe and easy option to pay friends and family – after all, you probably already know all your friends and family's mobile numbers, so why not use them if you need to send them some money?"
Which banks are using it?
Customers of Bank of Scotland, Barclays, Cumberland Building Society, Danske Bank, Halifax, HSBC, Lloyds Bank, Santander and TSB are able to use the service to send and receive payments from today.
First Direct, Clydesdale Bank, Royal Bank of Scotland and Yorkshire Bank will join later this year, while Metro Bank, Nationwide and Ulster Bank will be part of the scheme in 2015.
How does it work?
Paym – pronounced "pay 'em" – doesn't have its own smartphone app or website. Instead, it's part of each bank's online and mobile banking facilities.
You can register through your bank's mobile app by entering your mobile phone number and selecting the account you want to link it to. You can then receive money into this account, and make payments from it using your number.
To make a payment, just select the person you want to pay from your mobile phone contacts, or manually enter a mobile phone number – exactly how this will work will vary by bank. Some banks for example, don't give you the option to select a number from your contacts, you'll have to enter it manually.
You'll then be asked to confirm the name of the recipient. Once you're happy, check the amount and press "send". You'll also receive confirmation that your payment has been sent.
A video posted on the BBC website shows how Paym works in practice.
I don't have a smartphone. Can I still use this service?
If you don't have a smartphone, you can't make payments. People can still pay into your bank account using your mobile phone number, although you'll need to register for the service first.
What if I accidentally type in the wrong mobile number?
When you enter a number to make a payment, the service checks whether the recipient is registered and then displays their account name.
So if you mistype a number, the wrong name will appear and you'll be able to cancel the request.
How long will payments take?
Although there may be some slight variation depending on who you bank with, the Payments Council says most transfers will be completed "almost immediately".
Is it secure?
The Payments Council says as users need to log into mobile banking to use the service, and have to confirm the name of each person they send money to, the service is secure.