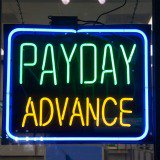 Vulnerable borrowers will be better protected from spiralling costs as new rules to crack down on payday lenders and brokers come into force today.
The Financial Conduct Authority (FCA) confirmed last year that people taking out payday loans will never have to pay back more than double what they originally borrowed from today (see the Payday loan costs to be capped by watchdog MSE News story).
It separately announced that credit brokers would have to be more transparent about the they fees charge in the new year, amid concerns people often don't realise they are dealing with a broker rather than a lender (see the Payday loan broker crackdown revealed MSE News story).
Here are the new rules for payday lenders, which take effect for loans taken out or modified from today (2 January). These will be reviewed in 2017.
Initial cost cap of 0.8% per day. Interest and fees must not exceed 0.8% per day of the amount borrowed on both new loans and loans rolled over.
Fixed default fees capped at £15. If borrowers cannot repay their loans on time, fees must not exceed £15. Interest on unpaid balances and default charges must not exceed the 0.8% rate.
Total cost cap of 100%. Borrowers must never have to pay back more in fees and interest than the amount borrowed.
And here are the new rules for credit brokers, which also take effect from today. But remember these types of firms should be avoided, as payday loans should only be seen as a last resort, and even then, there is no need to go via a middleman.
Credit brokers will be banned from charging fees and requesting payment details unless customers have clear information about who they are dealing with and the fees payable.
Credit brokers must state their legal name as it appears in the Financial Services Register (not just its trading name), in all advertising and other communications with customers.
They must include a statement setting out if the firm is, or is acting as, a credit broker rather than a lender.
While no cap on the fees charged has been set, they must clearly state that a fee will or may be payable, the amount or likely amount, and when and how the fee will be payable.
Fee-charging brokers will also need to report quarterly to the FCA giving information on their website domain names.
If they apply online or by phone via a credit broker, customers will be given 14 calendar days to cancel and get a refund of the fee.
The FCA took over regulation of the consumer credit market on 1 April 2014.
Alternatives to payday loans
Before taking out a payday loan, consider other options first, including:
Check if you're eligible for interest-free loans and grants from your local council or job centre. (See our Debt Help guide for more information.)
Get a 0% credit card – even with a poor credit score. (See our 0% Balance Transfer and Spend guide.)
Check out your local credit union – these are independently-run local co-operative organisations that aim to assist people who may not have access to financial products and services elsewhere. (See our Credit Unions guide.)
Ask if you can you borrow from a family member or a close friend.
Extend your overdraft, if you can. But stay within the arranged limit, otherwise it'll cost you big.
See our Payday Loans guide for more alternatives if you're struggling.