Supermarkets try all sorts of tactics to make us spend more, and a trick of the eye means you could be missing out on the best value items every time you go shopping. Eye level is buy level, so it pays to look elsewhere.
The latest rise in the cost of living has left many of us down on cash. But sometimes, being down, or looking down to be more specific, actually pays. It's all about where products are positioned on the shelves, with stores tending to place more expensive items at average eye-level, hoping we'll grab and go.
Focussing primarily on branded items, we checked out three major supermarkets and consistently found better value products on the bottom shelf – this usually means initially paying a little more for a bigger pack, but getting more for your money per 100g/ml. We also found the cheapest non-branded items tucked away on the bottom shelf.
Take Heinz Baked Beans at Morrisons, for example. Eye level 'deal' is two cans for £1.80 (90p a can) but look below on the bottom shelf and you can get four cans for £3 (75p per can) or six cans for £4 (67p per can). You'll also spot this is where Morrisons stashes its own-brand beans too.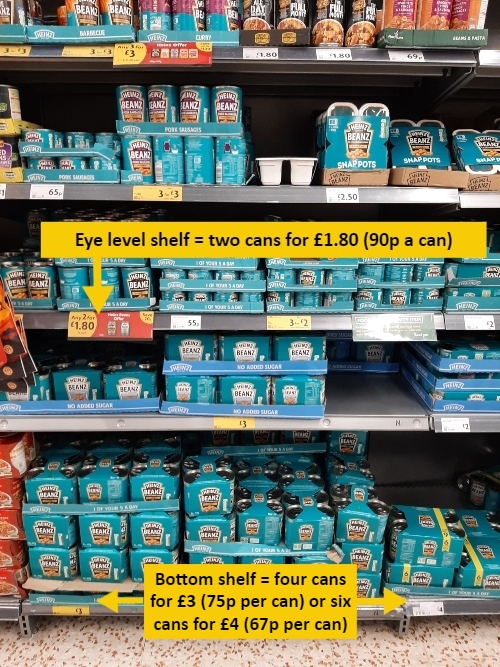 Prices when we checked on Monday 9 May
Other branded items we spotted were Yorkshire Tea teabags at Sainsbury's. Eye-level deal was 80 teabags for £3 (4p per bag), bottom shelf deal 240 teabags for £5 (2p per bag), so 50% saving per bag. Quaker Oats porridge sachets next at Morrisons. At eye level, you can see two 'Original' flavour boxes for £4 (two boxes, 18 sachets). Now, cast your eye downwards to the bottom shelf and you can get a 22 pack of the same Original flavour sachets for £2.50.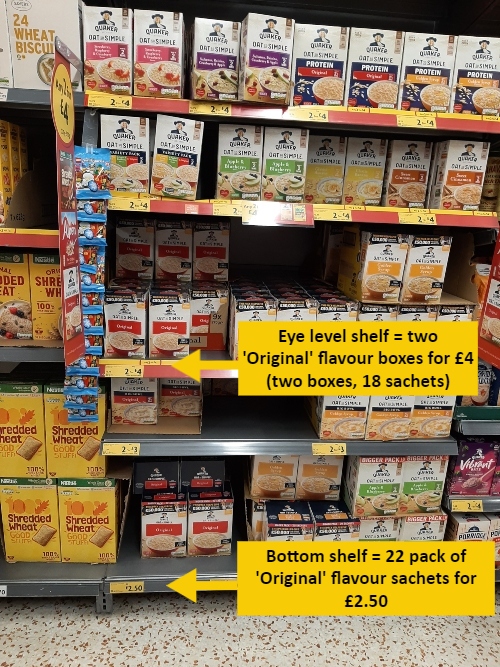 Prices when we checked on Monday 9 May
Now we know this won't be true for every store or shelf, and there will be examples of when the bottom shelf isn't the cheapest – but from the large and medium-sized supermarkets we visited, we found this tactic to be widespread. Here's what we found...
Here are 10 branded items we found that were better value gram for gram on the bottom shelves than the same product positioned at eye-level:
Product (and store where we saw it)

Price

Eye-level shelf
Bottom/Lower shelf
Pot Noodle chicken and mushroom (Tesco)
80p for one (90g)
£3 for four (4x90g) so 75p for one
Heinz ketchup (Asda)
£2.29 for 460g (49.8p per 100g)
£3 for 910g (33p per 100g)
Flora lighter vegan spread (Asda)
£2.25 for 500g (45p per 100g)
£3.80 for 1kg (38p per 100g)
Heinz cream of tomato soup (Sainsbury's)
£1 for 400g (25p per 100g)
£2.50 for 4x400g (16p per 100g)
Prices when we checked on Monday 9 May
While comparing prices, make sure you consider the weight or size of the pack (often, price per 100g/100ml is labelled on the supermarket shelf), so you can work out what gives you the better value.
Cheaper brands are often on the bottom shelf
We've been shouting about downshifting supermarket brands for years and how much you can save by dropping one brand level. But interestingly in this investigation, we found supermarkets place those own brand items down on the bottom shelf too, often positioned in the bottom left hand corner of the display. So keep your eyes low next time you're in the supermarket, it might save you a pretty penny.
For more on downshifting from branded items to cheaper own-brand equivalents, see MSE's Downshift Challenge.
Have you ever noticed this in the supermarket? What are the best offers you have seen on the bottom shelf? Let us know in the comments below or on Twitter @MSE_Deals.