Supermarkets try all sorts of tactics to make us spend more, and a trick of the eye means you could be missing out on the best value items every time you go shopping.
It's all about where products are positioned on the shelves, with stores tending to place more expensive items at average eye-level, hoping we'll grab and go. We easily found lots of items at the three major supermarkets we went to, where the same branded product was better value on the bottom shelf – this usually means initially paying more for a bigger pack, but getting more for your money per 100g/ml.
We've focused primarily on brands as it gives the fairest comparison, but as we show below, you can also find the cheapest non-branded items tucked away on the bottom shelf.
Some of the branded products that caught our eye included Yorkshire Tea teabags, which were 58% better value on the bottom shelf compared with the same product at eye-level, as well as Pot Noodle, which were 52% better value and Hellmann's light mayonnaise, which was 47% better value on the bottom shelf.
MSE Update Tue 19 Jun 2018: It's worth noting we first published this blog a year ago, so the prices we mention may now have changed, but the principle of cheaper versions of the same product on different shelves still stands.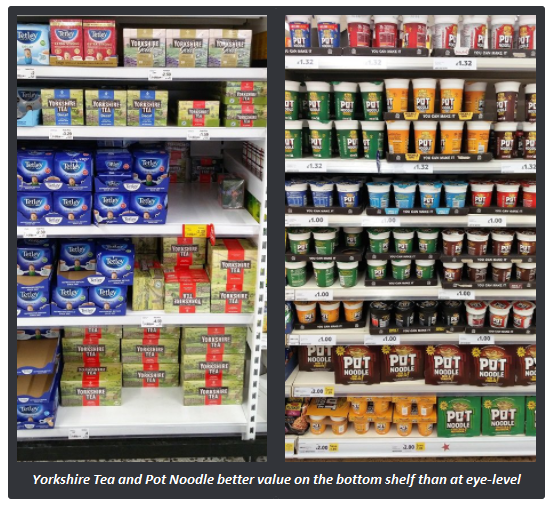 Now we know this won't be true for every store or shelf, and there will be examples of when the bottom shelf isn't the cheapest – but we visited larger and medium-sized supermarkets and found this was widespread, so hopefully we can raise awareness that you need to have eyes wide open and check all shelves, delving to the depths to make sure you're getting the best value at the supermarket.
Here are 10 branded items we found that were better value gram for gram on the bottom shelves than the same product positioned at eye-level:
Product (and store where we saw it)

Price

Eye-level shelf
Bottom/Lower shelf
Yorkshire Tea (Asda)
£1.59 for 40 teabags (39.8p per 10 teabags)
£4 for 240 teabags (16.7p per 10 teabags)
Pot Noodle original curry (Tesco)
£1.32 for 114g (£1.16 per 100g)
£2 for 4x90g (55.6p per 100g)
Hellmann's light mayonnaise (Tesco)
£3 for 800g (37.5p per 100g)
£1.50 for 750g (20p per 100g)
Flora original/light spread (Asda)
£1.70 for 500g (34p per 100g)
£2 for 1kg (20p per 100g)
Heinz soup (Sainsbury's)
95p for 400g (23.8p per 100g)
£2.50 for 4x400g (15.6p per 100g)
Quaker Oats porridge (Asda)
£2.38 for 324g (73.5p per 100g)
£2.44 for 397g (61.5p per 100g)
Revels chocolates (Asda)
£1 for 101g (99p per 100g)
£1.50 for 173g (86.7p per 100g)
Rubicon juice drink (Tesco)
60p for 288ml or two for £1 (20.8p/17.4p per 100ml)
£1.29 for 1L or two for £2 (12.9p/10p per 100ml)
Heinz tomato ketchup (Asda)
£1.50 for 460g (32.6p per 100g)
£2.79 for 1kg (27.9p per 100g)
Lurpak butter (Asda)
£3.25 for 500g or two for £5.50 (65p/55p per 100g)
£5 for 1kg (50p per 100g)
While comparing prices, make sure you consider the weight or size of the pack (often, price per 100g/100ml is labelled on the supermarket shelf), so you can work out what gives you the better value. In the majority of cases here, you initially pay more but get a bigger product that saves money in the long run, and luckily, most are foods that'll keep well for a long time.
Lower shelves can still beat special offers
Keep your eyes peeled for special offers as these can appear on any shelf and can make a difference – but don't just take eye-level offers for granted, as when taking these into account, in multiple instances we still found the bottom shelf was cheaper. You can see this clearly with the Lurpak butter example in the table above, where if you grabbed the two for £5.50 offer at eye-level, you'd be paying 50p more for the exact same weight of the same product on the bottom shelf.
You can also find cheaper brands on the bottom shelf
We found that if you're not brand loyal, you could save even more money by swapping to a cheaper brand, and we spotted several examples of the bottom shelf housing the cheapest items – and interestingly, from what we've seen, they tend to put downshift items in the bottom left-hand corner.
Some of the shockers we discovered include eye-level Twinings teabags 87% more expensive per teabag than Asda's own-brand in the bottom left-side corner, and Dove soap 84% more expensive per 100g at eye-level compared to the Sainsbury's own-brand soap in the bottom corner.
It's unlikely that you'll find the exact same results at your local supermarkets, as each store is different, however this principle applies nationwide, and in some cases, big brands are likely paying a premium to be located in your sight-line.
For more on downshifting from branded items to cheaper own-brand equivalents, see MSE's Downshift Challenge.
Have you ever noticed this in the supermarket? What are the best offers you have seen on the bottom shelf? Let us know in the comments below, on Twitter @MSE_Deals or on Facebook.