Psssst! 'SECRET' Office & Schuh outlets flogging cheap, slightly blemished shoes - eg, £12 kids' Converse (norm £37)
Nothing beats the feeling of a new pair of shoes, but how quickly this can turn into heartache if they get scuffed the first time you wear them. So why not save yourself the misery (and some dosh) with a pair that isn't quite immaculate in the first place?
High street chains Office and Schuh each have a website – separate from their normal online store – where you can pick up some mega-reduced, ex-display shoes that may have suffered some minor wear-and-tear, often only very minor scuffs and tiny marks, after people have tried them on in store.
Office Offcuts* and Schuh Imperfects* have been kicking around on social media for a while, and lots of MoneySavers rave about them. So I've taken a closer look and I bought myself some trainers (in the name of research, of course), and the MSE Deals team all agreed I'd got a bargain even considering the slight damage.
Important: As stock on these sites is very limited, and we've sent this out in our weekly email – sign up to join those who get it – chances are there won't be many shoes left to choose from this week, and you may need to pop back at a later date. It may also be worth looking for other branded bargains elsewhere – see our full list of Online Outlets.
How does it work?

You can think of these websites as a kind of online jumble sale where each pair of shoes is listed individually – a bit like eBay or Facebook Marketplace – along with a clear photo of the exact pair you'll receive, and any defects will be mentioned in the description.

Offcuts says it only sells "end of line, ex-display and last pairs of shoes" and all stock is brand new, but may have some marks or fading. Similarly, Schuh Imperfects says shoes may have scuffs, discolouration or other "individual quirks" (we like this description).
So while stock's very limited, and likely to be cleaned out this week by MoneySavers reading this (sorry), both sites are regularly updated with new stock – so there's no rush to grab yourself a pair straight away.
How to find cheap shoes
Simply go to Schuh Imperfects* or Offcuts* (or both) and start browsing. To narrow it down, you can filter the shoes by type, brand, size, colour etc. It's then just a case of scrolling through and finding a pair you like (remember, there's often just one in each style and only one size).
There are pictures of each pair of shoes and the retailer briefly describes what the flaw is. From what we've seen this is often discolouration of one of the shoes, which has probably been left out in a window display, a scuff or a mark that can't be removed. On Offcuts, there's a box under the description where it grades the condition of the shoes – from 'Totally perfect' to 'OK condition'.
Prices do vary depending on how noticeable the flaw is, but typically you'll save about 30% on the normal full price – sometimes less, sometimes more – so the discounts are comparable to most outlets.
What's more, students can also get an extra 10% off at Schuh Imperfects by filling in a Schuh student discount form*, or via Unidays.
A few examples of what we've spotted
I personally bought a pair of Puma Suede trainers from Schuh Imperfects for £21, which normally sell at full-price for £62, back in May 2018. The description said that the right shoe had some discolouration, but after looking through the images I didn't think it seemed too obvious. As you can see from my photo below (on the right), it's barely even noticeable at all.

And while browsing at the same time, I found a pair of kids' Converse trainers at Schuh Imperfects for £13.99 (norm £27), just because one of the shoes had marks on it - let's face it, kids' trainers are going to get dirty and scuffed anyway. That's 48% cheaper than if you'd bought the same pair brand new from Schuh.
MSE Rhiannon managed to bag these vegan Nokwol trainers for £31 delivered (norm £60) from Schuh Imperfects in Sep 2020. One shoe was ex-display and the box they arrived in was damaged, but as you can see below, they look pretty much perfect.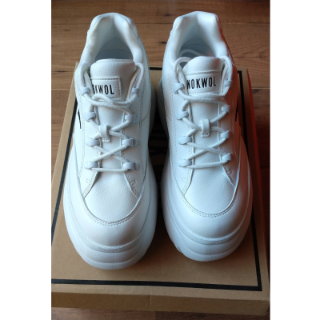 Strong deals we've spotted at Offcuts on Tue 9 Mar 2021 include women's Reebok trainers for £25 (norm £69.99) and kids' Frozen 2 Converse trainers for £12 (norm £36.99), both in 'Near perfect' condition: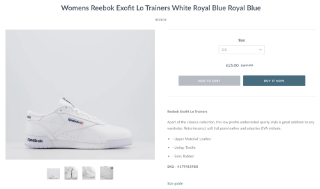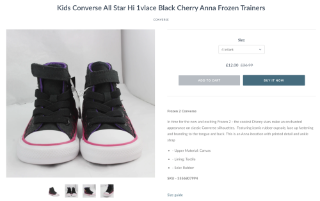 It's not just us on the MSE Deals team who've tried this and been pleased with what they've received...
I bought a couple of pairs from here - Fred Perrys and some Hush Puppies. One pair had a tiny scuff on them (they are white) and the other looked practically perfect. I've worn both and they're great. Would have cost me over £100 new but got them here for under £20 - emilybc, MSE Forumite
Our verdict
If you're willing to put in the time and wait patiently for the right pair of shoes to come along, and don't mind putting up with the odd minor blemish, these sites can be a great way to save yourself some money – especially if you're after expensive branded trainers. What you see is what you get with these shoes, so you can see exactly what you'll be buying.
We think it's a bit of a no-brainer for buying kids' shoes, as they're unlikely to stay immaculate for long anyway!
What else do I need to know?
Both sites let you return the shoes if you're not happy with them, however, you can't return them into a store - instead they have to be sent back to head office. Schuh has a 365-day* return policy and for Office it's 28 days*. For more info on returning items you bought online, see our Consumer Rights guide.
Stock levels can vary from day to day and there's no guarantee that something you see will stick around for long or that something you're looking for will come into stock. As each shoe is listed individually, all the shoes displayed on each site are what's available and in stock at that time.
Where else can I get cheap shoes?
Sites such as USC and MandM Direct also offer discounts on branded footwear.
If you're not sure about buying something that may have some damage, another way to get some cheap trainers is to look on outlet sites. For a round-up of some of the best, see our Outlets & Clearance page, which includes the Clarks outlet and Kurt Geiger's 'Shoeaholics' outlet.
Have your say
This is an open discussion but the comments do not represent the views of MSE. We want everyone to enjoy using our site but spam, bullying and offensive comments will not be tolerated. Posts may be deleted and repeat offenders blocked at our discretion. Please contact fbteam@moneysavingexpert.com if you wish to report any comments.