10 extreme beauty MoneySavers, eg, make lip balm from kitchen oils & save 75% on face wipes by cutting them up
But will you try them all? That's up to you
Beauty – is it in the eye of the beholder, or hand of the cardholder? As the cost of lotions and potions adds up, along with their environmental impact, I've put together 10 cheap and easy beauty tips and tricks so you can avoid spending more than you need. Some of these tips are a bit extreme so I know they might not be up everyone's street, but let's see how many of them you'll give a go...
You've probably already seen beauty hacks such as using lipstick as blusher, mascara as makeshift eyeliner and using conditioner as shaving cream, but I've gone a bit further and looked at some extreme beauty MoneySavers, which are also eco-friendly. Some might seem like common sense, but hopefully at least a few will help your wallet and the planet, plus enable you to shop less often.
Some of these beauty tips and tricks will mean you spend less topping up your collection, and manage to use up as much product as possible instead of throwing it away – great if you can't find stock of your favourites. Throwing away something you haven't used is the same as throwing money away, after all.
Reuse old foundation to clean tarnished silver jewellery – and save £5ish on the cost of a silver polishing cloth
Many of us have accidentally bought a foundation that doesn't work for us, and been stuck with it as you can't return most make-up purchases. Don't chuck it though – it can be reused as silver polish.
Of course, if your jewellery is an antique or contains precious stones or softer inserts like jet, you'll either want to be extremely careful or fork out the £5ish for a silver cleaning cloth instead. That being said, if you've something like a pair of inexpensive earrings, or a ring you want to quickly clean, this'll do the job.
I usually reuse cotton I've used to take my make-up off (as it's already covered in foundation), and dab the old foundation on it before giving the jewellery a quick wipe. If it's really tarnished, you might need to repeat this more than once. This is a great trick my Mum taught me when I was a mini-MoneySaver – and now I'm teaching it to you. Here's a quick video of me giving it a go...
Downshift your make-up, skincare & perfume – save 50% or more
This is going to send some of you straight to the comments to tell me I can pry your beloved Liz Earle cleanser or Pixi glycolic toner out of your cold, dead hands... but just wait a minute.
You can often save 50% or more buying a beauty 'dupe' instead – a lookalike product with similar (though likely not the same) ingredients, where often even the packaging has a striking resemblance to the expensive brand. Why not give downshifting a go? You can always go back to your brand once you've finished the dupe if you're not convinced.
Of course, before you swap any product, always read the packaging and check ingredients if you have any allergies or skin conditions.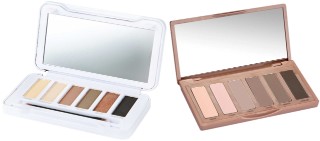 Check out my beauty downshift challenge blog for more examples of the types of make-up and skincare you can downshift, and where to get the best 'dupes' readers have told us about.
Plus, check our cheap perfume guide for the best perfume dupes we tested in Dec 2018. Some are currently out of stock, or otherwise unavailable due to the coronavirus pandemic, however Superdrug's* £3.99 Layering Lab Exotic 100ml mist rivalled YSL Black Opium (norm £70ish for 90ml). Plus, Zara's £9.99 Black Amber 100ml and £5.99 Rose 90ml stood up to Dior J'Adore (norm £100ish) and D&G The One (norm £55ish) in testing. Would you give them a go?
Cut the cost of face wipes by 75%... by cutting face wipes
If you normally carry face wipes to avoid taking a liquid cleanser, they usually come in a pack of 25 – or less if you're forking out for travel-size – which means the cost can add up. However, they're usually large enough to wipe off all your make-up, clean your face and possibly more – so why not rip or cut them into four pieces instead?
You'll take that pack of 25 to a pack of 100, enabling you to buy fewer packs, using less plastic and spending less money. It's important to note, if you do use these kinds of wipes, bin 'em after use and do not flush them down the toilet – they won't degrade and could even block your pipes. Remember, plumbers aren't cheap.
Of course, if you have space, decanting your usual cleanser and using reusable fabric make-up wipes is also an eco-MoneySaving option.
Sell your empty perfume bottles on eBay for £5ish
Weird as it may sound, people do buy empty perfume bottles on eBay. Collectors, crafters and other enthusiasts who love to upcycle can reuse the old bottles, and you'll get a bit of money back, too – normally about a fiver. See our Flog your rubbish for cash guide for more information about what else you can sell, and our eBay selling guide for tips on selling online.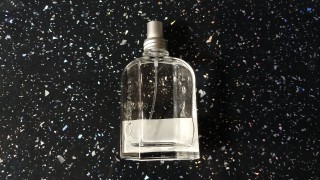 Raid your kitchen for cheap beauty supplies, eg, make lip balm from kitchen oils
Chances are, you'll already have some kitchen supplies that can perform double-duty as edibles and spreadables to make easy DIY face masks and more. If you've not got sensitive skin or allergies, you can try a few things from your kitchen if you've run out of things such as lip balm or body moisturiser.
Ingredients such as olive oil, coconut oil, honey and oats can be used as they are, or mixed together to use as moisturisers, hair masks, face masks or even lip balms. My favourite homemade lip balm is a few spoonfuls of coconut oil with a couple drops of peppermint oil – super easy.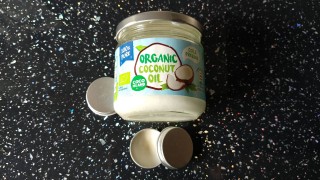 Cut the cost of bottles of hair dye by 50%
If you've started to dye your hair at home because you can't get to the hairdresser, chances are you'll have saved a bit of money. If you're happy with the way your hair looks, you could save even more money, without the need to switch the brand you know and love.
You have to open hair dye bottles and mix a little bit together to do a patch test on your skin – I usually use an old drinking glass to mix the dye. You then re-seal the bottles – separately, not mixed together – and wait until the next day to ensure you've not become allergic to the hair dye you're using.

What if (like you'd do when you do a patch test), you mixed half of the hair dye together, and sealed away the other half (again, unmixed) and only did your roots, or a dip-dye effect at the ends of your hair? Well, that £4 box of hair dye that you always thought came with too much is now only costing you £2 each time and you're not wasting any product or money now – result.
I've been using this trick for some time, and as long as you properly follow the safety directions that come with your brand of hair dye, you can too.
It's not empty until it's empty – hacks to squeeze the last product out of packaging
If you've ever tried to squeeze the last bit of hand cream or toothpaste out of a tube, you'll know the pain of this one. But have you ever tried using the tines of a fork to help you out? Simply pass the end of the tube between the tines – or your fingers – and then fold up the end and secure with a kitchen clip or an office clip and you'll be able to get more for your money. Of course, you can also carefully cut them open to get every last drop of product out, but the fork and clip method leaves the tube looking tidier and still sealed if you're worried about mess.
If you think your hand or face cream in a small tube (as in the video above) is empty, cut the end off and you'll likely find product left inside. If there's enough for more than one day, simply slide the end back onto the tube to avoid it drying out, or add your clip back on if you've used the above trick.
See MSE Sarah's 42 MoneySaving household hacks for more tips and tricks like this.
Let hot water or gravity do the work for you – how to get more from packaging you can't squeeze
MSE Molly's top tip is to place your (sealed) mascara or foundation container in warm water for a few seconds to loosen it up. If your mascara brand has an expiry (usually a few months after opening) it could harbour harmful bacteria, so be sure to only use this trick to get the last out of an unexpired tube for safety.
For foundation, or shampoo/conditioner, you can also let gravity do the work for you. Place the nearly-empty bottle over a mini or travel-size bottle or container and let it sit somewhere it won't be disturbed. Come back later, and you'll have a clean bottle to recycle, and a travel bottle full to use or keep for when it's possible to travel again.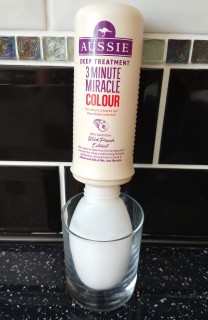 Nail polish and broken powders – can they be reused or recycled?
You can't put nail polish bottles in your glass recycling unless they're totally empty and clean with no traces of polish – though that sounds a bit hard to achieve, right? See my blog on reusing and recycling nail polish for ideas on what to do with your old polish, such as mixing together an old, clear polish and a broken eyeshadow or powdered blusher to make a new matte polish.
Of course, if you don't have any old nail polish, but you do have a broken eyeshadow, blusher or highlighter, why not completely crush it and add it to an old jar to use powdered instead of in a compact? Chances are, you're applying it with a brush anyway so it shouldn't make too much of a difference.
Finally... what's the weirdest way I've reused old make-up?

If you're wondering what the weirdest way I've used old make-up is...
I once used old eyeshadow as fingerprint powder for a piece of coursework during my Forensic Chemistry degree. It works really well – so keep this in mind the next time someone in your household steals your food!
Have your say
This is an open discussion but the comments do not represent the views of MSE. We want everyone to enjoy using our site but spam, bullying and offensive comments will not be tolerated. Posts may be deleted and repeat offenders blocked at our discretion. Please contact fbteam@moneysavingexpert.com if you wish to report any comments.
Update: We are aware that some users may currently be having issues seeing the comments and we're working on it.