Free or cheap ways to celebrate Valentine's Day
Including a round-up of free-to-watch movies, dine-in for two meals and free cards
Valentine's Day is next Monday and though romance is lovely, over-commercialised pressure to spend isn't. So I've come up with a list of some free and cheap thoughtful MoneySaving activities you can do together with your partner, family or friends.
If you've yet to find love but are single and ready to mingle, check out our five-day free eHarmony premium deal. You never know, Valentine's Day could be your future anniversary. What better day to start?
1. Pledge to do something nice with our free Valentine's gift cheques 💕
You don't need to spend money to show someone how much you appreciate them. After all, thoughtfulness melts the heart far more than a pricey pressie. See our free Valentine's gift cheques where you can download and print vouchers for your partner. When they present it to you, you'll do whatever it says on demand (please don't make me watch another rubbish movie!).
2. Watch a movie with your Valentine 🍿
There's a good selection of popular movies on TV for free this Valentine's weekend for when you want to take some time to sit back and relax. I've put together a round-up of what's on and when, including a mixture of family-friendly movies that are available to all on Freeview, plus some that require a paid subscription such as Netflix and Amazon Prime. See Freeview's TV Guide for a full list of what's on.
| | | |
| --- | --- | --- |
| Movie | Time | Channel |
| Sherlock Gnomes (2008, U) | 3pm | ITV2 |
| Evan Almighty (2007, PG) | 4.45pm | ITV2 |
| Indiana Jones and the Temple of Doom (1984, 12) | 6.40pm | E4 |
| The Huntsman: Winters War (2016, 12A) | 6.50pm | Film4 |
| Pitch Perfect 2 (2015, 12A) | 6.50pm | ITV2 |
| Identity Thief (2013, 15) | 9pm | ITV2 |
| Booksmart (2019, 15) | 10pm | BBC THREE |
| Bridget Jones's Diary (2001, 15) | 10.40pm | ITV |
| | | |
| --- | --- | --- |
| Movie | Time | Channel |
| Breakfast at Tiffany's (1961, PG) | 1.05pm | Channel 5 |
| Over the Hedge (2006, U) | 12.45pm | Film4 |
| Dr Dolittle 2 (2001, PG) | 2.30pm | ITV2 |
| Emma (1996, U) | 2.45pm | BBC TWO |
| Night at the Museum: Secret of the Tomb (2014, PG) | 2.55pm | Channel 4 |
| The Smurfs (2011, U) | 4.20pm | ITV2 |
| Dawn of the Planet of the Apes (2014, 12A) | 6.25pm | ITV2 |
| Deadpool (2016, 15) | 9pm | E4 |
If you have a Netflix or Amazon Prime subscription, here are some of my top picks of the best flicks:
| | | |
| --- | --- | --- |
| Silver Linings Playbook (2012, 15) | It's Complicated (2009, 15) | Mamma Mia! (2008, PG) |
| Just Go With It (2011, 12A) | She's the Man (2006, 12) | P.S. I Love You (2007, 12) |
| Two Weeks Notice (2002, 12A) | How To Be Single (2016, 15) | Monster In Law (2005, 12) |

If you don't have Netflix but are interested in a subscription, check out MSE Kelvin's 18 Netflix Hacks to cut the cost and get more from your subscription

| | | |
| --- | --- | --- |
| The Proposal (2009, 12A) | Cinderella (2021, 12) | Crazy Stupid Love (2011, 12) |
| Love, Rosie (2014, 15) | Man Up (2015, 15) | The Wedding Singer (1998, 12) |
| 13 Going on 30 (2004, 12A) | Sweet Home Alabama (2002, 12A) | Dirty Dancing (1987, 15) |
3. Round-up of supermarket dine-in for two meals 🥘
If you're not big on hitting the town to celebrate Valentine's Day and want to keep the costs down, I've rounded-up a list of popular supermarkets offering dine-in for two meals, with the Co-op being the cheapest at £12 with a soft drink.
4. Recycle the love with a homemade card ♻️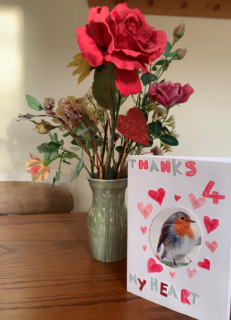 Homemade cards are fun to make, environmentally friendly and free. If you happen to hold on to cards you've received in the past but no longer want them, you could reuse the designs to make a Valentine's card (although, maybe don't use one your partner sent you last year). French Artist Henri Matisse once said 'Creativity takes courage', and what better courage than to reuse a card from an ex, eh? As you can see, I only had Christmas cards from last year (was a quiet Valentine's), but I'm taking comfort in the fact that it's totally unique.
You too can create an absolute masterpiece with just paper, crayons, scissors, a bit of Pritt Stick, and imagination. I found making this quite therapeutic and relaxing after a day of work, too.
Thanks for robin my heart ❤️
5. Free printable card ♥️
If you haven't got any old cards stored up in your loft but you have a printer, cut the cost with free printable cards from Greetings Island, some of which you can personalise. Those not marked as 'premium' are completely free. As you can see from my card, my printer's quite clearly running out of ink. Why the red face, Timothée?
6. Have a 'Bake-off' - it could make or bake you 🍪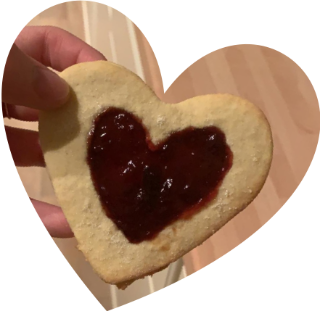 Don't go baking my heart. It's time to get competitive and glaze the bar with a bake-off. Compare at the end and find out who's the best baker once and for all.
To keep the costs down, check what ingredients you already have at home, then have a peep at BBC Good Food's Valentine's baking for some inspiration. Based on what I already had, I found I could make the Sainsbury's jammy dodger recipe without kneading to buy other items. Luckily, I already had a heart-shaped cookie cutter in my kitchen, too.
Ready, bready, go!

7. Take a hike together ⛰️
Walking can offer many mental health benefits and is proven to lower stress levels, so perhaps you might like to go and explore the great outdoors together. If you go online to Komoot or download the free app (iOS/Android), you can plan a walk near you. You'll just need to enter the area you'd like to explore and it'll show a list of walks nearby. You'll be able to see the duration of the walk and whether it's easy, intermediate or difficult. If you're planning on using public transport to get to your walking destination, see MSE Kelvin's Cheap train tickets guide.
Don't forget to pack a picnic (and a blanket) – see our cheap Champagne & Prosecco deals if you fancy taking a bottle of fizz.
8. Stargaze with the twinkle of your eye 🔭
If you go online to free website Stellarium-Labs, you can zoom in on stars, galaxies and nebulas as well as viewing what kind of planets are visible that night. When you click on the above link, you'll be asked to create a free NoctuaSky account which will then allow you access to stargaze.
Watching the stars together doesn't have to just be romantic, you could make it into a fun astronomy class with the whole family. If it's something the kids enjoy, they can head over to NASA's free SpacePlace where they can explore Earth and Space, play games and even build their own spacecraft at home with NASA's handy tutorials.
9. Have a night at the theatre – from your sofa 🎭
Get that theatre-fix at home through free or cheap live-streamed shows, pre-recorded West End musicals and immersive app-based audio shows. Some of the free options include recordings of Andrew Lloyd Webber musicals and audio plays.
Free theatre streaming site Scenesaver offers a catalogue of over 500 pre-recorded shows from across the world. You'll need to register to watch, but it's totally free. It's even made fake tickets that you can print for free, to really immerse yourself into the theatre-going experience.

Why not get dressed up, get those curtains pulled and pretend you're at the real thing? See our Cheap theatre tickets guide for full info.
10. Free printable colouring pages for the kids 🎨
If you go online to Hallmark, you can print free Valentine's Day colouring pages including flowers, animals, hearts and even magical unicorns. It will open as a PDF file on your device which you'll then be able to print directly from your browser.