Free ideas to celebrate Valentine's Day
Incl a round-up of movies, virtual 'Bake off' and virtual games
Valentine's Day is this Sunday, but for many of us this year will be slightly different than others. Though romance is lovely, over-commercialised pressure to spend isn't. So whether you're with or without your loved ones, I've come up with a list of some free and thoughtful MoneySaving activities you can do together, virtually or in person, with your partner, family or friends.
If you've yet to find love but are single and ready to (socially distanced) mingle, check out MSE Becky's 'Dating at a distance' MoneySaving plan for tips on virtual dating. You never know, Valentine's Day could be your future anniversary. What better day to start?
I'm conscious that some people have sadly lost loved ones this year and you may not want to read this, but if you are celebrating, I hope this can help you to think of some fun ways to do it for free.
1. Pledge to do something nice with our free Valentine's gift cheques 💕
You don't need to spend money to show someone how much you appreciate them. After all, thoughtfulness melts the heart far more than a pricey pressie. See our free Valentine's gift cheques where you can download and print vouchers for your partner. When they present it to you, you'll do whatever it says on demand (please don't make me watch another rubbish movie!).
2. Watch a movie with your Valentine 🍿
There's a good selection of popular movies on TV for free this Valentine's weekend for when you want to take some time to sit back and relax. I've put together a round-up of what's on and when, including a mixture of family friendly movies that are available to all on Freeview, plus some that require a paid subscription such as Netflix and Amazon Prime. See Freeview's TV Guide for a full list of what's on.
| | | |
| --- | --- | --- |
| Movie | Time | Channel |
| Maid in Manhattan (2002, PG) | 12.20pm | Channel 5 |
| Ice Age (2002, U) | 1.05pm | Film4 |
| Madagascar (2005, U) | 2.40pm | Film4 |
| The Wedding Planner (2001, PG) | 2.45pm | BBC Two |
| Lemony Snicket's A Series of Unfortunate Events (2004, PG) | 4.25pm | Film4 |
| We're the Millers (2013, 15) | 9pm | ITV2 |
| The Little Stranger (2018, 12) | 9pm | Channel 4 |
| Hitman: Agent 47 (2015, 15) | 9pm | Film4 |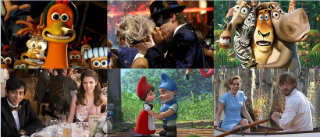 | | | |
| --- | --- | --- |
| Movie | Time | Channel |
| Paw Patrol: Ready, Race, Rescue (2019, U) | 8.10am | Channel 5 |
| Monster Family (2017, PG) | 12pm | Sky One |
| Made of Honor (2008, 12) | 1.15pm | Channel 5 |
| The Perfect Man (2005, PG) | 1.45pm | ITV2 |
| Chicken Run (2000, U) | 3.50pm | ITV2 |
| Monsters University (2013, U) | 4pm | BBC One |
| Table 19 (2017, 12) | 7.20pm | Film4 |
| Love, Simon (2018, 12A) | 9pm | Film4 |
If you have a Netflix or Amazon Prime subscription, here are some of my top picks of the best flicks:
| | | |
| --- | --- | --- |
| 50 First Dates (2004, 12) | Music and Lyrics (2007, PG) | About Time (2013, 12) |
| A United Kingdom (2016, 12) | Letters to Juliet (2010, PG) | Notting Hill (1999, 15) |
| Love Guaranteed (2020, PG) | The Notebook (2004, 12) | Yes Man (2008, 12) |

| | | |
| --- | --- | --- |
| The Proposal (2009, 12A) | Just My Luck (2006, PG) | The Holiday (2006, 12) |
| Gnomeo & Juliet (2011, U) | A Star is Born (2018, 15) | Once More (2014, 12) |
| I Feel Pretty (2018, 12) | Mr. & Mrs. Smith (2005, 15) | Pretty Woman (1990, 15) |
Miss watching a movie with your pals? If you've a Netflix subscription, you can download the free Teleparty extension on Google Chrome (laptop or desktop) and you'll be able to watch TV together at the same time. There's also a chat box on the side so you can have a natter about those all-important movie moments. If you don't have Netflix but are interested in a subscription, check out MSE Kelvin's 18 Netflix Hacks to cut the cost and get more from your subscription.
3. Recycle the love with a homemade card ♻️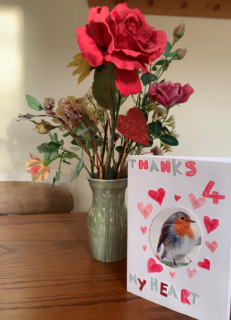 Homemade cards are fun to make, environmentally friendly and free. If you happen to hold on to cards you've received in the past but no longer want them, you could reuse the designs to make a Valentine's card (although, maybe don't use one your partner sent you last year). French Artist Henri Matisse once said 'Creativity takes courage', and what better courage than to reuse a card from an ex, eh? As you can see, I only had Christmas cards from last year (was a quiet Valentine's), but I'm taking comfort in the fact that it's totally unique.
You too can create an absolute masterpiece with just paper, crayons, scissors, a bit of Pritt Stick, and imagination. I found making this quite therapeutic and relaxing after a day of work, too.
Thanks for robin my heart ❤️
4. Have a (virtual) 'Bake-off' - it could make or bake you 🍪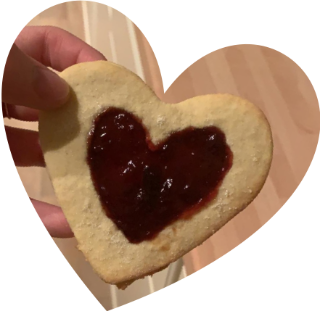 Don't go baking my heart. It's time to get competitive and glaze the bar with a virtual bake-off. Many of us won't be able to bake together, so for those of us who can't, you could try a virtual challenge over Facetime, Zoom or any other app you use. Compare at the end and find out who's the best baker once and for all.
To avoid an unessential shop and to keep the costs down, check what ingredients you already have at home, then have a peep at BBC Good Food's Valentine's baking for some inspiration. Based on what I already had, I found I could make the Sainsbury's jammy dodger recipe without kneading to buy other items. Luckily, I already had a heart-shaped cookie cutter in my kitchen, too.

Ready, bready, go!
Make it an official event by sending a free invitation to your fellow bakers, this could be useful if you and your friends are celebrating 'Galantine's Day' on Feb 13. If you go online to Paperless Post, you can find selected free virtual invitations that can be sent to up to 50 people via email.
Here's how to find them:
Go online to Paperless Post
Hover over the 'Parties' tab and select 'General entertaining'
Select the 'Free' filter on the left-hand side of the page
You'll be shown 200+ invitation designs, which you'll then be able to personalise
As it's a virtual event, if you have a Zoom meeting set up already, you can add the link to the invitation.
5. Stargaze with the twinkle of your eye 🔭
If you go online to free website Stellarium-Labs, you can zoom in on stars, galaxies and nebulas as well as viewing what kind of planets are visible that night. Watching the stars together doesn't have to just be romantic, you could make it into a fun astronomy class with the whole family.
If it's something the kids' enjoy, they can head over to NASA's free SpacePlace where they can explore Earth and Space, play games and even build their own spacecraft at home with NASA's handy tutorials.
6. Free virtual games round-up 🎲
Missing games-night but fed up of those repetitive Zoom quizzes? Me too. It's time to start thinking about those team names because thanks to apps like Zoom, Houseparty and Google Hangout, you can still throw a fun-filled games-night!
Below is a round-up of popular games you can play for free online or via an app:
| | |
| --- | --- |
| Game | How to play virtually |
| Pictionary | Divide your group into teams. Open the free Pictionary Word Generator and choose a team to play first, as well as a designated drawer on that team. The drawer generates a word and has one minute to draw that word for their team to guess. If the team correctly guesses the card, they'll get a point. |
| Trivia | Choose a host to share their screen with the group and reveal the answers. Open free Random Trivia Generator, pick a category (arts, science, general, geography, history and entertainment) and then scroll through the questions. To see the answer to a question, you'll just need to click on it and the card will flip over. Once you've written your answer down, hold this up to your camera so the host can see. |
| Houseparty | If you download the free Houseparty app (available for Android/iOS), you'll find a good selection of games to play with friends and family including the popular Heads Up and UNO. Once you have the app, you can add your contacts and start a call. You'll see a dice/microphone icon on the top of your screen, and you'll just need to click that icon to see the available games. |
| Evil Apples | Those of you who've played Cards Against Humanity will know how Evil Apples works (download for free on Android/iOS). There will be a topic card and you'll receive answer cards to select from. Click the one you think is the funniest answer (or the one you think the judge will find funniest or most clever) by dragging your card up toward the topic card. Everyone takes a turn as judge where you will choose the best card received from the other players. If your amount of winning cards reaches seven first, then you win. |
| Psych | Similar to the game Balderdash, players make up fake answers to real trivia questions in a bid to outwit their friends (download for free on Android/iOS). The objective of the game is to trick your friends into choosing your answer. You'll score points for guessing the right answer and for psyching your friends into guessing yours. Requires a minimum of two players. |
| Spyfall | A virtual game for those fans of Cluedo and Escape Room. Someone in your department is an enemy spy and you'll need to put your detective skills to the test to be able to uncover them. It's a game for 4-10 players and available for free online. Once each round starts, each player is given a location card. The location is the same for all players except for one player, who is randomly given the "spy" card. See the game rules for more info. |
Remember you can send the free Paperless Post invitations to invite the gang for a game, so they can save the date.
7. Have a night at the theatre – from your sofa 🎭
Even though live entertainment is on hold for now, you can still get that theatre-fix at home through free or cheap live-streamed shows, pre-recorded West End musicals and immersive app-based audio shows. Some of the free options include recordings of Andrew Lloyd Webber musicals and audio plays.
Free theatre streaming site Scenesaver offers a catalogue of over 350 pre-recorded shows from across the world. You'll need to register to watch, but it's totally free. It's even made fake tickets that you can print for free, to really immerse yourself into the theatre-going experience.

Why not get dressed up, get those curtains pulled and pretend you're at the real thing? See our Cheap theatre tickets guide for full info.
8. Free printable colouring pages for the kids 🎨
If you go online to Hallmark, you can print free Valentine's Day colouring pages including flowers, animals, hearts and even magical unicorns. It will open as a PDF file on your device which you'll then be able to print directly from your browser.

Have you got any free or MoneySaving Valentine's ideas? Let me know in the comments below, or on Twitter @MSE_Deals. Stay safe and spread the love, and not the germs.
Have your say
This is an open discussion but the comments do not represent the views of MSE. We want everyone to enjoy using our site but spam, bullying and offensive comments will not be tolerated. Posts may be deleted and repeat offenders blocked at our discretion. Please contact fbteam@moneysavingexpert.com if you wish to report any comments.
Update: We are aware that some users may currently be having issues seeing the comments and we're working on it.