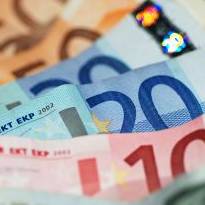 There is an urgent warning for all holidaymakers heading abroad in the summer rush: don't change cash at the airport.
Instead, use the first ever true holiday cash comparison site, TravelMoneyMax.com, to find the best place to order your currency online.
It proves those who wait to change money at airports are wasting a fortune.

On £500, you'd be fifty dollars and forty euros worse off by using an airport kiosk.
While high street currency bastions Marks & Spencer and the Post Office are better than their airport counterparts, even they're blown away by the top online providers.
When you order from these web-based currency providers you'll either have the money delivered or you'll need to pick it up from a branch or airport desk (without paying the expensive airport rate).
The impartial, free service, built by MoneySavingExpert.com, searches over 20 online bureau de changes and instantly finds the best deals, for any amount of any currency. It incorporates commission and delivery charges. It also has a 'buy-back' comparison and quick 'Currency Converter'.
The size of the savings
TravelMoneyMax.com
After all charges, £500 would buy you... (8 July, 2009)


Euros

US Dollars

TravelMoneyMax's Cheapest

€571

$794

Post Office

€561

$778

M&S

€550

$770

Worst online

€535

$752

Heathrow Airport bureau

€532

$748
Additional top travel money tips from Martin Lewis
Be careful how you pay. Pay for foreign cash from a UK bureau on a credit card or some debit cards (such as Abbey, A&L, Barclays, Co-Op and Lloyds TSB), and it will be treated like a foreign cash withdrawal, meaning you pay a £3 fee, or more, on top. Avoid this by using another card or, with debit cards, withdrawing cash from an ATM instead and paying with that.


Pre-order for airport pick-up. If you want the convenience of airport pick-up, order your currency in advance and you get a better rate. On the day we checked, €500 cost £470 from Travelex at Heathrow airport, but only £444 by ordering in advance.


Ignore commission-free promises. It's nonsense! All it means is you don't pay a separate fee, yet often the cost is just loaded on a poor exchange rate. Forget all such spin, the only way to compare is to ask: "If I give you £200, how many dollars/euros/etc... will I get after ALL charges?"


The ultimate deal comes from using the right plastic. Spend abroad on specialist credit card Santander Zero, or runners up the Post Office and Saga, and you'll get even better exchange rates. Most cards add a hidden 3% to all transactions, so spend £100 worth of euros, and it costs £103.

Yet these cards all have a zero load, meaning they're unbeatable. Repay in full each month to reduce interest, though. Full information in the Cheap Travel Money guide.


Watch for overseas debit card cash withdrawals. It's not just credit cards that charge a £3-ish fee when you take cash out of an overseas ATM. All debit cards except Nationwide's also add the fee.


Avoid cards from hell. Like most plastic, the DEBIT cards from Abbey, Halifax, Lloyds TSB, Natwest and RBS add a 3%-ish currency conversion fee, and an overseas cash withdrawal fee. Yet these hellish products also charge a fee of between £1 and £1.50 EVERY time you spend. So buy something worth a fiver and it'll cost £6.50, plus the load charge. Quite simply, don't use them abroad.

Martin Lewis comments: "Those going abroad this summer need be prepared for a shock. While the cost of flights and hotels haven't risen to a prohibitive level, the cost of buying things once you're there is going to hit like Frank Bruno.

"Yet those changing their money at the airport are waving the white flag of surrender. The extra cost of the convenient pick up is hideous.
"While most people tripping to Europe this year will find things 20% more expensive than last summer, airport changers will see their costs upped by more than a quarter.
"The best way to protect yourself is to sort it in advance. It can be done in seconds."
Further reading/Key links
Get cheap currency: TravelMoneyMax.com, Cheap Travel Money