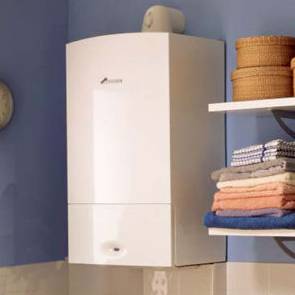 The Government's boiler scrappage scheme launches today which gives you £400 off the price of a new boiler.
Up to 125,000 households with working boilers with the lowest "G" rating in England can apply for vouchers from the Energy Saving Trust (EST) towards "A" rated boilers or renewable heating systems, such as a biomass boiler or heat pump.
Some energy companies are planning to complement and even match the Government offer with money potentially offering £800 savings.
The Government says the £50 million scheme will save as much carbon as taking 45,000 cars off the roads and will also cut a household's energy bill by up to £235 a year.
Typical boiler cost
The average cost of a boiler and its installation is around £2,500, according to the heating industry.
The EST website can help you determine your boiler's rating.
The scheme was first touted in December's Pre Budget Report (see the Boiler Scrappage announcement MSE News story).
Prime Minister Gordon Brown says: "Today's announcement will slash household energy bills and carbon emissions while providing an important boost for the British heating industry."
Save cash
British Gas said today it will match the Government's pledge of £400, giving households a possible £800 saving.
Npower has already said it will launch a similar scheme (see the Npower boiler scrappage MSE News story).
Before committing to a new boiler, ensure it is as cheap as possible factoring in any discounts. This may mean ignoring the power firms' schemes if you can get a cheaper appliance elsewhere.
Fraser Winterbottom, from the Energy Saving Trust, says: "We know people will act on larger energy efficiency measures like replacing boilers when they are both good for the environment and cost effective for them."
Further reading/Key links
Slash energy costs: Cheap Gas & Electricity
Your rights: Fight Energy Direct Debits
Full info: Energy Saving Trust , Boiler Cover