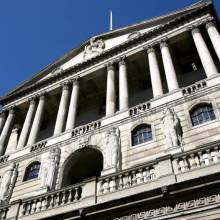 The base rate has been held at 0.5% for the 12th consecutive month, the Bank of England revealed today.
The announcement comes on the eve of the one-year anniversary of the drop to 0.5%, the lowest the official borrowing rate has ever been (see the Top Savings and Cheap Mortgage Finding guides).
Many economists expect base rate to remain on hold throughout 2010, though experts' opinions can change rapidly (see the Base rate predictions MSE News story).
So who have been the winners and losers from the past year, and what should savers and borrowers do next?
The winners
Today's news is another boost to anyone on a mortgage that tracks the base rate.
Anyone on a tracker will have seen no change in their rate for the past year, while most homeowners who took out a deal more than a year ago, will be paying far less than their original payments.
One deal from Cheltenham & Gloucester (C&G) tracks at 0.62 percentage points below base rate meaning no interest is charged, but that only runs until the end of April.
Though the effective rate is minus 0.12%, borrowers are not paid. They have to pay a nominal sum on top of capital repayments, as if interest were being charged, but this is taken off the balance.
On a typical £150,000 home loan, a borrower on an interest-only deal would be charged no interest, compared to £548 a month at the start of October 2008, when the base rate stood at 5%.
Many borrowers on their lender's standard variable rate (SVR) have also been paying relatively low rates, though it depends on your lender. C&G and Nationwide customers on their lender's SVR currently pay 2.5% interest, the lowest on the market.
On a typical £150,000 mortgage, a 2.5% SVR would cost £313 a month on an interest-only deal.
The losers
Savers have seen their earnings decimated by the low base rate. In fact, not one standard, easy access savings account currently beats the 3.5% Consumer Prices Index (CPI) inflation figure, even for non-taxpayers who earn the rate quoted.
This means all savers with cash in one are losing money in real terms, based on the current inflation figure, as their purchasing power is diminished (see the Losings accounts MSE News story).
Worst hit are those who leave their cash languishing in accounts earning less than 1%.
There are some mortgage losers too. While some on their lender's SVR are celebrating low payments, not all SVRs are as low as 2.5%, with some closer to 6%. Chelsea Building Society, for instance, charges 5.79%.
In the past, anyone on a high SVR could simply switch but you need a large deposit (often at least 25%) and a spotless credit history to get a good deal at present.
However, there have been improvements in rates for those with a 10%-24% deposit (see the Mortgage boost MSE News story).
Some lenders have even increased their SVR during the benign interest rate period.
Skipton Building Society, for instance, this month hiked its rate from 3.5% to 4.95%, adding £1,500 to annual payments on a £150,000 repayment mortgage (see the Skipton rate shock MSE News story). It says this action was necessary to help it offer better rates to savers.
Average loan and credit card rates have also risen, despite the falling base rate. In fact, loans rates are now at a nine-year high (see the Loan market perversion MSE News story).
What next for savers?
The key is to compare your deal to the best available rates and switch, if necessary, to limit the damage to your cash.
Basic rate taxpayers beat inflation with a fixed rate if they're prepared to lock money away for up to five years but once tax is deducted, higher rate payers can't even keep pace with the current cost of living (see the Top fixed rates guide).
The top cash Isa rate for new money is 3.5% which matches inflation (see the Top fixed rates and Top cash Isa guides).
Martin Lewis, MoneySavingExpert.com creator, says: "The imperative right now is for everyone to earn the maximum rate. Even if that's less than inflation, the more you earn the less the impact.
"Therefore, it is crucial to check what you're earning and if it's anything less than 3% try to better it if you can."
"If you want to guarantee to beat inflation, for savings up to £15,000, National Savings & Investments (NS&I), the Government run bank, has index-linked savings paying 1% above the Retail Prices Index inflation figure (currently 3.7%), tax-free, that's designed so you lock your money away for three years. It currently pays 4.7%, after tax."
What next for borrowers?
If you're approaching the end of an introductory fix or variable rate mortgage deal, or you are on your lender's SVR, then urgently review your mortgage. Many, especially on low tracker rates, could see a hike in monthly payments when their deal expires.
Staying put, if on a low SVR, may be the best option for you but at least consider your options.
Andrew Montlake, from mortgage broker Coreco, says: "While those on a tracker have been whooping with delight over the past year it is easy to get carried away with the 'tracker products are best' argument. As with anything, it depends on personal circumstances.
"Whereas in the past it may be the case of looking at affordability if rates rise by one percentage point, perhaps now those contemplating a tracker should be looking at affordability with a 2% or even 3% rise.
"What is clear is that the options should be worked through carefully, that you make a decision whether peace of mind is more important than saving a few quid in the short-term."
If you're looking for a loan or credit card, see our Cheap Loans, Best Balance Transfers or 0% Purchase Credit Card guides.
Further reading/Key links
Best savings: Top Savings, Top fixed rates, Top cash Isas
Mortgage rate-busting: Cheap Mortgage Finding