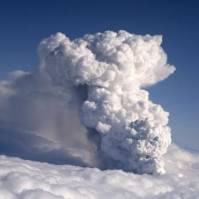 Most insurers will refuse a payout if your future travel plans are disrupted by the volcanic ash cloud from Iceland.
Only seven of the 20 major insurance companies sampled by MoneySavingExpert.com said they would definitely consider a payout on their standard policies if you've yet to buy cover.
The volcanic ash cloud brought more chaos to travellers' plans earlier this week as numerous flights were cancelled following the closure of air space (see the Volcanic ash rights MSE News story).
And some scientists believe the Eyjafjallajokull volcano in Iceland may erupt for another year or two, which could make flight disruptions a regular occurrence in the UK (see the Travel Insurance guide).
So where does this leave holidaymakers worried about future flights?
What does insurance cover?
When claiming on insurance for cancelled or delayed trips due to the ash, you're likely to be claiming in two circumstances:
If you cancel your trip. In most cases, insurance may only cover non-refundable accommodation / car hire / or other costs at your destination end. You may also get the cost of the premium back if you cancel, if you've only insured yourself for a single trip.
What does insurance not cover? Your airline, not your insurer, is responsible for refunding any cancelled flights (see the Cheap Flights guide). If on a package holiday, the tour operator must refund all elements of the package if you cannot go, not your insurer (see the Cheap Package Holiday guide).


If you're delayed. Some insurers pay up to £300 as compensation if you're delayed for a specified time. In many cases, this is all you will get.
What insurance does not cover? Insurers are not responsible for putting you up in a hotel or feeding you while you wait for a delayed flight. That is your airline's responsibility.
Will it pay if I've yet to book travel or insurance?
Sadly, for those yet to book travel or insurance, many insurers will now reject any claim directly related to the Icelandic ash cloud as it is considered a known event.
A few will still cover you yet even those insurers that do say this could change at any point. Direct Line, for instance, says its policy is under review.
Some insurers, such as Aviva, are selling separate cover for airspace closure.
Which insurers will cover future ash incidents?
Our table below explains which insurers will cover you for ash-related delays.
But it only explains which firms will consider a claim or dismiss it outright. So read-on after as, even if ash is covered, it doesn't mean you'll get a decent pay-out.
Usually, each closure of air space is counted as a separate event, with that event ending once air space reopens. If you buy insurance or travel via a provider that covers volcanic ash while air space is closed, you will usually not be covered while it remains closed, only for future incidents after it reopens.
And where insurers will pay out if you have an annual policy but you've yet to book travel, you usually need to have bought that policy before 15 April, when the ash cloud first hit UK airspace.
Volcanic ash - will insurance cover you?

Provider

Insurance bought, yet to book travel

Yet to buy insurance

Aviva
yes
yes
Axa (standard policy)
no
no
Axa (premium policy)
yes
yes
Bank of Scotland
no
no
Barclays
maybe (i)
maybe (i)
Churchill
no
no
Columbus Direct
yes (ii)
no (iii)
Direct Line
yes
yes
Direct Travel
yes
yes
Halifax
no
no
HSBC
no
no
Insure and Go
no
no
Lloyds TSB
no
no
LV=
yes
yes
M&S
no
no
More Than
no
no
Nationwide
yes (iv)
yes (iv)
Natwest
yes
yes
Royal Bank of Scotland
yes
yes
Santander
no
no
Tesco
yes (ii)
no

(i) technically, there's no cover but it may pay out in "exceptional circumstances", (ii) if you bought cover before 15 April, (iii) unless you buy its 'emergency travel upgrade', (iv) effective 22 May
What payout will I get?
Even if you're covered by ash, not all policies cover cancellation, only delays. Those whose policy only covers delays may not get any compensation if they cancel their trip.
Yet what counts as a delay or cancellation can get complicated and can depend on whether or not you've checked into your flight.
Even among certain providers, how good your cover is depends on the level of cover you purchased. So check you with your insurer for full details.
If I've already bought insurance and travel?
The key is when you bought it. If you had everything wrapped up before 15 April, which was the date of the first air space closure, see our Volcanic ash rights MSE News story for an insurer-by-insurer breakdown of whether or not you're covered.
If you bought insurance or travel after 15 April then check with your insurer as some have altered their policies since the original ash incident.
Further reading / Key links
Make them play fair: Consumer Rights, Section 75 Refunds
Travel for less: Cheap Flights, Budget Airline Fee-Fighting, Cheap Trains