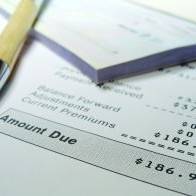 Paying household bills by direct debit can save you hundreds of pounds a year, an industry body has estimated.
Many utility and financial firms offer discounts, or avoid adding additional charges, to those who pay using this method (see the Direct Debit Audit guide).
In particular, the cheapest energy tariffs are only accessible when paying by direct debit. A typical household can save £300 a year by switching to an online tariff where you pay by direct debit (see the Cheap Gas & Electricity and Energy Saving Tips guides).
Phone companies often add charges for not paying by direct debit. BT, for instance, levies an £18 a year processing fee for those who pay on receipt of their statement.
The total savings across all household spending could total £435 a year for a typical family, according to Bacs, which processes direct debit payments for banks.
With a direct debit, payments are taken automatically from your bank account on the due date meaning you can never be late, assuming no glitches.
Here is how much you could save per bill, according to the organisation.
Gas and electricity: £300
Broadband / digital TV: £60
Mobile phone: £36
Magazine subscriptions: £21
Landline phone: £18
Yet it doesn't always pay to use direct debit to pay certain bills in installments.
For instance, paying for car or home insurance every month rather than in one go can cost more. Not paying your TV licence in one go can also mean higher charges.
However, you are not paying more because of the direct debit, but due to the way utility and financial firms levy their charges.
Mike Hutchinson, from Bacs, says: "Saving money is just one of the many benefits or paying by direct debit. It also helps spread the cost of many regular household bills, saves time and allows customers to take greater control of their finances.
"Perhaps most importantly, it ensures payments are made on time, every time, ensuring customers don't get penalised for late or missed payments."
Further reading / Key links
Cut costs: Direct Debit Audit, Energy Direct Debits, Cheap Gas & Electricity