No.1: £67-worth of shopping for 11p
Plus PayPal warning, cheap stolen goods, free sat nav, Easyjet refund
We've been on a mission this year to uncover clever wee tricks, twists and shortcuts to save you money (on top of our usual fare). They've been so popular we wanted to find the most-read, so here are the top 15 of 2015...
(We've excluded a few not in season. Also, in a few cases the tips are in bigger guides so we've estimated the traffic solely due to that tip.)
1. £67-worth of shopping for 11p. (1.4m reads). Extreme couponing's been huge this year, making our two pages that cover it the clear life hack winner. Top is our 100 supermarket coupons worth £100+ page, currently with everything from FREE Barilla pasta sauce to FREE Rice Dream Milk and £2 off Persil.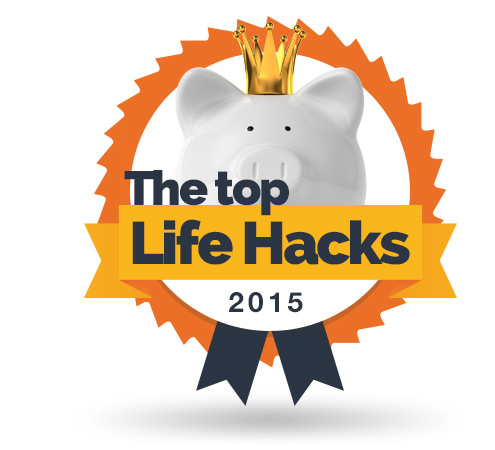 Then learn how to coupon-stack with our 20 extreme couponing tips (490,000 reads). Forumite Purple Sarah's is still the best we've seen: "Got £67-worth of shopping for 11p after offers, coupons & employee discount." And as Xmas nears, you could extreme-coupon to give to a foodbank – see Find a local foodbank.
2. Watch TV and (legally) don't pay the licence fee. (1.2m reads). Many've been keen to check if they're paying to watch TV unnecessarily - see Do I qualify? (PS This isn't an anti-BBC thing, I love Auntie - it's a 'what are your rights?' thing.)
3. Warning: Beware using PayPal to pay on a credit card. (1.1m reads). You may lose valuable extra protection if you do. Full info in PayPal warning (info for debit cards too). It's worth knowing.
4. Easyjet flight refund trick – has yours dropped in price? (1.1m reads). The Easyjet refund trick shows how to get the difference back if you've booked a flight and the price falls later (excl sales). Many, like Dave, have gained: "Got £300 from Easyjet. Straightforward. Thanks @MartinSLewis."
5. Pssst. Wanna buy stolen goods on the cheap? (980,000 reads). Fancy a bag of swag or bit of bling? Don't worry, even the police are in on it. Everything is explained in Buy stolen goods.
6. Free 'Amazon delivery trick' tool.(800,000 reads). You used to get free delivery if you spent £10 but in May it upped the minimum to £20. A handy tool (cleverly developed by the former MSE developer Adam – well done, fella) provides a way around. Free Amazon Delivery Tool
7. Haggle with Sky to beat price hikes. (760,000 reads). Big traffic to these tips after it hiked TV prices in June. And it's still relevant as on 1 Dec its phone & broadband prices jumped. Our Sky haggling guide can help, as it did for Kerry: "After using your tips, I halved my monthly bill, saving £360/yr – thanks."
Related: How to haggle with BT, Plusnet, TalkTalk and Virgin.
8. Wear/wore a uniform for work? Are you due a tax rebate? (660,000 reads). If you wash it yourself, you may be due a uniform tax rebate for up to five years. As Pete tweeted: "Just got almost £120 rebate for uniform cleaning from HMRC."
9. A YEAR'S 2for1 cinema for £2 by manipulating Meerkat Movies.(620,000 reads). In April we launched our Meerkat Movies trick and the audience gave it rave reviews, with copious tweets similar to Pete's: "About to enjoy 1st Meerkat 241 cinema tickets from £2 insurance quote. Cheers."
10. Beware smileys in texts – they could cost £100s. (510,000 reads). We first broke the Beware a £200+ emoji bill story, then it was all over the news. It explains the smiley or wink trap and how to avoid it.
11. Beware huge iPhone data charges if you upgrade operating system. (500,000 reads). An upgrade to the iOS system in September meant some users were stung when Apple's new setting was automatically turned on. Check your settings now if you haven't already. See Switch off high data iPhone setting.
12. Turn your smartphone into a free sat-nav. (390,000 reads). If it's got GPS, convert it into a free sat-nav for the UK and 85 other countries. If you're going overseas, download maps before you go to avoid pricey data costs. Forumite bod1467 rates it so much, it's replaced a separate unit: "I use it often and now instead of my old TomTom."
13. Free £48+/yr for Barclays customers. (360,000 reads). An easy way to bag a little bit of extra cash. See Free £48+ from Barclays.
14. If you're married, are you due tax back? (360,000 reads). If you're married or in a civil partnership, the marriage allowance could be worth up to £212/yr to you. See Marriage allowance, do you qualify? Natalie tweeted after reading it: "That's £212 a year saved thanks to @MoneySavingExp @MartinSLewis, didn't know about the marriage allowance, thanks for the heads up."
15. Beat £120 USA roaming charges using your UK tariff there for free. (65,000 reads). The cheapest 'data' pack on O2 is £120, and the rest aren't much better. Yet my 10 USA roaming tips show how to use a UK tariff incl unlimited data there (and in 18 other countries, eg, Aus, NZ) at no extra cost. Matilda told us: "In 2013 in the US, I came back with a £600 bill. This year, following your tips, it cost £15. Thanks."
This content originally appeared in the MSE weekly email on 9 December 2015.
Have your say