Virgin Media offers automatic discounts to customers put on hold – but wait to speak to someone in person as you may get a better deal
Virgin Media is offering automated discounts to cable customers put on hold who call up seeking a price cut, MoneySavingExpert.com has learned, although we've also heard of users securing far better deals if they stay on the line and haggle in person.
The telecoms giant would not confirm whether or not it was offering automated discounts to those put on hold, although we have accounts from numerous MoneySavers who say this is the case. A spokesperson for the company said: "We're committed to providing brilliant services and excellent overall value."
The news comes after Virgin Media announced a price hike for its broadband, TV and home phone users earlier this month, which will see millions paying an extra £56 a year on average from Tuesday 1 March.
Below is a selection of Virgin Media customers who have reported being offered the automated discounts – and some who scored bigger discounts by asking to speak to the retentions department:
Other Virgin Media customers have emailed us about receiving the discounts:
When I got the broadband price increase letter I phoned Virgin Media and selected the option for cancellation. After about 10 minutes of waiting on the line, it automatically offered me an option to remove £3 off the price increase. I selected the option to say yes to that. After a few days I got an email saying they are reducing my bill for 100Mb broadband by even more, from £25 a month to £21.65 a month for six months, with no contract. That's a great result.
MoneySaver John
I knew my fixed contract with Virgin was coming to an end. I was on an introductory price for 18 months for £24 a month – set to go up to £44 once the contract ended. I got an email saying the price would increase by £3.25 per month in March. I phoned up and (once I finally got through to someone) said I wanted a new deal otherwise I would leave. The adviser immediately offered me the same deal as I was on, saving me £23.25 a month compared to if I did nothing! 15 minutes on hold and then five minutes on the call. A good exchange of time and money!
MoneySaver Stephen
Don't just accept the automated discounts – haggle for a better deal

Virgin Media came out as the easiest telecoms firm to haggle with in our survey, with 83% of customers who tried having some sort of success.
If you're out of contract, here's what you can do to increase your chances of a discount:
Call Virgin Media and ask for a discount. First find out what newbies are paying as this will be useful ammo when negotiating. If you're offered an automated discount it might be best to wait until you can speak to someone and haggle, as many are telling us they could secure bigger discounts.
Say you're considering leaving the company. Some of the best deals are had when you're prepared to cancel your service. It may help you get a better discount, or if you do cancel, Virgin Media might try to entice you to return with 'welcome back' offers.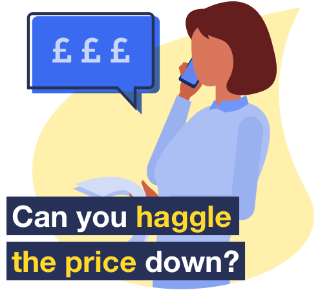 TOP TIP: If you're struggling to get through or are tired of waiting in the queue, you can call Virgin Media's cancellation and retentions department directly on the freephone number 0800 952 2277.
The retentions team are often able to give existing customers the best discounts.
Ask yourself if you need all the optional extras and ditch them if you don't. Paying for movies, but never watch them? Do a channel audit to work out what you don't watch and consider ditching channels you don't need. If you don't use your landline, consider if it's worth ditching to save on your monthly utility bills. And if your broadband speeds are more than you need, consider a downgrade.
If Virgin won't play ball, vote with your feet. If you don't get what you want, you should consider leaving. Remember, new customers normally have the pick of the best TV, fibre broadband and line rental deals and there are other providers out there waiting for your custom. Compare broadband, phone and TV deals to find the best one for you. Once they've given notice, we've heard of users getting a call from Virgin Media within the 30-day notice period offering them a deal to entice them back – though there are no guarantees.
See our Haggling with Virgin Media guide for full details and tips.
For all the latest deals, guides and loopholes simply sign up today – it's spam-free!
Join the MSE Forum discussion