I turned my flat into a jungle on the cheap – how to do it yourself
I've been digging about in pots of dirt for a few years, and I want to share with you my 'greenprint' in the form of top MoneySaving tips to grow your indoor garden from one plant into a hundred. With this as inspiration, plus sun, water and a bit of your own trial and error, your ceiling's the limit.
It wasn't so long ago I was a serial accidental houseplant killer. Every one I bought would wither and die faster than a defeated Pac-Man at the hands of my misapplied love. I can pinpoint the exact moment it all changed: my manager told me I was overwatering the spider plant on my desk – giving it a bit of water every few days until it got waterlogged and drowned. Instead, she said, push your finger up to the knuckle (heyy-oh) into the plant's soil: if it's dry, it's time to douse it until the water runs out of the drainage holes. (There are exceptions – see my note on watering below.) With that knowledge, I was on the road to growing my own jungle.
It's important to note that I'm a MoneySaving expert, not a qualified gardening expert. Yet I have plenty of personal experience with stuff that's worked for me and my plants, where lots of these tips come from. Hopefully they can work for you too.

My own 'greenprint' to glory can be summed up in six points, all of which champion the cheapest (often free) method:
1. Get a starter plant for less🌵✨

The mother, the originator, the inaugural first plant. Maybe you have a plant or two already – ace – but if you don't...
What should you choose?
The MSE social team took to Facebook and Twitter to ask MoneySavers: "What's your easiest plant?". Hundreds of you answered – thank you – and between you 31 types were mentioned. Here are the most popular answers:
The reliable spider plant was the runaway champion with an unbeleafable 28% of the vote, followed by aloe vera and jade. (Bear in mind these answers apply to the Northern hemisphere. Other houseplants will thrive in different climates.) Luckily, spider plants are one of the easiest plants to come across for free since they multiply so prolifically, and they're usually fairly cheap to buy.
Two other things to consider
Many cats, dogs and toddlers aren't at all interested in chewing plants, but to avoid the risk, the RHS lists out all toxic houseplants to avoid. Of the top three easiest houseplants above, only the spider plant is non-toxic.

Is your home cold/hot? Damp/dry? Light/dark? Find something that's suited to the conditions or you're setting yourself up for heartache. Desert plants like the cactus prefer dry air, so wouldn't suit a steamy bathroom or kitchen, for example. Some online plant sellers help you choose the best fit for your environment: Leaf Envy offers a quiz and Patch has a system of filters (light levels, plant height, which room it'll go in etc) to whittle down the choice. There's no obligation to buy, so you're best off gleaning the results and searching online for the best price.
Where can you get 'em cheapest?
Once you've an idea of what you want, where do you get 'em? Here are some of the most MoneySaving options, with the price of a spider plant or equivalent listed as an example for each. All the below can be done with social distancing and safety in mind. See our Life-in-lockdown guide for information on current coronavirus restrictions.

| Where to look | Price of a spider plant or equivalent |
| --- | --- |
| Friends & family | Free. Spider plants are prolific – it's a good bet you know someone with plantlets to give away. |
| Nextdoor, Freecycle & Freegle | Free. See MSE Jenny's guide to bagging pre-loved freebies on Freecycle or Freegle. |
| The office | Free. Will you be returning to an office with plants soon? There's probably someone hired to prune them. Ask the office manager if you can have the offcuts next time – they might be suitable for growing into new plants (more on propagation further down). |
| The street | Free. If you see discarded plants languishing by someone's bins, knock on the door (respect social distancing and wear a mask if appropriate) and ask if you can rescue it. But check the soil and the underside of the leaves for signs of crawlies, and if you take it, keep it quarantined away from other plants until you've monitored it. |
| Proplift... respectfully | Free. A whole subreddit has emerged for proponents of 'proplifting' – picking up fallen leaves from the floors of gardening centres and asking staff if you can take them home to propagate (more on propagation below). Often these dropped pieces will only be swept up and binned anyway, but in some cases staff will rescue/reuse them, which is why it's best to ask first. It shouldn't need saying, but don't pick leaves off plants you don't own – a definite plant-etiquette no-no. |
| Facebook groups | 85p. Join plant-themed groups, particularly ones specific to your area. I've seen baby spider plants offered for the price of postage, eg, £1.29 for a large letter sent first class. |
| Ikea | £1. No spider plants when I looked on Thu 18 Mar, but you'll be able to get potted plants in-store, once they reopen, for as little as £1. Otherwise, delivery fees start from £2. See MSE Laura B's Ikea MoneySaving tips & hacks. |
| Poundland | £1. I can't guarantee it'll sell spider plants, but I once bought a 'sensitive plant' kit (seeds + soil + bag) for (yes) £1, which grew very fast. Although not quite as fast as my GIF further down the page would suggest. |
| Facebook Marketplace | £1. Find everything from cuttings to rare specimens like the coveted variegated Monstera (that one's not MoneySaving, so forget about it, kid). I've spotted a spider plant for £1 for in-person collection. |
| Middle of Lidl | £1.49. Lidl runs sporadic plant events. Again, no guarantee they'll stock spider plants, but in the past I've seen small flowering plants from £1.49, small aloe veras for £2.99, and leafy things in concrete or ceramic pots for £3.99. |
| eBay* | £1.85. I've seen spider plants for as little as one shiny pound plus postage. See my warning about buying from third party sellers below. |
| Gardening Express | £9.99. This might seem a jump in price, but this one's a full-sized spider plant complete with a 12cm pot. Gardening Express sells larger plants, both indoor and outdoor. |
| Stalls | Varies. Once non-essential stalls are allowed to reopen, keep an eye out for greenery. Some of my favourites were bought from the little stall that pops up by Brixton tube station. Though I can't recall the prices of spider plants I've seen, I got a decent-sized Yucca for about £4.50 – it's thriving three years later. |
| Local plant shops & garden centres | Varies. Support local retailers by ordering a delivery (try searching via the Garden Centre Guide). But make sure to do your plant shopping at one website in one transaction to alleviate pressure on the postal system. |
Important: Avoid making unnecessary trips during the pandemic. If you pick up a plant from a store, do so as part of a larger planned trip.

Tips for getting the most for your money when buying plants
Check if the seller offers a guarantee. If going via an online plant shop, check if they have a guarantee, eg, 'guaranteed growth in six months or your money back'.


Avoid ordering plants in winter. HousePlantSwap advises that warmer months are best for ordering, since plants can suffer in the postal system when it's cold.


Buddy up to save money. If you're struggling to hit the minimum spend threshold for free delivery or to use a voucher, buddy up with friends who are also looking to buy a plant.


Buy cuttings with a good chance of rooting. When buying a cutting, ones which already have roots have the best chance of surviving, but may be a bit more expensive. If you get one that's not rooted, make sure it includes a node (the bumpy bit where one stem emerges from another), or two for good measure, as that's where roots will come from in many types of plant.


Haggle in stores. If you're confident in your plant reviving skills and find a sad looking specimen in a shop, haggle it down. Some non-specialist stores aren't great at looking after their greenery, so offer to take a wilted plant off their hands for half price. MSE Sarah had success with this after picking up a struggling ivy at Wilko.
If you're patient, buy or collect seeds. BBC Gardeners' World magazine frequently runs free seeds promotions, and MSE Chris K recommends ordering free wildflower seeds during Grow Wild's sporadic giveaways. Better still, collect seeds from your shop-bought fruit. Did you know you can grow an avocado plant by suspending an avocado pit over water? Or that the leafy top of a pineapple can be sliced off and left in a glass of water to develop roots? Or that tomato seeds scattered on soil will soon become seedlings? For more, see the MSE Forum seed thread.
Use online discounts and rewards. Here are a few of the online deals currently available.

If you can't find a discount, check

Topcashback*

or

Quidco

to see if you can get cashback instead.
| Website | Offer |
| --- | --- |
| Bakker | £5 off a £50 spend when you sign up to emails. |
| Hortology | 10% off your order when you sign up to emails. |
| Happy Houseplants | 10% off your order when you sign up to emails, plus exclusive discounts. |
| Friends or Friends | 10% off your order when you sign up to emails, plus exclusive discounts. |
| Leaf Envy | 10% off your order when you sign up to emails. |
| Papaya Plants | 10% off your order when you sign up to emails, plus exclusive discounts. |
| Gardening Express | Sign up to emails to be alerted to exclusive discounts. |
| Groupon | Sometimes offers a limited range of houseplants at decent prices. Newbies can get up to 15% off the first order by signing up for emails. |
| Wowcher | Offers sporadic plant deals and sometimes gives new sign-ups 10% off their first order. The 10% off order isn't live currently, so check back as it's likely to return. You'll be notified via a pop-up when you visit the site. |

| Website | Offer |
| --- | --- |
| House of Kojo | Gets you and a friend a £10 e-voucher each when you refer them and they make a purchase. |
| Leaf Envy | Gets you and your friend 20% off each when you refer them and they spend over £50. |
| Thompson & Morgan | Gets both you and your friend 20% off your next order. |
| Patch Plants | Gets both you and your friend 15% off your next order of £50 or more. |

| Website | Offer |
| --- | --- |
| Highland Moss | Offers a 'pick n mix' selection of smaller plants and planters. Order a minimum of four items and get 20% off, eg, four items for £16 instead of £20. |
| Highland Moss | Gives you 10% off when you enter the code MOSS10 at checkout. It's one use per customer and can't be stacked with other promotions. |
| Little Pots Lots of Love | Gives away a free string of hearts each day to someone nominated by one of its followers. You can nominate by filling out its online form. |
| Silver Roots | Offers three basic cuttings of your choice for £10 delivered, or five for £15 delivered. |
| Pointless Plants | Has a 'perfectly imperfect' section selling wonky specimens at a lower price. |
| Loft Leaf | Has a 'perfectly imperfect' section selling wonky specimens, some as much as 40% off. |
| Vouchercodes / Thompson & Morgan | Vouchercodes has various Thompson & Morgan codes running, including £5 off a £25 spend, and a 'free' £10 Amazon voucher when you make two qualifying purchases totalling £30 or more. |
| Patch Plants | Sometimes, when you hit a certain spend, you get a voucher or free gift, eg, MSE Laura B got a free pillow spray and a 20% off Rituals code with her last order. |
| Bakker | Selected plants are currently around 10-15% off in the sale. |
| House of Kojo | Each Friday from 8am, the House of Kojo Instagram account runs #KojoFriday, offering a particular houseplant for half price. The plant's announced on the Thursday. Units are limited and often run out well before the day's end. |
I'd also like to share with you one of my hidden gems:
Plnts.com. This Netherlands-based company has paused shipping to the UK for the time being, but it's running occasional UK shipping 'trials', so look out for a pop-up when you visit the site or check its Brexit webpage for updates. It sells wee baby plants (examples below) starting from £2 plus shipping, including all sorts of rare things, that always arrive carefully packaged. Why buy a full-grown plant for three times as much when you can grow it to full-size yourself?
Since it's based abroad, shipping is about £7.70 ('select another shipping option' to see this figure), so it's only worth it if you can buddy up with friends or if you plan on placing a large order. Be aware that the plants pictured above might not be in stock at the time of reading.
Don't get caught out by this trick, often seen on eBay and Amazon. The image may be of a full-grown plant, but buried in the small print is the word 'seeds'. Check the description carefully. Try searching the entire webpage using Ctrl+F (Windows) or Command+F (Mac) for the word 'seeds'.
Even worse is when seeds are sold with false promises. I've seen this particular fella in several places online, illustrating listings for seeds of a carnivorous plant called 'Slurperon'. Who knows what those seeds will grow into, if indeed you'll be sent anything at all, but it won't be this fictional Super Mario piranha plant.
Scams are rife, especially on rarer and more expensive plants and cuttings. Ask for specific pictures (even better, videos), so you know the seller isn't using other people's, and get a size reference. In the case of cuttings, ask to see photos of the mother plant too. A brand new seller profile page is a red flag, as is an unusually low price tag. Search reviews on the seller in all the Facebook plant groups you can. If purchasing from overseas, ask the seller to show you the phytosanitary certificate after the documents have been created.

If you think you've been scammed and you've paid with a debit or credit card, you might be able to recoup the costs via a chargeback claim with your bank.
2. Pot 'em for free (or very cheaply)⚱️🗑️🥫

You don't need to spend money to give your plant a home. Just about anything can be a plant container so long as you add drainage holes to let excess water out. Opaque is best unless you're potting an orchid.

Recycled containers
Most of mine are recycled food tins, yogurt pots and beer cans. A regular can opener takes the top off a beer can very pleasingly and I use a penknife to carefully twist holes into the base. MSE Laura B collects ice cream tub and Gu pot lids to use as trays to catch excess water from the drainage holes.
For wider recycling tips, see MSE Rhiannon's blog on getting paid to recycle old clothing and shoes.
Potting up
See The complete guide to repotting over at Plnts.com for detailed instructions on the process itself.
I always include a bit of powdered cinnamon in my soil mix. As I mention in the common issues and solutions table, not only is it anti-fungal and a bug deterrent, it acts on plant stems to promote new roots.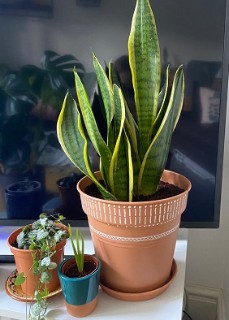 Want a bigger plant instantly? Try grouping different plants which like the same growing conditions in one pot. This is easy if the plants are part of the same species, eg, golden pothos and neon pothos, or different succulents.

Free and cheap tricks for decorative outer pots
Camelia from the Houseplant Swap Club group says, "I use the bottoms of 2L or 4L plastic water bottles as cache pots and crochet around them". Honorary MSE-er Mary decorated her plant container with Tipp-Ex (pictured right) in lieu of buying a decorative outer pot.
Macrame is an easy way to make a boho-style hanging plant holder and YouTube is chockfull of free tutorials (here's the 17-minute macrame tutorial I used to teach myself). Rather than buying the special rope or a craft hoop, I used string and a metal keyring I already owned.

3. Let it grow 🌰🌱🌳

The very thing that makes houseplants so addictive is the very thing that makes them tricky – there are thousands of species and each one has unique care requirements. Luckily, most can be nurtured in a totally MoneySaving way, with nature's freebies like sun and water, plus a few items you probably already have in your cupboard.
Common problems and possible free/cheap solutions

Unfortunately, like a sulking partner, a symptom could have any one of a number of causes, eg, yellow leaves could indicate underwatering or overwatering. Therefore my table lists problems and free/cheap solutions but not symptoms, as these vary dramatically by plant. A quick Google of the exact plant and issue will help, but often trial and error is your best bet.
Problem

Possible solutions

Not enough humidity

Create humidity with wet towels on a radiator, if you've got the heating on anyway, says Elizabeth, a member of one of the planty Facebook groups.
A trick tried and tested by Redditors in the houseplant subreddits: reuse clear plastic takeaway drinks cups with the hole in the lid and pop the whole plant inside. Alternatively, cover with a clear sandwich bag.
Gardeners' World recommends misting plants with water several times daily.
Group plants together to create a humid micro-climate, suggests Horticulture Magazine.

Too much light

While some plants like direct light (eg, on the sill of a south-facing window), it can scorch others. The latter like indirect light, which can be achieved by...
Adding a filter, such as a gauze curtain or blurred window stick-on (a trick recommended by several plant parents in the various Facebook groups),
Moving the plant further into the room, so it's not in the direct line of the sunshine,
Or moving it into a north-facing room.

Not enough light

Move it to a sunnier position, such as a south-facing window sill.
If you have more plants than sunny window sills, rotate them every few days so they all get some time in the sunniest spot.
I've had personal success with a full-spectrum bulb (as little as £5 on Amazon) which I shine on some of my plants a few hours a day during winter.

Root-bound

It's time to repot into a slightly bigger pot. I do this endlessly with my plants as they grow, and always see them thrive once they have a little more space.
Or for the same effect, divide the plant into two, returning one half to the same pot.

Needs fertilising

Feed with organic matter, such as water that has had banana skins (MSE Cheryl swears by this) soaking in it.
Got a fish tank? Horticulture Magazine recommends giving the old water to your plants. They'll love the nitrates. (Don't do this with saltwater fish tank water, as it'll kill plants.)
The internet is divided on this one, but it's worth testing out – add used coffee grounds to the soil (can also make the soil more acidic, so not suitable for every plant). Ask at your local coffee shop if you can have the used grounds, as they're probably only headed for the bin otherwise.

Waterlogged soil

Take the plant out of its soil and leave it on newspaper, changing it out for fresh sheets when it gets too wet. If you have a fan or dehumidifier, set it nearby. When the roots are fairly dry, repot in fresh soil.
A terracotta pot is the best choice for someone prone to overwatering as it naturally wicks away moisture from the soil.

Pests

UKHouseplants.com recommends making a cinnamon and water paste and adding it to the soil.
Mix a teaspoon of neem oil (100ml from £6 on Amazon) with a teaspoon of washing up liquid in a pint of water and pour in, but only when it's time to water anyway.
Remove any standing water from the tray.
Heat up essential oils like citronella and eucalyptus nearby.
If the bug problem is really far gone, repot.
See the MSE Forum for more cheap/free ideas or getting rid of pests.

Plant not rooting

You can buy special rooting hormone powder, but items from your cupboards can also be powerful rooting agents. Reader's Digest suggests dipping the cut end into cinnamon powder or apple cider vinegar before planting to stimulate fresh roots.

Softened tap water

Softened water isn't great for plants because it contains traces of sodium.
According to the RHS, rain water is the best all-round choice for watering because it doesn't contain hard water elements and its PH level is ideal for most plants, so get into the habit of leaving out a container when it starts raining.

If you don't have rain water to hand, the RHS suggests boiling tap water and leaving it to cool to room temperature. That would be costly if you did it often, so reserve this method for your most sensitive plants when you don't have anything better.


Dusty leaves

Dust means plants take in less sunlight. Wipe dusty leaves down with a damp cloth.

Dead leaves

You can't resurrect dead leaves, but you should remove them so that they're not an unnecessary drain on the plant's energy. Plucking them off is fine.

You're going on holiday

When we're finally allowed holidays again, you'll need a way to keep up the watering in your absence. The best option is to have a friend let themselves in every few days, but that's not always possible.

I can testify that this one works. Create a wick system with a shoelace and a jar of water, so the plant can suck what it needs through the lace.

Buy a watering globe, which sits on the soil and releases a slow trickle of water over several days. Or better yet, let BalconyGardenWeb.com show you how to make your own out of old bottles.

Too hot

Most plants can be damaged if left too close to a heating source, eg, plants on a windowsill above a radiator. I've found that most of my succulents can withstand these spots, but most of my leafy guys are better suited to positions elsewhere in the room while it's radiator season.

Plant toppling over

Many succulents, if they become too 'leggy', can be snipped off near the head and placed on the soil to develop new roots. It's a trick I've used countless times with great success.
In other cases, use a wooden skewer, makeshift wire trellis or moss pole to hold the plant in place.

Losing track of plant duties

"Vera is my app of choice," says MSE Sarah. "It lets you keep track of your plants by uploading photos and making a quick note when you've watered/misted/repotted them. So if your plant is dying, you can look back and decide whether it's because you haven't watered it for six weeks."
Post a photo in the Facebook group and get personalised free advice from the plant community. Houseplant Swap Club, for example, is made up of thousands of plant parents eager to assist, and you can betcha bottom 'silver dollar plant' that some of them have experienced the same problem you're having.


Visit the Royal Horticultural Society (RHS) website for information about your plant.


Send a message describing the problem to the Plnts Doctor – it'll get back to you with a tailor-made solution. I asked for help with my Pachira Acquatica and in under 48 hours I'd received an email with a couple of suggestions.


Get in contact with whomever you got the plant from, whether that's a shop or an individual, and ask if they can give you some care tips. MSE Laura B got advice from Patch after having trouble with a monkey mask Monstera she'd ordered.
ID mystery plants with free tools
Don't know what plant you've got? Try a free app like Google Lens or Picture This (recommended by MSE Becky) to identify it. Alternatively, enter key words ('furry', 'heart-shaped leaves' etc) into Pinterest until you find a match.
A note on watering 💦
Although most plants will react well to the ol' knuckle-deep trick, there are heaps of exceptions. For instance, The Spruce notes that a Boston Fern likes moist soil and shouldn't be allowed to dry out. Any time you adopt a new plant, just do a care check online to find out its watering preferences. Other things to note:
Some plants give extra indicators that they're thirsty. The peace lily, for instance, droops its leaves a little when it's time for a drink. Aloe vera starts to turn brown, while burro's tail puckers and wrinkles.


As for when to water, the RHS says morning is best. Your plants will start to use the water as the sun comes up. Avoid watering in the middle of the day in summer, when the heat might cause the water to evaporate from the surface of the soil.


You'll find you'll need to water less in winter.
4. Propagate🌿➡️🌿🌿🌿

Propagate: (verb) to produce a new plant using a parent plant
As we move on to the technical stuff, I must make clear I'm not Alan Titchmarsh – I'm just a gal with soil under her nails who's had success with expanding her plant collection through propagation. The below comes from my own experience of trying, failing, trying again and succeeding.
One thing that struck me while teaching myself to propagate is that my leafy pets and I actually want the same thing – for them to grow, spread out and take over their habitat, so they're glad to oblige my efforts. Many propagate simply by putting out babies of their own, while others will sprout new roots from stalk or leaf cuttings, and some grow so fast your home will be noticeably greener by the month. One day you'll wake up to realise that one starter plant is now a jungle – grown in the most MoneySaving way possible.
There are a bunch of ways you can propagate, but below are the three easiest. The method you use will depend on your preference and the kind of houseplant, but many can multiply by more than one technique.
Plants that multiply from cuttings
Most houseplants can be propagated via cuttings, either leaf-and-stem cuttings, or in some cases just a leaf cutting. Avoid taking cuttings in the cold months – wait until the plant is actively growing, in the spring and summer.
With sharp, clean scissors, cut a stem just below the node, which is the bumpy bit where one stem springs from another (top right picture). Pop the cutting in water to grow roots or straight into a pot of soil.
Snake plants (top left) don't have nodes, and instead put out roots directly from a leaf cutting. Burro's tail succulent (middle top) and watermelon peperomia (below) push out whole new baby plants from a single leaf.
Research first. Some cuttings like to callous over before being planted, and others benefit from being covered with a clear bag to increase humidity.
Plants that multiply by growing baby versions of themselves
A spider plant sends out baby versions of itself on stalks (below left) year-round. I've got a few, and they're responsible for more offspring than a touring rockstar. You can cut the babies off and plant straight into soil, or leave to grow roots in water first. I like the water method because it's fun to watch what would otherwise be covert under-the-soil activity.
Got a Pilea? Once it's a good size, it will push up lots of baby versions in the surrounding soil (second from right, below). Some of these even have their own root networks already. Pop it straight into soil and let it do its thing. Soon you'll have more babies than a Britney Spears song.

Propagating by division
Another easy way of turning one plant into two is by division. Tease the plant out of its container and gently brush away as much soil as possible, so that you can see the roots. Use sharp, clean scissors to cut the whole thing in two, making sure that each half has plenty of roots and leaves.
With shop bought, established plants, you'll often find two or more have been planted in one pot to give the illusion of fullness. In these cases it's even easier to separate the two by gently pulling apart or cutting to separate them.
5. Swap 'em🌵🤝🌻

It's time to trade.
Swap in-person for free
Covid restrictions meant that, for a long time, in-person swap sessions weren't possible. However, since the start of April, changes to the rules mean that people in all parts of the UK are able to, at the very least, meet another household in a private garden, with some countries already allowing meet-ups in parks and other outdoor areas, as long as you remain socially distanced. Rules vary by nation (see our Life-in-lockdown guide for more), so check what you're allowed to do. If you can't meet up or you're self-isolating, don't worry, it's easy to organise swaps by post.
We staged a plant swap at MSE HQ after lockdown 1.0 lifted. It's been fun to see the progress of the ones I gave away during work video calls. Both MSE Laura B and MSE Sarah have one of my Tradescantia cuttings and both are thriving. Here's what was on offer during the swap:

Swap by post for as little as 85p

The majority of my cuttings were gained thanks to the Facebook group Houseplant Swap Club UK. People post pictures of the cuttings or plant babies they have available and you can offer whatever you've got in return. If you don't have any yet, it's worth offering to pay instead.
When posting plants, go for first class to minimise the time it's in transit, and wrap the stem in damp tissue and clingfilm. A letter sent first class costs 85p and suits small cuttings, but you'll need to size up to a small parcel if it's something that's delicate or larger.
Top tip
Thinking of selling your cuttings? Be aware that new Animal and Plant Health Agency (APHA) regulations require anyone selling plants to register for plant passports. There's no need for plant passports if you're just swapping rather than selling though.
6. Repeat 🔁

Keep obtaining new plants or cuttings, growing them, propagating them and swapping them, and in a year or two, you'll be living in your own urban jungle.
MSE Laura B is on her way to creating a whole family of Monsteras (below), shortly after buying the first (Monty) with a Patch Plants voucher.
They say pets are the new kids and plants are the new pets. Thousands of varieties of houseplant exist, so if you haven't found your potted soulmate yet, it's out there.
Now over to my colleagues with their favourite 'pets':