Fitbit MoneySaving tips & tricks
Including £100 Fitbit Versa Lite (norm £150) and how to turn your phone into a free 'Fitbit'
Fitness trackers and smartwatches have become popular accessories over the last few years. These days, they're a lot more than a posh pedometer, but with increasing features have come increasing price tags – with some costing up to £250.

There are many brands in this space including Garmin, Samsung and Huawei – see our round-up of the best prices below – but we're mainly focusing on Fitbit as MoneySavers recently told us it was overwhelmingly the brand they were most interested in.
While the cheapest time to buy tends to be around Black Friday (November), and fitness trackers in general aren't exactly MoneySaving, we know many are after them now as we're walking/running more at the moment, so we've tips and tricks to stomp down the cost, or help you decide whether you need a fitness tracker at all.

Fitness tracker or smartwatch?
With so many different makes and models available, knowing which Fitbit to choose is the first step to saving money.
From basic step counting, to sleep tracking, heart rate and cardio fitness level monitoring, there are a range of Fitbits across both the fitness tracker category and smartwatches. Here's a brief summary of the difference between a fitness tracker and a smartwatch:
Fitness tracker - mainly focuses on health and exercise monitoring, including step count, calories burnt and reminders to move.
Smartwatch - like having a mini smartphone on your wrist, it enables you to view and respond to calls and texts and access apps, as well as the health and fitness monitoring above.
There are currently seven Fitbit models that are widely available (it's released 20 models in total, though older ones are harder to come by). Here's what you can get – excluding the kids' edition – and how much they cost at full-price:
There are three fitness trackers and three smartwatches, with prices ranging from £69.99 to £129.99 for the trackers and £149.99 to £249.99 for the smartwatches. So the first question to ask yourself, is do you need the bigger display and additional features of a smartwatch, or are you just happy to track and monitor your health and exercise?
You may think we've covered this in the section above, but once you've decided on a fitness tracker or smartwatch, the amount of features – and price – then varies between models.
One of the simplest ways to save money on a Fitbit is to only pay for the features which you think you'll use or need. All Fitbits have the same basic functionality and features, which include:
👣 Steps and activity
🔥 Calories burned
💤 Sleep tracking and silent alarm
🌸 Female health tracking
🏃 Auto exercise recognition
🕘 Reminders to move
⏳ Hourly activity
📞 Call notifications
✉️ Text, calendar and app alerts
✨ Fitbit accessories
⌚ Customisable clock face
💧 Water resistant to 50m
In the table below, I've highlighted some of the additional features of each model other than the most-basic Fitbit Inspire, so you can compare the price difference against the features available:

Key feature list ▼

Fitness trackers
Smartwatches

Inspire HR

£89.99

Charge 4

£129.99

Versa Lite

£149.99

Versa 2

£199.99

Ionic

£249.99

Floors climbed

🚫
✅
🚫
✅
✅

Swim tracking

✅
✅
🚫
✅
✅

20+ exercise modes

✅
✅
✅
✅
✅

Heart rate tracking

✅
✅
✅
✅
✅

Cardio fitness level

✅
✅
✅
✅
✅

On screen workouts

🚫
🚫
🚫
✅
✅

Pace & distance with phone GPS

✅
✅
✅
✅
🚫

Quick replies to messages

🚫
✅
✅
✅
✅

Apps

🚫
🚫
✅
✅
✅

Fitbit Pay (Contactless payment)

🚫
✅
✅
✅
✅
As you can see, the additional features vary quite a bit between each model. If you're interested in heart rate tracking or you enjoy swimming, then you may want to choose a Fitbit Inspire HR, over the basic Fitbit Inspire.
There's a fairly big jump in price between the Inspire HR and the Charge 4, but all you're really gaining are monitoring of how many floors you've climbed, quick replies to messages, and Fitbit Pay – so you'll need to weigh up if those features are worth the extra £40.
With the smartwatches, the Fitbit Versa Lite is around £50 cheaper than the Fitbit Versa 2, though it's missing a few key features such as floors climbed, swim tracking, on-screen workouts, and Fitbit Pay. However, compare the Fitbit Versa 2 to the Fitbit Ionic and the £50 difference in price doesn't get you much.
Make sure you really consider which features you'll use when choosing a Fitbit, as this could save you a lot of money.
Where to find Fitbits at their cheapest, eg, £100 Fitbit Versa Lite (norm £150), plus other brands incl Garmin, Huawei & Samsung
While this is a Fitbit guide, it may not be the best brand for you, so in this section I'm going to briefly introduce other brands as well, including Garmin, Samsung and Huawei – some of which offer cheaper alternatives, which you may be happy with.
For each tracker/smartwatch, I've included some of its key features beyond standard tracking (steps, calories and sleep), though I haven't tried out the trackers myself to test how good they are, so check online reviews at sites such as TechRadar and Tech Advisor before deciding which tracker is best for you.
As we're MoneySavers, I've split the trackers into three price brackets below so you can compare the different makes and models within your budget. Prices last checked on Tue 12 May:
Fitbit Inspire (RRP £70)
£65.43 at Amazon* in black or £69.99 in 'sangria' colour. It's also £69 at John Lewis* including a 90-day Fitbit Premium subscription.
Key features: View smartphone messages & notifications. Up to five days battery life. Water resistant.

Samsung Galaxy Fit (RRP £89)
£79.90 at Amazon* in white or £79.99 in black.
Key features: Heart rate monitor. Smartphone notifications. Waterproof. Up to eight days battery life.

Fitbit Inspire HR (RRP £90)
£69 at Amazon* in black. £86.99 in lilac or £89.63 in white. £89 at John Lewis* in black, including a free 90-day Fitbit premium subscription.
Key features: Same as above but also includes heart rate monitor, swim and sports tracking.

Fitbit Charge 4 (RRP £130)
£129 at John Lewis* in black and 'rosewood' colour, including free 90-day Fitbit premium subscription. Same price at Amazon* and Currys*.
Key features: Heart rate monitor. Waterproof. Smartphone notifications. Up to seven days battery life.

Fitbit Ionic (RRP £250)
£193.99 at Amazon* in blue/silver or £202 in blue/orange.
Key features: Smartphone notifications. Water resistant. Heart rate monitor and GPS. Up to four days battery life.

Garmin Vivoactive 3 GPS (RRP £200)
£179.99 at Amazon* in rose gold with granite blue band white or £184.
Key features: Heart rate monitor and GPS. Smartphone notifications. Waterproof. Up to seven days battery life.

Samsung Galaxy Active 2 40mm (RRP £269)
£269 at Amazon* in black or pink. It's also £269 at John Lewis* in black.
Key features: Voice commands and smartphone notifications. Heart rate monitor and GPS. Contactless payment. Compatible with iOS and Android. Up to two days battery life.
Save £69 by choosing the right colour Fitbit
After a quick detour looking at other brands, let's go back to Fitbits... They come in a variety of colours, and you can often save up to £65 picking one colour over another.
The model and features are the same – it's just the colour and price that differ. For example, when I looked at the Fitbit Versa 2 on Tue 12 May, it cost the following prices in different colours at Amazon:
As you can see, by choosing black, grey, purple or rose, over navy & pink, you'd save up to £65.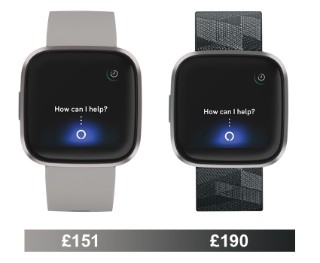 This isn't just specific to this model either – a Fitbit Inpsire HR costs £69 in black at Amazon or £89 if you choose white.
The colour applies to the casing of the watch or tracker, as well as the strap – though as straps are changeable on all these models I've mentioned, you may be able to get a different colour strap for less than the price difference between different coloured models, so that's something to bear in mind. See how to cheaply spruce up your Fitbit below.
Turn your phone into free 'Fitbit'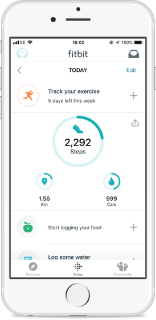 The Fitbit smartphone app is a big part of the brand's user experience – it syncs with your Fitbit fitness tracker or smartwatch to give you deeper data analysis – but you can download and use the Fitbit app (available free at the App Store, Google Play and Windows Store), without actually owning a Fitbit or fitness tracking device.
Fitbit 'MobileTrack' lets you connect to the Fitbit app just using your smartphone and allows you to track basic data including step count, distance and calories burned. For further information on how the app collects this data from your phone, see the Fitbit MobileTrack help page*.
As well as the basic activity data, you can also access other app features such as food and weight tracking, setting fitness goals and competing with friends who also have the app.
You can also link the Fitbit app with other health apps such as MyFitnessPal, Strava etc to feed in data such as calories consumed or to log any exercise you've completed that day.
Of course, if you're a keen runner or after deeper analysis, then this doesn't compare to having a wearable tracker on your wrist – but if you're just looking to track the basics then the free features of the app could be a good place to start.
Compare retailers and save £100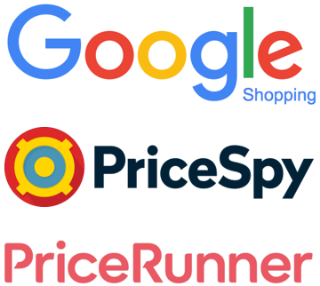 As with anything you buy, always compare prices at different retailers before buying. When comparing prices online, I found that buying direct from Fitbit often wasn't cheapest.
Use free tools such as Google Shopping, PriceSpy and PriceRunner to check that you're getting the best deal.
On Mon 11 May, I found a Fitbit Versa Lite in mulberry, for the following prices at well-known retailers:
As you can see, there was a £100 difference between the cheapest and most expensive price for the exact same Fitbit. When we checked other models of Fitbits, we found similar price differences. For example, a Fitbit Ionic in 'slate blue/burnt orange' costs £202 at Amazon, but £379.99 at Littlewoods – a £178 price difference.
Not only do Fitbit prices vary by colour and retailer, but they also change depending on the time of the year. The graph below shows the prices of different Fitbit models from May 2019 to May 2020. The Fitbit Charge 4 was only released a few weeks ago, so I've chosen not to include it in this graph, but instead keep in the Fitbit Charge 3.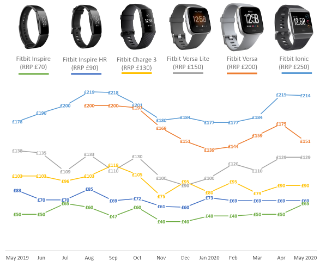 The graph shows the price of Fitbits fell during Black Friday promotions in November. Some, but not all models, dropped further or remained the same price in the pre-Christmas and Boxing Day sales period.
Prices stay fairly consistent from January until around April/May where the prices started to increase across most Fitbit devices. This is the opposite to what we saw this time last year, where prices actually decreased in March/April - so it may be the current coronavirus pandemic has meant retailers are offering less discounts at the moment.
Check for short-lived promotions and extras
It's always worth checking for codes and short-lived promotions that might be running on a particular website or in a store, but also consider any extras you may get, eg, longer warranty.
Codes and promotions
Asos, for example, often run a 'spend and save promotion', where if you spend a certain amount, you get a certain amount off. An offer like this could make it the cheapest place to buy.
Warranties and extras
Retailers that sell electricals such as John Lewis or Currys often price-match each other, so if prices are similar, it's worth comparing extras such as length of warranties. During Black Friday in November 2018, we saw John Lewis offering a three-month Deezer music streaming membership with a Fitbit.

Student discounts
If you're a student, you may be able to save on a Fitbit by shopping at a retailer offering a student discount. Examples of these include Asos (10% discount) and H. Samuel (10% discount) – though these may not always be the cheapest places to buy so make sure you do the maths.

Most Fitbits come with changeable bands, so if yours is starting to look a little worn you could just buy a new strap rather than forking out for a new Fitbit. You can buy official Fitbit ones, or Amazon sells cheaper third-party versions – these can start from as little as £3.
Similarly, you can buy screen protectors to help keep your Fitbit in good condition. See Fitbit's Wear & Care page* for more tips on how to keep your fitness tracker lasting longer.
Most Fitbits come with a standard two-year warranty, so if yours is faulty or damaged it's worth seeing if you can get it replaced by Fitbit.
Downshift to a cheaper brand
There are many different brands of fitness trackers and smartwatches available, and some are cheaper than buying a Fitbit, especially lesser-known brands. So if you're not set on getting a Fitbit, you can make a big saving by downshifting.
Of course, these lesser-known brands will likely differ in features and functionality, but if you're just after a basic fitness tracker, you could make a decent saving.
Check out sites such as TechRadar and Tech Advisor for reviews and recommendations for the best 'cheap' fitness trackers.
If you're just interested in your step count and basic activity tracking, most smartphones have in-built tracking and pre-loaded apps that allow you to monitor this info, such as Google Fit, Apple Health and Samsung Health.
Get paid for using your Fitbit
If you've got a health or life insurance plan with Vitality, you can link your Fitbit to the Vitality Rewards app to earn points which you can convert into free Starbucks, cinema tickets and more. See our Get 'paid' to walk using free apps blog for full info.
Have you saved on a Fitbit or other fitness tracker? Let us know in the comments below, or get in touch on Twitter @MSE_Deals.
Have your say
This is an open discussion but the comments do not represent the views of MSE. We want everyone to enjoy using our site but spam, bullying and offensive comments will not be tolerated. Posts may be deleted and repeat offenders blocked at our discretion. Please contact fbteam@moneysavingexpert.com if you wish to report any comments.