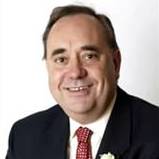 Want to know what the SNP would do for your wallet?
With the General Election just over a week away, we asked the five major party leaders what they would do on the major MoneySaving issues you picked.
Of course, politicians are experts at avoiding questions, so make up your own mind on SNP leader Alex Salmond's (pictured, right) policies from his full answers below (with our questions in bold).
See the MSE leaders' debate guide for edited versions of the Conservatives', Labour's, the Lib Dems' and Plaid Cymru's responses.
Petrol Prices
MSE question: While the oil companies and retailers take a cut, 70% of the cost of petrol is made up of tax – so people are really paying the Government. Many consumers feel the price is crippling yet environmentally others argue it will be high.
Do you believe it should be lower – and, if so, will you cut the tax to make it happen?
Alex Salmond's answer: "The SNP have long campaigned for a fuel duty regulator - a financial mechanism which would stabilise fuel prices by automatically putting duty up when oil prices were low but taking it down when oil prices were high.
"In many parts of Scotland, a car is a necessity not a luxury so preventing fuel price spikes is a vital part of helping Scottish families budget."
Energy Bills
MSE question: Energy prices have dropped by seven percent this year, but wholesale prices have dropped much more. The average energy bill is now £1,150 a year for many people, making it the biggest regular bill after rent/mortgages.
What will you do to cut costs and/or the profits of the energy providers?
Alex Salmond's answer: "SNP Energy Spokesman, Mike Weir, has long-championed lower energy prices for consumers. In the next Westminster parliament, SNP MPs will call on the UK Government to use the powers it has to force energy companies to bring down prices in line with wholesale costs."
Savings (Losings) Accounts
MSE question: The cut in base rate has left many savings accounts paying pitiful rates, leaving many savers losing money in real terms due to inflation. Will you introduce any NEW practical measures to help savers, especially those that rely on interest to boost their income?
Alex Salmond's answer: "As the banking sector recovered after the financial crisis, it became increasingly clear that interest rates on savings accounts were remaining low.
"SNP Treasury Spokesman Stewart Hosie has called on the UK Government to use its influence as a major bank shareholder to exert influence and return interest rates to a level which makes saving worthwhile."
Bank Charges Future and Past
MSE question: What will you do to stop unfair bank overdraft charges in the future? Plus do you support helping those who've been charged them in the past, including low income and vulnerable consumers, to get their money back? If you do support reclaiming what will you do to make it happen?
Alex Salmond's answer: "The SNP group at Westminster believe that services offered by the Post Office network should be extended to include banking services. By creating this 'Postbank' network, we believe the needs of low earners and vulnerable consumers can be better met."
Existing Mortgage Holders
MSE question: The supply of mortgage deals for existing customers is limited for the millions with a loan-to-value (LTV) of 75% or above.
House prices have dipped in many areas pushing even some who once had decent equity into this bracket, leaving many people languishing on their standard variable rates or locked in to trackers at 3-4% over base.
If interest rates rise back to 5% levels this will leave many on 8-9% mortgages. What will you do now and in the future to ease this potential financial disaster?
Alex Salmond's answer: "The SNP will encourage more competition in the market. The more products available, the greater the choice to consumer regardless of LTV."
First Time Buyers & House Prices
MSE question: Many first time buyers are finding it increasingly difficult to get on the ladder, not just due to the cost of mortgages, but the huge deposits needed.
What practical steps will you take to help them? Plus, is it wise to encourage people into the property market at the moment? And in five years would you like to see house prices higher or lower than they are now?
Alex Salmond's answer: "The SNP Scottish Government has introduced Low-cost Initiative for First Time buyers (LIFT) - a shared equity scheme to help households get onto the housing ladder. The Scottish Government website also contains practical information to assist first time buyers choose the best option for them."
Credit Cards
MSE question: Thousands of credit card customers across the UK are receiving letters hiking their interest rates by up to 10%. How will you prevent excessive interest rates rises and what other plans do you have to change the credit card industry?
Alex Salmond's answer: "Unsecured debt is a major problem in Scotland with some studies suggesting it is over a third higher north of the border than it is in the rest of the UK. SNP MPs have joined with SNP MSPs in the Scottish Parliament to call on a cap for commercial lending.
"By putting a ceiling on commercial lending rates, we can help hard pushed families better manage their debt."
Council Tax and Water Rates
MSE question: The current council tax banding system has been in place since 1991 in England and Scotland. It's time for a fair update so that 400,000 homes are no longer in the wrong band. How will you address this?
Plus, many people still pay water rates based on a valuation of their homes done in 1989 yet they can't appeal it. Will you change that?
Alex Salmond's answer: "The SNP Scottish Government has frozen council tax for the past three years. We have also frozen water rates for the first time this year. We are committed to a fundamental reform of how public services are funded.
"The SNP Scottish Government brought forward proposals for a local income tax based on ability to pay. Under these proposals, four out of five households would have been better off and no-one would have been worse off, however when these plans were put forward by the SNP, they were voted down by Labour, the Tories and the Liberal Democrats."
Financial Education
MSE question: Financial education was due to become a compulsory part of the curriculum in September 2011 but was scuppered due to disagreements over sex education.
Will you commit to legislation to put compulsory financial education on the curriculum by September 2011 as planned?
Alex Salmond's answer: "The SNP Scottish Government which is responsible for education in Scotland recently announced a plan to ensure good quality financial education is delivered to every pupil in every school in Scotland through the new Curriculum for Excellence.
"We are committed to ensuring that no child misses out and every school in Scotland provides the basic knowledge to enable young people to make informed financial decisions."
Stamp Duty
MSE question: The way stamp duty works is ludicrous. When you cross a boundary you pay the tax on the entire cost, not just the marginal rate. It creates an unbalanced and unfair system. Are you brave enough to change it?
Alex Salmond's answer: "The current stamp duty regime simply does not meet the needs of Scotland's unique property market.
"That's why the SNP wants to see control of this tax devolved to the Scottish Parliament so we can put in place a system which is fairer and more balanced."
Further reading/Key links
Cut fuel costs: Cheap Petrol and Diesel, Cheap Gas and Electricity
Top accounts: Best Bank Accounts, Top Savings Accounts
Reclaim cash: Council Tax Rebanding, Bank Charges Reclaiming
Housing tips: Cheap Mortgage Finding, Free House Price Valuations, Stamp Duty Calculator
Discuss this MSE news story: MSE leaders' debate: What will the SNP do for your wallet?