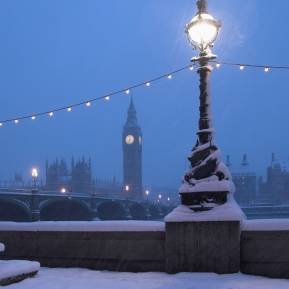 Consumers have been told to get set for a bitter winter of record energy prices as they crank up their thermostats as the Big Freeze takes hold.
The average UK winter bill is predicted to hit a high of £630, according to the grim forecast by comparison site Energyhelpline.com (see the Cheap Gas & Electricity guide).
Households will be hit by a double whammy of plummeting temperatures and rising energy bills as power firms turn the screw on hard-pressed customers.
This reinforces the urgent need for everyone who has not switched tariff over the past year to use a comparison site to seek a better deal, which could net hundreds of pounds in annual savings.
Energyhelpline predicts the average gas bill for heating and hot water to be £510 between December and February, with electricity at about £120 (£630 total), based on current temperature estimates.
This compares to a typical £553 spend last winter and £572 in 2008/09.

Double whammy
Temperatures between December and February are forecast to average an icy -1.4C, says Energyhelpline, compared to a slightly less chilly 1.6C last winter. The long run average for that period is a relatively mild 5C.
Meanwhile, almost 20 million households have already been told of gas and electricity price rises this winter.
British Gas hiked prices for eight million users by a typical 7% last week.
Some three million Scottish & Southern Energy households saw electricity hikes of 9.4% on 1 December while Scottish Power hit 2.5 million homes with an average price hike of 2% for gas and 8.9% for electricity three weeks ago.
Npower will raise prices for six million gas and electricity customers by a typical 5% on 4 January.
EDF says it won't increase prices during this round of hikes though 1.2 million of its customers witnessed rises in October. E.on has yet to show its hand.
'Clobbered by hikes'
Mark Todd, director of Energyhelpline, says: "The stark reality is customers are going to be clobbered over the winter if the Big Freeze continues to grip the country.

"We believe in December alone households will be hit with a 47% hike in gas bills to £159, and January and February are traditionally higher usage months so this figure is likely to soar.

"The combination of severe weather and the recent inflation-busting domestic fuel rises could leave the UK with a record national dual fuel bill of £17 billion – a chilling prospect for millions of households facing New Year VAT hikes and general economic uncertainty."

Todd adds: "This winter is going to be a long, hard slog for households up and down the land. I cannot stress enough how important it is for consumers to review their gas and electricity suppliers and hunt for a better deal now."

Switch tariff
Those on a standard tariff typically pay £1,200 a year, compared to the £900 annual rate available on one of the top online deals.
Even if you are on an online deal, these often expire after a year so pre-2010 switchers should also take note.
To find the best tariff, check your options available via a comparison site (see the Cheap Gas & Electricity guide).
The best deals are available to those who get their bills online and pay by monthly direct debit.
When switching, remember when a firm describes its tariff as cheapest, it is only best value as a nationwide average.
The energy market is complicated so determining which is the cheapest provider for you depends on where you live and how much power you use.
This is why a comparison, based on your circumstances, is key.
Winter fuel benefit help
Some vulnerable households get help towards their energy costs.
Most people over 60 get between £125 and £400 a year each in winter fuel payments (see the Winter Fuel MSE News story for full details).
If you have received the winter fuel payment in previous years, or receive the state pension, payments will be made automatically in November or December.
Anyone else should download a claim form and return it to the Pensions Service, or ring 08459 15 15 15 for the paperwork (full details on the Direct.gov site). Claims must be made by 30 March 2011 for winter 2010/11 payments.
Millions of households on pension credit and many on other benefits receive £25 each in cold weather payments.
This is paid if the average temperature where you live is recorded as, or is forecast to be, zero degrees celsius or below over seven consecutive days between November and March.
The £25 is paid to the same account as your benefits for every week it is cold enough (see the Cold Weather Payments MSE News story for full details).
Further reading/Key links
Boost income: Benefits Check-up, State Pension Boosting, Top Savings
Slash energy costs: Cheap Gas & Electricity, Is Your Cap/Fix Ending?
Boiler protection: Boiler Cover