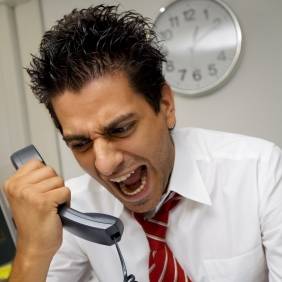 Santander is still comfortably the worst bank account provider for customer service, according to a poll of MoneySavingExpert.com users, despite claims it had cleaned up its act.
A whopping 39% of its customers who voted in our current account service survey that closed this week rated their experience as poor, putting the giant way out in front in the wooden spoon race.
Key Points
Santander still by far the worst
Lloyds TSB second-worst after Hbos climb
First Direct cements place as best for service
The silver lining is the bank is getting slightly better. When we ran our first customer service poll a year ago, 62% of its customers surveyed rated service as poor.
However, that result may have been skewed by massive problems integrating Alliance & Leicester with Santander which led to many unable to access their cash last summer.
Nevertheless, there has been a lift since we last ran a current account service poll six months ago, when 41% of Santander customers surveyed rated service poor, two percentage points more than now.
Despite the modest improvement, the bank still has a long way to go. The figures also cast doubt on claims last year the bank had sorted many of its problems.
Steve Williams, Santander service quality and complaints director, said in an interview with MoneySavingExpert.com last September: "Many of the major problems are behind us and we look forward with confidence."
The best banks
The best bank for customer service remains First Direct, which has cemented its position at the number one spot. A huge 91% of its customers questioned rated its service great, compared to 89% in February.
Co-op is still second best and Nationwide Building Society (included, though it's not a bank, as it's a big current account player) third. In fact, Nationwide's 'great' rating is up from 47% to 54%.
Halifax up
The most noticeable change came from Halifax/Bank of Scotland (Hbos), which moved from second worst to joint third, in a pack that now also includes Barclays, HSBC and RBS/Natwest.
Its 'poor' rating has dropped from 20% to 18% since February, while its 'great' rating is up from 34% to 40%.
Hbos's sister bank within Lloyds Banking Group, Lloyds TSB, is now second worst, though its performance was fairly static.
Dan Plant, MoneySavingExpert.com money analyst, says: "Despite a mild improvement, perennial best buy table-topper Santander is still miles off the pace when it comes to customer care.
"It needs to steal some of Lewis Hamilton's pace to reach the heights of its shiny sign-up incentives.
"Overall, MoneySavers told us service has got a bit better among banks, with the best news from Hbos – it's made a good stride towards improving service, something we always like to see from accounts that also offer good rates."
Below are tables of how the major current account providers fare on customer service from our poll of 6,500 MoneySavers, split between the best and worst.
Current account service rating – the worst (Feb 2011 results in brackets)
Rank
Provider
Poor
OK
Great
1
Santander
39% (41%)
37% (35%)
25% (23%)
2
Lloyds TSB
19% (20%)
45% (42%)
37% (38%)
=3
Hbos
18% (20%)
42% (45%)
40% (34%)
=3
Natwest/RBS
19% (19%)
40% (40%)
42% (41%)
=3
Barclays
18% (19%)
41% (42%)
41% (39%)
=3
HSBC
20% (18%)
35% (42%)
45% (40%)
Ranking determined by subtracting 'poor' figure from 'great' figure. The quartet equal third were so close so we didn't split them as it's arguable either way whether to place more emphasis on a higher 'poor' rating or a higher 'great' rating. Percentages based on that provider's customers only. Figures may not hit 100% due to rounding.
Current account service rating – the best (Feb 2011 results in brackets)
Rank
Provider
Great
OK
Poor
1
First Direct
91% (89%)
6% (8%)
3% (3%)
2
Co-op
78% (80%)
17% (15%)
5% (5%)
3
Nationwide
54% (47%)
34% (41%)
12% (11%)
Percentages based on that provider's customers only. Figures may not hit 100% due to rounding.
In-credit vs overdrawn service
We also split the voting depending on whether customers are generally overdrawn or in credit, as we have done over our last three surveys. We found service was generally seen as worse for those overdrawn, probably due to the high charges many providers levy.
For instance, 32% of Hbos customers polled who are typically overdrawn rated service as poor compared to a much lower 15% of those in credit.
Click on this bank customer service breakdown link to get the full results.
Current account service rating
Poor
OK
Great
Poor
OK
Great
In-credit customers
Overdrawn customers
Santander
37%
38%
25%
46%
32%
22%
Lloyds TSB
14%
46%
41%
35%
42%
23%
Hbos
15%
43%
42%
32%
38%
31%
Natwest/RBS
16%
40%
44%
26%
37%
37%
Barclays
16%
42%
42%
24%
37%
39%
HSBC
16%
36%
48%
32%
32%
36%
Nationwide
11%
34%
55%
21%
32%
47%
Co-op
3%
17%
80%
16%
21%
63%
First Direct
2%
5%
93%
4%
16%
80%
February 2011 results in brackets. Figures may not hit 100% due to rounding.
Only 14 Metro Bank customers voted, so the sample is too small to use.
Banks' response
Santander's Steve Williams says of the current results: "During the second half of 2010, Santander saw a 20% reduction in the number of complaints reported to the FSA and we continue to see this number reduce. This reflects a marked improvement in the levels of service.
"Improving the service is top priority and we've been working hard. We recently announced that we are returning all call centres based in India to the UK.
"The move is part of Santander's ongoing programme to further improve service and directly follows feedback from customers who say dealing with an offshore call centre is a frustration. In addition, last year, we recruited more than 1,000 customer service roles in branches and call centres. And we have even more plans."
Meanwhile, Santander has also announced plans to change its online banking platform so customers with multiple products will be able to view any current account, savings account, credit card statement or mortgage statement on the same online screen by early next year.
Currently, some customers have to log into different online accounts to view their portfolio.
Martin Dodd, Lloyds Banking Group director of customer service, says: "Whilst is it pleasing to see an improvement for Hbos it is disappointing to see our brands are below average; this is absolutely not where we want them to be.
"We have work to do. We are operating a number of initiatives to improve customer service, these include for example, managers spending time in customer facing roles month in, month out."