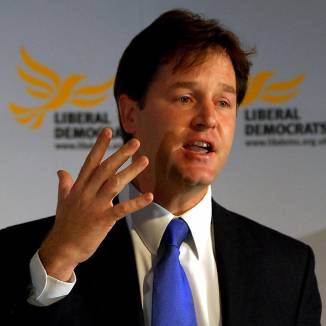 The big six energy companies – EDF, Eon, British Gas, Scottish and Southern Energy, Scottish Power and Npower – have agreed to write to customers every year to tell them the firm's best tariffs for them and how to get it, the Government will announce today.
Around one million customers who receive the Warm Home Discount, who are those receiving certain benefits, will be contacted twice a year. Deputy PM Nick Clegg is spearheading the initiative.
Key Points
Nick Clegg will announce Big 6 companies will tell customers their best tariff
Not necessarily cheapest deal; companies must work with consumers to find the best for them
The tariff offered won't necessarily be the cheapest available from that provider. Instead firms must work with their customers to offer the best for them, whether that's the overall cheapest, a fixed price deal or a 'green' tariff.
However, firms will only include tariffs that they offer themselves, not those from other providers that could be better for the consumer. Bill payers can easily compare tariffs from all suppliers by using online comparison websites.
Martin Lewis, creator of MoneySavingExpert.com, says: "This is certainly a step forward. Anything that goes towards lowering the £300 differential that can occur between two homes with identical energy use is a big boon.
"Though we must ensure it doesn't leave people complacent and just sticking with their existing energy company — they're still far better off doing a full comparison across the market.
"My slight concern is companies just need to tell people about their 'best' tariff, not necessarily the cheapest. This rather ephemeral description could mean many things – a fix, a variable, a green tariff – I hope it won't just turn into a sales pitch.
"Overall though, it seems the energy companies are finally reaping the punishment for years of door-to-door mis-selling and price-hike announcements on the back of huge profits. The public don't like them and, rightly, don't trust them. This bitterness has, after many years, fed through to the political sphere and politicians know that with the average bill at £1,300, they have to act."
Package of measures
The Government says it is committed to helping people save on bills, while also pushing environmentally-friendly 'green' energy. As part of that, it has also announced further initiatives.
Barcodes on bills. A new commitment to investigate including 'barcodes' on energy bills, which smartphone users can scan to find out information about switching provider.
Big Energy Week 2. In a sequel to the first Big Energy week held in January 2012, further attempts will be made to help consumers understand and cut their bills. Citizens Advice will coordinate this.
The big six have also confirmed they'll continue in efforts to simplify tariffs and support collective switching schemes, where groups of consumers club together to negotiate the best deal from suppliers.
Deputy Prime Minister Nick Clegg is expected to say today: "We have secured a landmark deal with the six big energy companies who cover 99 per cent of customers, to give customers a guaranteed offer of the best tariff for them.
"Right now, seven out of 10 customers are on the wrong tariff for their needs, so are paying too much. Yet people rarely switch, despite the fact some families could save up to £100 a year. There are currently over 120 different tariffs, making it very difficult to know where to start.
"That is going to change. As of this autumn, your supplier will have to contact you with the best tariff for your needs. And if you call them, they'll have to offer you the best deal too."