Hidden deals, discounts & tools. Now you see 'em, now you don't
At this time of year minds (& web traffic) shift from real finance to bargain-finding, leaving me torn. Many will ruin their 2016 due to overspending for just one December day. Yet if there are things you'd buy anyway, for yourself or your loved ones, I want to help you slash the cost.
Our 43 online shopping tricks guide shows how to cut down prices - below I've 18 to tease you in. And these are just the tip(s) of the iceberg. Also see 13 tricks shops don't want you to know | 20 Amazon tricks | 40 eBay buying secrets.
This content originally appeared in the MSE weekly email on 11 November 2015.
1. Abandon your online basket to score a discount. Fail to finish your online order and companies often send you codes to tempt you back. We've data on 15 retailers that give abandoned basket discounts.
2. Free 'Amazon delivery trick' tool. You used to get free delivery if you spent £10. Now it's a minimum of £20, but a handy tool provides a way around this - without paying for Prime. Free Amazon Delivery Tool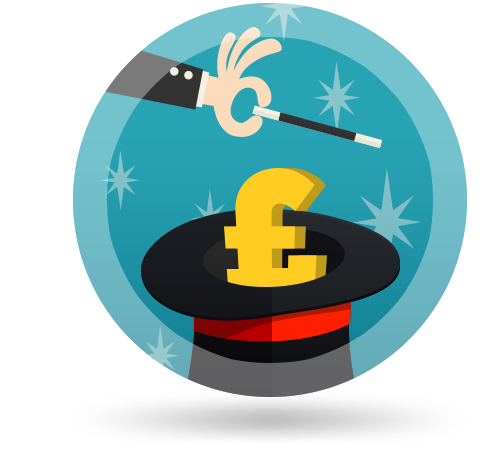 3. There IS a way to haggle big discounts online. While buying online is usually cheaper, the one advantage with buying in-store usually is you can haggle. Yet now even there the web's catching up - if you get a window offering a live chat, don't dismiss it. See how to haggle with online chats.
4. Buy 20% off gift cards NOW to use in Jan sales. Gift cards are rarely discounted, but currently Tesco has 20% off on a range incl Monsoon, iTunes & New Look. As these are all valid at least 12+ months, you can buy now, then use in the Jan sales for effectively a double discount. Full info: Gift Card Trick
5. Bag 5% off all shopping for three months. Cashback credit cards pay you when you spend on them. The Amex Everyday Plat* (eligibility calc) is the top payer, giving a huge 5% for the first three mths (max £100) and up to 1.25% after. Of course always repay it IN FULL each month to avoid the 22.9% rep APR interest.
Now's perfect timing as the 5% is at the high-spend Xmas & Jan sales period. As Anna told us: "Glad I read about the Amex cashback card last year - I'll get over £200 in time for Xmas." Full help in Top Cashback Cards. PS: To get rewarded by THIS CHRISTMAS see the Amex Gold note below.
6. Codes: Ted Baker 20%, FCUK 20%, La Redoute 50%ish... If you're going to buy, always check if there's a discount code. This week, biggies incl till Fri - Ted Baker 20% off; till Sun FCUK 20% | Debenhams 10% off £50 incl sale | F&F £10 off £50, and till 27 Nov La Redoute £25 off £50. See ALL codes.
7. Use the MegaShopBot to find the cheapest online price. A shopbot, or shopping robot, compares a range of e-tailers in seconds to find the cheapest price. As different sites are good for different things, ourMegaShopBot instantly finds the right shopbots for your item.
8. Grab hidden local eBay bargains. eBay sellers often specify items - from designer sofas to PS3s - as 'collection-only'. You can't search for 'em on eBay, so we built the Local eBay Deals Mapper (also iPhone &Android apps) to help you out.
9. You've a right to change your mind online - you DON'T in store. I get often angry questions when stores refuse to refund gifts that are the wrong size or colour. Yet before getting angry it's worth knowing the law...
In-store purchases: You've NO RIGHT to change your mind: you can only return faulty goods. For the definition of fault see my SAD FART rules. Some stores do allow no-fault returns, but it's not the law.
Online purchases: You DO HAVE a right to change your mind and have 14 days to tell 'em & 14 more to send it back. See Web rights.
10. Hidden Amazon 75%+ bargain basements. The Amazon Discount Finder uses web wizardry to manipulate Amazon links to create pages, eg, toys 50%+ off* and decorations 30%+ off*. We've collated them all on our Christmas top discount pages.
It's worth using in conjunction with CamelCamelCamel's Amazon price history graph so you can see if it's really a deal. We found a Logitech Gaming Headset with "27% off" at £40 - but it was £30 last year.
11. Get a virtual yell when your lust list drops in price. There's a price drop service covering 100s of online retailers that lets you input what you want and emails you when an item drops in price. We tested it on a La Redoute dress: priced at £39, target price £31, bought for £27.30 - a 30% saving.
12. The best day to bag deals for your shop. We number-crunched more than 50 vouchers' terms and found half started on Tue or Wed, so it's always worth checking then. See our Vouchers, Hot Bargains and Sales pages.
13. Don't bother going to an out-of-town outlet - there are 20ish web outlets. Many drive miles to outlet villages to snap up end-of-line bargains. Yet lots of big names like Argos, Mothercare and Tesco offer up to 70-80%+ off unsold lines via online outlets. Our Outlet Store Discount Finder lists & searches almost 20 outlets for huge toy, clothing & other discounts.
14. No code for the store you want? Get clever. Don't just check for the store you want for a discount code - department stores may provide a workaround. Eg, Clarks Orinoco boots, £60 at Clarks, no code, yet last week's 40%-off-everything Brantano code meant you got the same boots for £36. See a list of major department store codes.
15. Pay just 1p on credit card to protect £100s. Buy goods costing over £100 and even if you pay just 1p on a credit card - the rest any other way - the card company is jointly liable with the retailer for the WHOLE amount. It's the veritable financial superhero, especially if a firm then goes bust. See full Section 75 Protection.
16. Is Amazon Europe cheaper? Eg, we found a Sonos Playbar speaker from Italy for £460 - saving £139 on the UK price, even with delivery. There's a cheeky Amazon EU tool that checks for you.
17. Can you get cashback to cut the cost? Once you know where what you want's cheapest, check the best cashback sites for further boons.
18. Add an item to get free delivery. Always check what you need to spend to get free delivery - if you're just below it, it can be cheaper to add an extra item than pay. Eg, we found a £49 John Lewis shirt, delivery £3.50, but instead added a £1.50 bauble which pushed it over the £50 free delivery threshold.
Coming next week. The Xmas Deals Predictor calendar 2015. Here we predict what big discounts are coming this Christmas at all major stores, eg, Selfridges, Asos & Asda, and for events such as Black Friday. You can then use it to plan when to pounce to bag the best deals...
Last year we were 94% correct in terms of retailers doing deals similar to our predictions and 81% right on the day. We're doing this year's final assessment and it'll go here in my next weekly email. So do suggest interested friends sign up, and we'll be listing the top codes, vouchers & deals here every week.