Cheap broadband deals
B'band & line £124 over 12 months
Get Our Free Money Tips Email!
For all the latest deals, guides and loopholes - join the 12m who get it. Don't miss out

Martin and Consumer Team | Edited by Steve N
Updated Weekly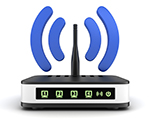 Too many stick with their broadband provider through thick and thin, overpaying by £100s a year. If that's you, it's likely you can do the double whammy of boosting your package while massively slicing your bills.
Check your broadband and line rental cost now – people on standard deals typically pay BT £492/yr, TalkTalk £306/yr, Sky £348/yr and Virgin £480/yr. The deals below can bring it down to £124 over 12 months.
What is broadband?
These days broadband is the standard way of connecting to the internet. Originally people used to dial up over their phone connection. Broadband uses a broader range of frequencies and allows more information to be carried than old dial-up connections.
There are two main types of broadband:
Home broadband: This is hard-wired into your house. It's either carried through your phone line (known as ADSL) or by cable. This is what this guide focuses on.
Mobile broadband: This isn't generally as fast or reliable, but as it's via the mobile networks, it's far more flexible. If you're looking for that, see our Mobile Broadband guide, which includes how to find free hotspots.
With home broadband, it's important to understand that while the information is carried via your phone line, you can still use the phone while you're online – and the broadband connection is always on. Read more on how home broadband works.
Switching broadband can save £100s
Many people have a broadband provider they're comfortable with and stick with it for ease. But this becomes a licence for providers to print money, as older packages are more expensive and tend to allow lower downloads at slower speeds.
Assuming you already have home broadband (if not, read on to choose), it's crucial to work out what you're paying and the service you're getting. However...
Never just look at the broadband cost. Always look at the upfront costs too. They can be high, so cheap broadband could be offset by these charges.
Here are some typical costs the big networks are charging for long-standing deals. By contrast, using the best deals in this guide, you can often get broadband and home phone for around £17 a month.
Switching broadband used to be a little tricky, but new rules introduced by regulator Ofcom in June 2015 have simplified the process for many. See the Ofcom implementing easier telecoms switching MSE News story for more details – we explain how it works in the questions below.
Quick questions
Six things you need to know to slash broadband costs
If you only read six things about broadband before you switch, read these.
Best buys
Fibre-optic broadband & line rental
Superfast or fibre-optic broadband offers a much faster speed with greater consistency, though it's usually pricier than normal broadband. If you're a heavy user – if you love to stream movies and music, or regularly download things – it can be a better option. It can also be a good idea if there are several people in the household likely to be online at the same time.
However, if you only use the web to browse and check emails or social media, or stream and download less frequently, you might be better off boosting your existing broadband speed instead. Our Broadband Speed Test guide shows you how.
Best buy
Top deal if you want BT
Let's be straight – BT often isn't the cheapest provider around. But as many of you tell us you'd like to stick with the big boy, here's the best standard speed deal we've found. Remember BT broadband customers can also get BT Sport at a discount which is a bonus for footie fans.
Best buys
Broadband-only deals
It's outrageous that people who just want broadband almost always need to pay for a phone line too. There are some options, as we explain below, but they're often more expensive than the cheapest line rental and broadband deals (see above).
The alternative options include:
The cheapest no-phone-line broadband deal we could find is with Relish.net*. It costs from £20/mth but it's only for those in central London – it uses its own 4G wireless network. As it's a relatively new company, it's difficult to assess its reliability though.

If you go for mobile broadband you won't need line rental but it isn't as reliable as home broadband. For more info and the best deals around, see our Mobile broadband guide.

Satellite broadband is suitable for people who live in rural areas where traditional fixed lines are unavailable. It uses a satellite dish to provide an internet connection to your router. However, you can only get speeds of up to 20Mb and it's very expensive.
Here's the only traditional, truly standalone broadband deal – taking a phone line is almost always cheaper however.
Best buys
Short-term contract broadband
If you're planning to move home soon, living in student accommodation or you want the freedom to leave with a short, no-penalty notice period, the deal below allows you to sign up on a monthly rolling contract, which although more expensive, can be cheaper than paying penalty charges to get out of a standard 12- or 18-month contract.
However, if you are planning to move, first check if your new contract's 'portable', meaning you can take it with you. Some providers will let you do this, but it's on a case-by-case basis.
Cashback sites may pay you for signing up
As an extra boon, members of specialist cashback websites can be paid when they sign up to some financial products. Do check that it's exactly the same deal though, as terms can be different. And remember the cashback is never 100% guaranteed until it's in your account.
Full help to take advantage of this and pros & cons in our Top Cashback Sites guide.
Problems with getting an MSE Blagged deal?
If you signed up to an MSE Blagged deal – a best-in-market offer we've negotiated exclusively – which involves you being sent a voucher, we'll always do our best to ensure you get the voucher.
But as we warn above, there can occasionally be problems with the deal tracking. In particular, if you were running ad-blocking software or cookie blockers when you signed up for the deal, or exited your browser while in the process of signing up, this can stop it tracking correctly.
Key tips
Many vouchers are supposed to arrive within three months of installation (see each deal for specific details). If it hasn't been that long yet, please be patient.

If you're waiting for an email voucher, please do check your spam folder regularly in case it's been diverted there.
Below we've listed the main past blagged deals, including the MSE Broadband Switch Event Sky deal, so you can check what you're due.