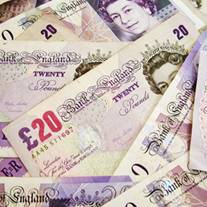 If Barclays, Lloyds or RBS/NatWest have offered you payment protection insurance (PPI) redress on a loan since 2012, you may be owed £100s more.
MoneySavingExpert.com has been at the forefront of PPI reclaiming on loans, credit cards and more since 2007, with more than five million of our template letters now downloaded and possibly billions reclaimed (see our Reclaim PPI for FREE and Reclaim Credit Card PPI for Free guides for how to do this yourself).
But we've now discovered big banks sometimes underpaid by around a third. Therefore some who've already been repaid are due £100s or £1,000s more. Here's what you need to know.
Who's likely to be affected?
It's only for loan PPI reclaims from 2012 onwards and those affected will mainly be customers of Barclays, Lloyds Banking Group, which includes Halifax and Black Horse, and the RBS Group, which includes NatWest – though it can be others too.
Barclays, Lloyds Banking Group and RBS confirmed they used comparative redress during the following periods:
Barclays offered comparative redress between October 2012 and October 2013.
Lloyds Banking Group has offered comparative redress since February 2013.
The RBS Group has offered comparative redress since early 2013.
Nationwide and Santander both say they've never used comparative redress, while HSBC says there may be a few customers who were offered comparative redress, but it was never part of the bank's formal redress scheme.
Those affected will also mainly be borrowers who received a PPI offer from the bank and didn't go via the Financial Ombudsman Services.
Providers are within their rights to offer comparative redress under the Financial Conduct Authority's (FCA) rules, as long they do so "fairly" and consistently.
What's the problem?
Some people only got partial refunds, because lenders treated them as if they'd just been sold the wrong type of PPI rather than completely mis-sold PPI.
In this instance, lenders gave borrowers 'comparative redress' (also known as 'alternative redress') – a partial payment for those who had to pay all the PPI upfront (called a 'single premium') rather than charged monthly.
On a loan of £5,000 for example, if the full PPI refund is around £1,200, the comparative redress would take around £500 away from your offer, leaving you with a refund of £700 (see our Comparative Redress information for further details).
But according to the Professional Financial Claims Association (PFCA) – a body which represents five large financial claims management companies – over the last year up to 30% of PPI offers made by some providers were for comparative redress and borrowers are around £730 worse off on average in this instance.
The first graph below shows the percentage of offers received on a comparative redress basis, while the second graph shows the financial reduction in comparative redress offered compared to a full offer. The figures are based on the PFCA's data from over 70,755 PPI redress offers.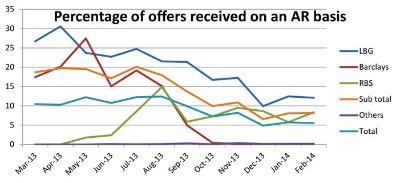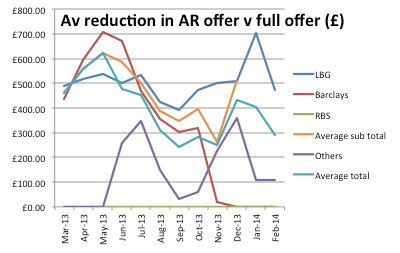 How do I know if I'm affected?
First let's see if you were given 'comparative redress'. Look for that phrase on your offer letter or 'changing to monthly cover', 'alternative redress' or 'it'd cost £9 for every £100 of your monthly repayment'. If you're unsure, just call and ask: "Did my offer contain comparative redress?"
If it did, these comparative redress payments are for those who the banks think still needed PPI but had the wrong type. So if they did that to you, but you didn't need it, complain.
Examples of where you don't need PPI include where you already had cover from work or savings to cover it; you repaid the loan early; or you refinanced it, so there was no need for loan insurance.
How do I reclaim on my reclaim?
If all this fits, call your bank to challenge its decision. If you don't get anywhere, remember the free Financial Ombudsman Service can usually adjudicate if your bank won't play ball.
See our full Reclaim Your Reclaim help for more information on how to do this.
How do I reclaim PPI in the first place?
If you've ever had a loan or credit card, check now to see if you were mis-sold PPI. A common complaint is that consumers are told they must buy a policy from the same provider as the loan in order to be accepted for the product. This is mis-selling.
And remember you don't need to pay a company 30% of your cash to do it for you. Our Reclaim PPI for FREE and Reclaim Credit Card PPI Free guides have full templates and extensive FAQs.
What do the banks say?
Barclays says it paid comparative redress in less than 5% of PPI claims, and that its aim was to implement the FCA's guidance correctly, rather than being financially driven.
It adds that as a result of on-going dialogue with the FCA and the Financial Ombudsman Service it decided to stop paying comparative redress in October 2013, and it has no plans to reintroduce it.
Lloyds Banking Group said in a statement: "The numbers highlighted are incorrect and deeply misleading. Over 98% of upheld PPI claims have been paid with full redress. For less than 2% of claims, we have used a formula agreed with the FCA to offer comparative redress to customers.
"The FCA handbook is very clear that in these specific circumstances, the provider should give redress that puts the customer in the position they would have been in had the customer taken the regular premium policy.
"In addition the numbers for overturn rates are again misleading. The overturn rate for loans claims is the same whether it is for comparative redress or for other reasons."
While an RBS spokesperson says: "We use comparative redress in a minority of cases and in line with criteria set out by the FCA in Policy Statement 10/12. We regularly report on our application of this policy to the FCA"