How to get cheap broadband
Do you need fibre? How to switch & much more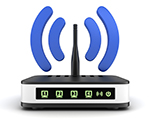 Way too many people blindly stick with their broadband and landline provider – and therefore vastly overpay. If that's you, it's likely you can massively slice your bills by £100s/year and possibly get a better package too.
So check your broadband and line rental cost now – people on non-promo deals typically pay anything from £350/yr to £600+/yr for the big boys such as BT, Sky, TalkTalk and Virgin, yet the deals below can save you £100s/yr off those eye-watering prices.
Seven broadband need to knows
These are the golden rules to give you chapter and verse, but if you just want a quick comparison, try our Broadband Unbundled tool.
Best buys:
Cheapest fast fibre broadband & line rental
We've got all the best deals below, but to find out which are available in your area try Broadband Unbundled, our new broadband, phone line and TV comparison tool.
Though remember, as we've said earlier, think carefully if you really need fibre as if you simply use the internet for basic browsing and emails, standard speed may be fine.
Best buys:
Cheapest superfast fibre broadband & line rental
If you're happy to pay more, you can fibre with max speeds of 100Mb and above. Let's make no bones about it, this is the luxury end of the market, and isn't MoneySaving, but if you've a large family with many devices, or you're into streaming 4K content, or you're just impatient, this could be for you.
We've got our top deal below, but to find out if it's available in your area, or other options, try Broadband Unbundled, our new broadband, phone line and TV comparison tool.
Are you desperate to get or stay with BT?
BT often isn't the cheapest provider but we know a lot of you like the security of being with a big name, so if that's you, check the deals above in case BT appears or use the filters in our Broadband Unbundled tool to find the best BT package for you.
If you're already a customer, it's worth using the tips above to benchmark the best deal and then try to haggle to knock down your price. BT is one of the easiest firms to haggle with. In our most recent haggling poll, 78% of its customers who tried to haggle had some success. For top tips on how to do it, see our Haggle With Service Providers guide.
Best buys:
Short-term contract broadband
If you're planning to move home soon, living in student accommodation or you want the freedom to leave with a short, no-penalty notice period, the deals below allows you to sign up on a monthly rolling contract, which although more expensive, can be cheaper than paying penalty charges to get out of a standard 12 or 18-month contract.
However, if you are planning to move, first check if your new contract's 'portable', meaning you can take it with you. Some providers will let you do this, but it's on a case-by-case basis.
Cashback sites may pay you for signing up
As an extra boon, members of specialist cashback websites can be paid when they sign up to some financial products. Do check that it's exactly the same deal though, as terms can be different. And remember the cashback is never 100% guaranteed until it's in your account.
Full help to take advantage of this and pros and cons in our Top Cashback Sites guide.
Problems with getting an MSE Blagged deal?
If you signed up to an MSE Blagged deal – a best-in-market offer we've negotiated exclusively – which involves you being sent a voucher, we'll always do our best to ensure you get the voucher.
But as we warn above, there can occasionally be problems with the deal tracking. In particular, if you were running ad-blocking software or cookie blockers when you signed up for the deal, or exited your browser while in the process of signing up, this can stop it tracking correctly.
Key tips
Many vouchers are supposed to arrive within three months of installation (see each deal for specific details). If it hasn't been that long yet, please be patient.

If you're waiting for an email voucher, please do check your spam folder regularly in case it's been diverted there.
Below we've listed the main past blagged deals, so you can check what you're due.