How to get cheap broadband
Do you need fibre? How to switch & much more
Get Our Free Money Tips Email!
For all the latest deals, guides and loopholes - join the 12m who get it. Don't miss out

Martin and Consumer Team | Edited by Steve N
Updated Weekly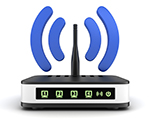 Way too many people stick blindly with their broadband and landline provider – and therefore overpay vastly. People on non-promo deals typically pay anything from £350/year to £600+/year for the big boys such as BT, Sky, TalkTalk and Virgin, so the deals below can save you big money.
Best-buy broadband deals, incl:
To benchmark, those on standard out-of-contract pricing typically pay BT £45/mth and Virgin £40/mth.
Seven broadband need to knows

These are the golden rules to give you chapter and verse, but if you just want a quick comparison, try our Broadband Unbundled tool.

What are the different broadband types?

Broadband is the standard way to connect to the internet but the key differentiator is speed, measured in megabits per second (Mb). There are four main categories:

Standard – with top speeds of 17Mb. This is the basic level, sometimes called ADSL.
Fast fibre-optic broadband – max speeds of 38Mb (though some top out at 52Mb). This is delivered through more sophisticated glass or plastic wires before connecting to your home.
Superfast fibre-optic – max speeds of 76Mb. Uses the same fibre wires, it's just faster.
Ultrafast fibre-optic broadband – top speeds of 350Mb and above. This requires more sophisticated wiring usually direct to your home, and is only available from limited suppliers.


See our

Broadband Unbundled

tool for more ultrafast deals.

Do I really need fibre-optic broadband?

Fast fibre is best for heavy users – if you do loads of streaming, online gaming, downloading or have multiple users in your home – as doing lots at the same time slows you down.

Anything faster is very much a luxury – best if you've a large household with many devices, you stream 4K content or 'normal' fibre isn't fast enough for you.

If you just use the web for basic tasks such as emails and the odd bit of browsing then an average of 11Mb speed should be fine.

Quick questions

If there's a lot of demand can they slow my speed?

At peak times or when a lot of people are using the internet at the same time, some providers will prioritise certain traffic meaning your connection may slow down to ensure everyone receives decent speeds. This is called traffic management.

How do I check my broadband speed?

There are a number of free speed tests online to find what speed you're actually getting such as BroadbandChoice's Speed Tester* and Ookla's Speedtest.net. Try at different times of the day to get a range as it can vary.

Regulator Ofcom also has a Telecoms Coverage Checker, which shows the maximum speeds capable down the line at any postcode, though it won't be precise enough to check your home. Meanwhile, uSwitch's StreetStats* shows actual speeds those in your area get, by provider.

How do I boost my broadband speed?

There are a number of simple checks and fixes if you are struggling speed-wise. There's a full checklist of tips and tricks to get quicker in Broadband Speed Boosting.

Not all deals are available nationwide... but our comparison tool finds the best deals in YOUR area

To help you navigate this postcode lottery, our Broadband Unbundled tool shows which best buys are available where you live. Standard speed broadband is available in the vast majority of the UK but there are still odd pockets where you can't get it.

With fibre, it's still still being rolled out across the UK as only about 80% can get it. Most big cities have access but some rural areas may not. Ultrafast fibre with top speeds of 350Mb is only available to roughly 50% of the UK, while faster speeds are currently only available to a small number.

How long does it take to switch broadband? Or to get it for the first time?

It varies, but plan for about 10 working days, though if you need an engineer it is partly down to your availability.

And on the day itself don't worry if you fear Facebook withdrawal, you're only likely to be offline for a few hours, or maybe hardly at all – if you're at work you may not even notice it. Here are some more key details:

Often, there's no need for an engineer to come round. Only if you need a new line or on some fibre installations. Otherwise just plug any new kit you're sent in.
You don't usually need to tell your current provider. The new firm usually does the communication work unless if switching to or from Virgin – here, you must tell your old provider.
Many firms insist you pay to receive their router. Though the cost isn't usually prohibitive and we include router costs (where applicable) in all the deals below.

Quick questions

Before switching, how do I find out what customer service is like?

Since you'll likely be signing a 12-month or 18-month contract, it's worth checking feedback before diving in. We include the results of our latest broadband customer satisfaction poll in all our best buys, so you can see how each provider ranked with other MoneySavers. For the full results see our latest Broadband customer service poll results.

Our forum's Broadband Board also includes a wealth of feedback, as do sites such as ThinkBroadband and ISP Review.

Do I pay any exit penalties to switch broadband?

You won't face extra costs if no longer under contract though you may need to give at least 14-30 days' notice depending on your provider.

If you're still within the minimum term of your contract, you usually have to pay 'early termination fees' to leave. Each provider calculates these differently but it generally depends on the amount of time left on your contract. They should always be less than the cost of the remaining charges on the contract.

Some providers may charge up to £30 if you're cancelling your broadband and not moving to another firm immediately or if you're moving to cable (although we've heard that some will waive this if contested). Your provider may also ask you to return its router or you risk incurring a penalty charge.

What are my rights if my provider hikes prices?

Under rules from regulator Ofcom, if the contract was taken out after 23 Jan 2014, if your landline, broadband or mobile (but not TV) firm raises prices without warning you before you signed up then you are allowed to leave penalty-free.

But do check the T&C's as providers may state in there that they reserve the right to hike prices in line with inflation, which would count as a warning.

If it happens without warning all you have to do is tell your provider within 30 days of getting notification from it, and you can then leave penalty-free. That said, only do so if you can find a better price.

Will I get the advertised speed?

Maybe. It's important to understand that these advertised speeds are based on the average speed received by at least 50% of a provider's current customer base between 8pm and 10pm – when most people are online.

Most have signed up to a code of practice committing to give a personalised estimate before you sign-up. If you get 'significantly under-performing' speeds ask your provider to check for a fault – and get it fixed if so.

If unresolved you may be able to exit your contract penalty-free. But the definition of 'significantly under performing' is where speed is slower than that received by 90% of the provider's customers on similar lines, so only the firm knows. If unhappy with your provider, try free complaints handling tool Resolver.

See our boost Broadband speed guide for full tips, including how to check your speed.

Can I get broadband without a phone line?

Most broadband packages require you to have a line as the broadband is ultimately delivered down it. However, most providers still make you take out a standard line rental deal as if you'd use the phone rather than a discounted price for broadband only.

There are a limited number of broadband-only deals, mainly from Virgin Media, but these are usually expensive (though when it has a hot deal we'll feature it below) so it's almost always cheaper to get a broadband and landline package. Of course, you could just get the line and simply not use it.

Aim for unlimited data or it'll cost you

We tend to feature only unlimited data deals below as hot promos almost always come with unlimited browsing. The fact the best deals have no restriction is good news given our data use has rocketed with catch-up TV, box sets and movie streaming gobbling it up – downloading an episode of Game of Thrones in HD uses up roughly 1GB.

The other reason for cheer at the competitiveness of unlimited data deals is packages with download limits tend to have costly charges if you go over – BT charges £1.80/GB when you breach the limit.

If you're unlucky enough not to find a hot promo deal, consider if it's worth paying a little extra for unlimited data to be safe. Our Broadband Unbundled lets you filter deals by the amount of data you require.

Quick question

How do I track my broadband data usage?

You may be able to tell via your online account from your broadband provider. You could also try services such as Rokario, Netmeter and TbbMeter which can track it for you.

Don't want to switch? Broadband and phone firms are among the easiest to haggle with

Switching usually nets you the cheapest prices, but if you are out of contract – or nearing the end – you could try to haggle your price.

As there's stiff competition, companies are frantic to keep hold of customers. That is why in our polls on haggling with service companies, communication providers are frequently among the easiest to haggle with.

In our most recent survey of 4,000+ MoneySavers, more than 76% who tried had success with Sky, TalkTalk and Virgin. For top tips, see our Haggle With Service Providers guide.

Best buys:

Cheapest standard speed broadband & line rental

We've got all the best deals below, but to find out which are available in your area try Broadband Unbundled, our new broadband, phone line and TV comparison tool.

Broadband and line rental equiv £10.24/mth*

Pay £198 over 12mth contract & get £75 back

Until Thu 27 Sep we've blagged this 12-month contract with BT-owned Plusnet*, which includes line rental and broadband with average speeds of 10Mb. Anyone who isn't a current Plusnet broadband customer can get it. It's always a consistently strong performer in our customer service poll and came out top of the big providers for the sixth year running in August, with 58% rating it 'great' and only 16% 'poor'.

The deal's available to 99% of the UK based on postcode – you're told when applying if you can't get it (or use our new Broadband Unbundled tool, which only shows deals available in your postcode), though you can't get it if you're already a Plusnet customer (or left in the last month). Here's how it works...

If you can afford to, choose to pay line rental for 1yr upfront. You pay £197.88 for the year (you must opt for this at sign-up), it's then £18.99/mth, the same as if you were to pay monthly. Either way, no calls are included – see Plusnet charges.
Broadband's 'free' for 12mths. After the contract, it rises to £10.99/mth. If you don't live in a low-cost area, you'll pay more, but this won't apply to most.
You're automatically sent a £75 cashback cheque. Once your broadband and home phone is activated you'll receive a cheque within 30 days. The cheque will be made out to the account holder and delivered to the account address.

- Cost analysis: If you pay a year's line rental upfront and factor in the cashback cheque over the 12mth contract it's £122.88 before calls or new line costs, equivalent to £10.24/mth. If you pay line rental monthly, it's equiv £12.74/mth.

Anything else?

- Could Plusnet hike prices? Sadly, telecoms firms often do, but you should be able to leave penalty-free if it happens while you're in contract.

- Need a new line? If you don't have a line (eg, you've cable only), it's £49.99 – you'll be told before you commit.

- Don't live in a low-cost area? You'll be told if you live in a low-cost area while applying; rural areas are sometimes more expensive. If you don't, broadband's £7.50/mth during the contract on top of line rental. Broadband and phone will rise to £37.48/mth after the contract ends.

Read more about Plusnet.

Full Plusnet call charges, tips & customer service ratings

What are Plusnet's call charges? An additional 22p set-up fee applies to all chargeable calls. It also applies an unbilled calls limit. This means if you make more than £55 worth of phone calls, further outgoing calls will be stopped until you've got it back under £50. You'll also be charged a £5.76 fee on your next bill.

| Landline – daytime | Landline – evening | Landline – weekend | Mobile – anytime |
| --- | --- | --- | --- |
| 13.5p/min | 13.5p/min | 13.5p/min | 15p/min |

Who counts as a new customer? Anyone who hasn't had a service with Plusnet for at least a month.

Anything to watch out for? When you pay upfront, there's always a risk you'll lose cash if the provider goes bust. The risk's bigger with smaller companies than it is with BT, which owns Plusnet.

If you take this deal and leave during the contract, you may be liable for early termination fees. You also won't be refunded any of your upfront line rental costs. If you're out of contract a £30 cease charge may apply if you move from Plusnet to a provider which isn't part of the BT Wholesale network (eg, Virgin Media) or if you cancel broadband to your property altogether.

Plusnet was fined in March 2017 for billing a small number of former customers despite having cancelled their contracts. The company reported the billing glitch to Ofcom itself and says it has made every effort to contact those affected. It is still willing to honour refunds should you feel you're entitled to one.

Will I have to pay the £49.99 new line fee? If you don't have a line, or you're switching from cable, you'll need to pay for a new line. If you have a BT line but are with another provider, ie, Sky or TalkTalk, you may also have to pay but you'll be told whether you will or not during the sign-up process before you commit to the deal.

What if I want calls? Calls aren't included, but you can add one of Plusnet's call plans which start at £4/mth.

What if I have difficulties? Get in touch with Plusnet first. If after contacting the firm you still have difficulties, please email us at voucherhelp@moneysavingexpert.com with your Plusnet username details and we will do our best to help you.

Please let us know your experiences: Plusnet feedback forum thread.

What's customer service like?

Plusnet broadband customer service poll results
Great
58%
OK
27%
Poor
15%
Aug 2018 | Voters: 1,083

Broadband and line rent equiv £15/mth*

Pay £370 over 18mth contract, claim a £100 M&S vch

Until Fri 28 Sep, Sky newbies can apply via this Sky link* for this deal – it's a 18mth contract for unlimited broadband and line rental, with average speeds of 11Mb.

It's available to 90% of the UK. It depends on your postcode – you're told when applying (or use our new tool Broadband Unbundled, which only shows deals available in your postcode), though you can't get it if you've had Sky b'band, line or TV in the last 12mths.

Unlimited broadband and line rent's £20/mth for 18 months. It'll rise to £30/mth if you stay. No calls included – see Sky call costs (a touch more than BT).
£9.95 set-up. There's also a £5 card verification fee, refunded on your first bill.
Get a £100 M&S voucher. Enter your email address after the link and you'll receive it within 90 days of your order. You should then follow any redemption instructions to ensure it's activated.

- Cost analysis: You'll pay £369.95 for the 18mth contract before calls or new line costs, equiv to £20.56/mth. But if you'd have spent £100 in M&S anyway, it's £269.95, equivalent to £15/mth.

Anything else?

- Could Sky hike prices? Sadly, telecoms firms often do, but you may be able to leave penalty-free if it raised phone prices.

- Need a new line? If you don't have a line (or for those with a cable one and in a few other cases), it's £20 – you'll be told before you commit.

Read more about Sky.

Full Sky tips, call charges & customer service ratings

Problems getting this deal? We have an email address exclusively for MSE users: customerquestions@sky.uk. If you experience difficulties after emailing Sky, let us know at voucherhelp@moneysavingexpert.com and we'll push Sky to sort it.

Anything to watch out for? Sky has recently stopped supplying households that can't get speeds of least 2Mb. If you're one of the 250,000 affected, you'll have to find a different broadband provider.

What if I want more calls? You can add Sky Talk Evenings and Weekends Extra for £4/mth or Sky Anytime Extra for £8/mth – this gives you unlimited calls to UK mobiles and landlines, including 0870 and 0845 numbers.

Sky also applies a £100/mth unbilled calls limit. This means if you make more than £100 worth of phone calls, further outgoing calls will be stopped until this is paid off.

What are Sky's call charges on its basic line rental option? An additional 22p set-up fee applies to all chargeable calls.

| Landline – daytime | Landline – evening | Landline – weekend | Mobile – daytime | Mobile – evening |
| --- | --- | --- | --- | --- |
| 14.65p/min | 14.65p/min | 14.65p/min | 19.3p/min | 17p/min |

What's customer service like?

Sky broadband customer service poll results
Great
34%
OK
45%
Poor
21%
Aug 2018 | Voters: 935

Best buys:

Cheapest fast fibre broadband & line rental

We've got all the best deals below, but to find out which are available in your area try Broadband Unbundled, our new broadband, phone line and TV comparison tool.

Though remember, as we've said earlier, think carefully if you really need fibre as if you simply use the internet for basic browsing and emails, standard speed may be fine.

Fibre & line rent equiv £19.17/mth

*

Pay £405 over 18mth contract, get a £60 vch

Available until Thu 27 Sep, this TalkTalk* fibre broadband deal - with average speeds of 36Mb - is open to new customers (not currently with TalkTalk) signing up to a 18-month contract. It's worth noting that in our last customer service poll 38% scored it 'poor'.

The deal's available to 83% of the UK based on postcode – you're told when applying if you can't get it (or use our new tool Broadband Unbundled which only shows deals available in your postcode). Here's how to get it:

Unlimited fibre broadband and line rent's £22.50/mth for 18 months. It's then £32/mth after the contract ends. You get a 'free' compulsory router. No calls are included, see TalkTalk call charges.

Nothing to pay upfront. Delivery costs and setup fees are 'free' with this deal.

Get a £75 Amazon, Argos, Tesco or Ticketmaster voucher but you MUST claim it. Enter your email address when prompted before sign up and within 90 days of your order you'll be sent instructions of how to redeem your voucher.

- Cost analysis: You'll pay £405 over the 18-month contract for broadband and line rental before any call costs, but if you'd spend £75 at Amazon, Argos, Tesco or Ticketmaster anyway, then it's equivalent to £330, which works out as equiv £18.34/mth.

Anything else?

- Need a new line? If you don't have a line or only have a cable one (or in a few cases other lines), installation's free with this offer.

- Could TalkTalk hike prices? Telecoms firms often do, but TalkTalk says its prices are fixed for the duration of the contract.

Read more about TalkTalk.

Full TalkTalk tips & call charges

Direct debit is the only way to pay. This is compulsory – there's no alternative.

What are TalkTalk's call charges? An additional 20p set-up fee applies to all chargeable calls. TalkTalk also applies a £100 unbilled calls limit – this means if you make more than £100 worth of phone calls, further outgoing calls will be stopped until the amount you owe on calls is reduced to under £100. Calls over 60 mins are charged so hang up and call back.

| Landline – daytime | Landline – evening | Landline – weekend | Mobile – daytime | Mobile – evening |
| --- | --- | --- | --- | --- |
| 13.5p/min | 13.5p/min | 13.5p/min | 13.5p/min | 13.5p/min |

What's customer service like?

TalkTalk broadband
customer service poll results
Great
26%
OK
35%
Poor
38%
Aug 2018 | Voters: 885

-->

Broadband and line rent equiv £20/mth*

Pay £460 over 18mth contract, get a £100 M&S vch

Until Fri 28 Sep, Sky newbies can apply via this Sky link* for this deal – it's a 18mth contract for unlimited fibre broadband and line rental, with average speeds of 36Mb.

It's available to 83% of the UK. It depends on your postcode – you're told when applying (or use our new tool Broadband Unbundled, which only shows deals available in your postcode), though you can't get it if you've had Sky b'band, line or TV in the last 12mths.

Unlimited fibre broadband and line rent's £25/mth for 18 months. It'll rise to £38.99/mth if you stay. No calls included – see Sky call costs (a touch more than BT).
£9.95 set-up. There's also a £5 card verification fee, refunded on your first bill.
Get a £100 M&S voucher. Enter your email address after the link and you'll receive it within 90 days of your order. You should then follow any redemption instructions to ensure it's activated.

- Cost analysis: You'll pay £459.95 for the 18mth contract before calls or new line costs, equiv to £25.56/mth. But if you'd have spent £100 in M&S anyway, it's £359.95, equivalent to £20/mth.

Anything else?

- Could Sky hike prices? Sadly, telecoms firms often do, but you may be able to leave penalty-free if it raised phone prices.

- Need a new line? If you don't have a line (or for those with a cable one or, in a few other cases), it's £20 – you'll be told before you commit.

Read more about Sky.

Full Sky tips, call charges & customer service ratings

Problems getting this deal? We have an email address exclusively for MSE users: customerquestions@sky.uk. If you experience difficulties after emailing Sky, let us know at voucherhelp@moneysavingexpert.com and we'll push Sky to sort it.

Anything to watch out for? Sky has recently stopped supplying households that can't get speeds of least 2Mb. If you're one of the 250,000 affected, you'll have to find a different broadband provider.

What if I want more calls? You can add Sky Talk Evenings and Weekends Extra for £4/mth or Sky Anytime Extra for £8/mth – this gives you unlimited calls to UK mobiles and landlines, including 0870 and 0845 numbers.

Sky also applies a £100/mth unbilled calls limit. This means if you make more than £100 worth of phone calls, further outgoing calls will be stopped until this is paid off.

What are Sky's call charges on its basic line rental option? An additional 22p set-up fee applies to all chargeable calls.

| Landline – daytime | Landline – evening | Landline – weekend | Mobile – daytime | Mobile – evening |
| --- | --- | --- | --- | --- |
| 14.65p/min | 14.65p/min | 14.65p/min | 19.3p/min | 17p/min |

What's customer service like?

Sky broadband customer service poll results
Great
34%
OK
45%
Poor
21%
Aug 2018 | Voters: 935

Best buys:

Cheapest superfast fibre broadband & line rental

If you're happy to pay more, you can fibre with max speeds of 100Mb and above. Let's make no bones about it, this is the luxury end of the market, and isn't MoneySaving, but if you've a large family with many devices, or you're into streaming 4K content, or you're just impatient, this could be for you.

We've got our top deal below, but to find out if it's available in your area, or other options, try Broadband Unbundled, our new broadband, phone line and TV comparison tool.

Get Our Free Money Tips Email!

For all the latest deals, guides and loopholes - join the 10m who get it. Don't miss out

Fibre and line rent £25/mth*

Pay £450 over 18mth contract

New customers can get an 18-month contract with Vodafone Broadband*, which includes line rental and unlimited downloads with average speeds of 63Mb. If you're an existing Vodafone mobile customer you can sign up to the same deal for £24/mth.

Vodafone also guarantees that the speed to your router won't drop below 55Mb. You can check it by downloading the Vodafone Broadband app and running a speed test. If it's lower than 55Mb then you can apply for an instant 15% discount which will be applied to your next monthly bill, and will remain until your min speed is above that 55Mb. Note: The guarantee covers the speed to your router, not to your devices.

The deal's available to 94% of the UK based on postcode – you're told when applying if you can't get it (or use our new tool Broadband Unbundled which only shows deals available in your postcode).

Broadband and line is £25/mth. After the 18 month contract, this will increase to £28/mth. No calls are included, see Vodafone call charges.
Nothing to pay upfront. Usually £9.99, there's no cost with this deal for activation and router delivery.

- Cost analysis: It's £25/mth for broadband and line rental before any call or new line costs, so you pay £450 over the 18-month contract.

Anything else?

- Need a new line? If you don't have a line (eg, you've cable only), installation's £60. You'll know before committing.

- Is the price fixed during the contract? Technically no, but if it does raise prices, you should be able to ditch your contract penalty-free.

Cashback site users may see bigger cashback elsewhere, but sometimes on different deals.

Full Vodafone call charges, tips & customer service ratings

What are Vodafone's call charges? A 19p set-up fee applies to all chargeable calls.

| Landline – daytime | Landline – evening | Landline – weekend | Mobile – anytime |
| --- | --- | --- | --- |
| 11.5p/min | 11.5p/min | 11.5p/min | 13p/min |

Anything to watch out for? When you pay upfront, there's always a risk you'll lose cash if the provider goes bust. The risk's bigger with smaller companies than it is with Vodafone.

If you take this deal and leave during the contract you may be liable for early termination fees.

Will I have to pay the £60 new line fee? If you don't have a line, or you're switching from cable, you'll need to pay for a new line. If you have a BT line but are with another provider, eg, Sky or TalkTalk, you may also have to pay but you'll be told this during the sign-up process before you commit to the deal.

What if I want calls? You can pay an additional £4/mth for free evening and weekend calls, £5/mth gets you 300 minutes of calls per month to international numbers in some countries, and £8/mth gets you anytime UK landline and mobile calls.

What's customer service like?

Vodafone broadband customer service poll results
Great
43%
OK
28%
Poor
29%
Aug 2018 | Voters: 244

Broadband and line rent equiv £25/mth*

Pay £550 over 12mth contract, get a £100 M&S vch

Until Fri 28 Sep, Sky newbies can apply via this Sky link* for this deal – it's an 18mth contract for unlimited fibre broadband and line rental, with average speeds of 63Mb.

It's available to 90% of the UK. It depends on your postcode – you're told when applying (or use our new tool Broadband Unbundled, which only shows deals available in your postcode), though you can't get it if you've had Sky b'band, line or TV in the last 12mths.

Unlimited fibre broadband and line rent's £30/mth for 18 months. It'll rise to £43.99/mth if you stay. No calls included – see Sky call costs (a touch more than BT).
£9.95 set-up. There's also a £5 card verification fee, refunded on your first bill.
Get a £100 M&S voucher. Enter your email address after the link and you'll receive it within 90 days of your order. You should then follow any redemption instructions to ensure it's activated.

- Cost analysis: You'll pay £549.95 for the 18mth contract before calls or new line costs, equiv to £30.56/mth. But if you'd have spent £100 in M&S anyway, it's £449.95, equivalent to £25/mth.

Anything else?

- Could Sky hike prices? Sadly, telecoms firms often do, but you may be able to leave penalty-free if it raised phone prices.

- Need a new line? If you don't have a line (or for those with a cable one and in a few other cases), it's £20 – you'll be told before you commit.

Read more about Sky.

Full Sky tips, call charges & customer service ratings

Problems getting this deal? We have an email address exclusively for MSE users: customerquestions@sky.uk. If you experience difficulties after emailing Sky, let us know at voucherhelp@moneysavingexpert.com and we'll push Sky to sort it.

Anything to watch out for? Sky has recently stopped supplying households that can't get speeds of least 2Mb. If you're one of the 250,000 affected, you'll have to find a different broadband provider.

What if I want more calls? You can add Sky Talk Evenings and Weekends Extra for £4/mth or Sky Anytime Extra for £8/mth – this gives you unlimited calls to UK mobiles and landlines, including 0870 and 0845 numbers.

Sky also applies a £100/mth unbilled calls limit. This means if you make more than £100 worth of phone calls, further outgoing calls will be stopped until this is paid off.

What are Sky's call charges on its basic line rental option? An additional 22p set-up fee applies to all chargeable calls.

| Landline – daytime | Landline – evening | Landline – weekend | Mobile – daytime | Mobile – evening |
| --- | --- | --- | --- | --- |
| 14.65p/min | 14.65p/min | 14.65p/min | 19.3p/min | 17p/min |

What's customer service like?

Sky broadband customer service poll results
Great
34%
OK
45%
Poor
21%
Aug 2018 | Voters: 935

Are you desperate to get or stay with BT?

BT often isn't the cheapest provider but we know a lot of you like the security of being with a big name, so if that's you, check the deals above in case BT appears or use the filters in our Broadband Unbundled tool to find the best BT package for you.

If you're already a customer, it's worth using the tips above to benchmark the best deal and then try to haggle to knock down your price. BT is one of the easiest firms to haggle with. In our most recent haggling poll, 78% of its customers who tried to haggle had some success. For top tips on how to do it, see our Haggle With Service Providers guide.

Best buys:

Short-term contract broadband

If you're planning to move home soon, living in student accommodation or you want the freedom to leave with a short, no-penalty notice period, the deals below allows you to sign up on a monthly rolling contract, which although more expensive, can be cheaper than paying penalty charges to get out of a standard 12 or 18-month contract.

However, if you are planning to move, first check if your new contract's 'portable', meaning you can take it with you. Some providers will let you do this, but it's on a case-by-case basis.

B'band & line rent from £21/mth on a 1mth rolling contract*

Pay £21-£30/mth & £30 upfront (free for SSE energy custs)

New and existing customers can get any of SSE's unlimited broadband packages* on a one-month rolling contract. You have the choice of average 11Mb speed standard broadband, average 35Mb speed or an average of 63Mb speed fibre broadband.

Standard speed is available to 90% and fibre options are available to 83% of the UK based on postcode – you're told when applying whether you can get the deal (or use our new tool Broadband Unbundled which only shows deals available in your postcode).

Unlimited average 11Mb speed broadband and line rent's £21/mth. It'll then rise to £30/mth after 12 months unless you're an SSE energy customer whose broadband prices are frozen for 3 years. No calls are included, see SSE call charges.

- Average 35Mb fibre broadband costs £24/mth (£33/mth after 12mths for non-SSE custs).
- Average 63Mb fibre broadband costs £30/mth (£39/mth after 12mths for non-SSE custs).

£30 set-up costs. This covers activation and router delivery. There's no charge if you're an existing SSE energy customer.

- Cost Analysis: It's £21/mth for standard speed broadband and line rental before any call costs, so including upfront costs you pay £282 for the first year, equivalent to £23.50/mth.

Anything else?

- Need a new line? If you're switching from a provider not on BT Openreach, or if you need a new line entirely, it's £60 .

Full SSE call charges, tips & customer service ratings

Anything to watch out for? You can get the deal if you're in contract with SSE broadband but check if you're liable for termination fees before switching..

What are SSE's call charges? An additional 20p set-up fee applies to all chargeable calls.

What if I want more calls? The 'Anytime Landline' calls package costs an extra £7/mth and includes 1,000 minutes or 150 calls to UK landlines. You can add 'Anytime Plus' for £12/mth, which gives international landline calls to 35 extra countries.

Landline – daytime
Landline – evening
Landline – weekend
Mobile – anytime
12p/min
12p/min
12p/min
15p/min

How do I know I need a new line? If you're already with a provider on the BT wholesale network (everyone but Virgin) then it's likely you won't need a new one.

What's customer service like?

SSE broadband
customer service poll results
Great
68%
OK
22%
Poor
10%
Aug 2018 | Voters:72

Rolling 28-day contract, equiv £32.03/mth for first 12 mths*

Cancel with 28 days' notice, £24.95 upfront

Newbies to Direct Save Telecom's* can get its unlimited average 11Mb speed broadband and line rental on a 28-day rolling contract (its standard contract length is 24 months) for an equiv £32.03/mth. It's available to 90% of the UK. It depends on your postcode – you're told when applying

Not heard of Direct Save Telecom before? Read on for more.

Sign up directly. Go via Direct Save Telecom*
Broadband and line rent's £29.95/mth. Direct Save Telecom could increase prices at any time, but as you're not tied into a long contract, you're free to leave by giving 28 days' notice. No calls are included – see DirectSave call costs.
You need its router. It's 'free' but you'll need to pay £24.95 for activation.

- Cost analysis: The total for unlimited broadband, line rent, router p&p and activation cost for the first year is £384.35, equivalent to £32.03/mth.

Anything else?

- Need a new line? If you don't have a line (eg, you've cable only), it's £29.95 – you'll be told before you commit.

Full Direct Save Telecom info and call charges

Who is Direct Save Telecom? Direct Save Telecom is a low-cost broadband and home phone provider. It isn't as big as other providers so we don't have feedback on its customer service but it's been around since 1995 and has been providing line rental since 2004.

It offers 24-hour UK-based customer service.

What are Direct Save Telecom's call charges? A 15.1p call set-up fee applies for all chargeable calls.

| Landline – daytime | Landline – evening | Landline – weekend | Mobile – anytime |
| --- | --- | --- | --- |
| 9.5p/min | 9.5p/min | Inclusive | 12.35p/min |

Cashback sites may pay you for signing up

As an extra boon, members of specialist cashback websites can be paid when they sign up to some financial products. Do check that it's exactly the same deal though, as terms can be different. And remember the cashback is never 100% guaranteed until it's in your account.

Full help to take advantage of this and pros and cons in our Top Cashback Sites guide.

Problems with getting an MSE Blagged deal?

If you signed up to an MSE Blagged deal – a best-in-market offer we've negotiated exclusively – which involves you being sent a voucher, we'll always do our best to ensure you get the voucher.

But as we warn above, there can occasionally be problems with the deal tracking. In particular, if you were running ad-blocking software or cookie blockers when you signed up for the deal, or exited your browser while in the process of signing up, this can stop it tracking correctly.

Key tips

Many vouchers are supposed to arrive within three months of installation (see each deal for specific details). If it hasn't been that long yet, please be patient.

If you're waiting for an email voucher, please do check your spam folder regularly in case it's been diverted there.

Below we've listed the main past blagged deals, so you can check what you're due.

Warning: This is an archive so these deals may no longer be available.

BT: Broadband and line rent deals

How do I claim the Mastercard or voucher or cashback? To get the Mastercard you must fill in this online form and this online form for the voucher, to claim cashback it's this online form. Make sure you do this once your broadband service has been installed as you can't do it before. You'll need:

Your BT order number, which begins AJM (it'll be in your confirmation email).
The postcode where your broadband has been installed.
An email address to confirm your claim.

Once you've submitted your claim forms your Mastercard and voucher will be sent separately to the address your broadband was installed at within 45 days. You must claim them within three months of installation and activate the Mastercard within three months of receiving the activation code.

If after 45 days of your broadband going live you haven't received your Mastercard, please contact BT via this online form.

If after 45 days of claiming you've not received your cashback voucher, please fill out this BT form. Make sure you include your full name, BT user name, order date, connection date and the email address you signed up with.

If you're still having trouble email

voucherhelp@moneysavingexpert.com

and, if you're eligible, we'll do our best ensure you get it.

Please note, that vouchers may have to be claimed so please ensure you've done that and waited the specified amount of time before getting in touch.

EE: Broadband and line rent deals

The EE broadband deals sometimes come with a prepaid Mastercard or a voucher of varying amounts. If you've had any problems getting your Mastercard contact the EE Reward Card team on 0800 587 2297 or email broadbandhelp@eecard.co.uk. If you're having trouble getting your Amazon voucher please contact Marketing Lounge Partnership Customer Service team on 01565 656251 or email broadbandinfo@myeeoffers.co.uk.

If you're still having trouble please email voucherhelp@moneysavingexpert.com.

When emailing, please make sure you include your full name, order date and connection date, the email address you signed up with and your order reference (this'll start with DKI, followed by several numbers, usually seven – it's on the PDF EE sent you, or call EE customer services). This info will help ensure you get a quick response.

Plusnet: Broadband and line rent deals

Plusnet broadband deal sometimes come with cashback. If your cashback still hasn't arrived after 60 days, please email voucherhelp@moneysavingexpert.com.

When emailing, please make sure you include your full name, Plusnet user name, order date and connection date and the email address you signed up with. This info will help ensure you get a quick response.

TalkTalk: Broadband and line rent deals

If you're having issues with a TalkTalk deal we've featured, please email voucherhelp@moneysavingexpert.com.

When emailing, please make sure you include your full name, order date and connection date and the email address you signed up with. This info will help ensure you get a quick response.

Sky: Broadband and line rent deals

How to complain about your broadband provider

The broadband industry doesn't have the best customer service reputation and while a provider may be good for some, it can be hell for others. Common problems include installation dates not being met, limited service or slow speeds, incorrect billing and more. It's always worth trying to call your provider first, but if not then…

Free tool if you're having a problem

This tool helps you draft your complaint and manage it too. It's totally free, and offered by a firm called Resolver which we like so much we work with to help people get complaints justice.

If the complaint isn't resolved, Resolver can escalate it to the free Ombudsman Services (or CISAS if you're complaining about Virgin Media).

Important: if your issue is about a voucher or incentive that was part of an MSE Blagged deal, then instead just let us know by emailing voucherhelp@moneysavingexpert.com as that's usually quicker.

Get Our Free Money Tips Email!

For all the latest deals, guides and loopholes - join the 10m who get it. Don't miss out

Get Our Free Money Tips Email!

For all the latest deals, guides and loopholes - join the 12m who get it. Don't miss out