Festive Fivers
Top Christmas presents for under a fiver
Take inspiration from the MSE Forum and you'll find Christmas gifting doesn't mean spending big – all that's required is a little imagination, a bit of effort and a few quid.

Festive Fivers is a pre-Christmas contest we've run on several occasions in the MSE Forum. The aim? To come up with the cleverest, weirdest and most practical present ideas to make or buy, for a kid or grown-up, for around £5. Each year it was held, we sieved through heaps of ingenious ideas from Forumites and went on to pick a winning idea/s. You can see every suggestion in the Forum threads, which form a substantial database of inspiration.

Here are the threads for each year the contest ran, plus the winning idea:
Festive Fivers 2005 – Tesco Deals Day Out suggested by afro_2
Festive Fivers 2007 – Take an Away Day for a quid suggested by jenny_hullock
Festive Fivers 2012 – The 12 dates of Christmas suggested by lil_liz
(Be aware that some costs will have gone up since the competitions.)
We've collated the best ideas from 2012, the most recent contest. You might also like our 40+ Xmas MoneySaving Tips.
For all the latest guides, deals and loopholes simply sign up today – it's spam-free!
The top three
The 12 dates of Christmas

Date night package for someone you love

Buy/make: Make it.
Cost: £5

For a winning gift that will not only make someone's Christmas, but the whole year ahead too, try 'the 12 dates of Christmas'.

All you need to do is plan a date for each month of the new year for you and your loved one, be it a picnic in the park, a late night at the free Natural History Museum or a candlelit bubble bath.

Once you've planned your dates, write each activity on a card and pop it in an envelope (labelled for each month). Place them all in a decorated gift or shoe box with an explanation of how it all works.

We did have reservations on this one, since the extra costs involved (such as, transport) could take you over the £5 limit, but it was such a lovely idea that we decided to crown it our winner anyway.

The paint sample calendar

A wipe-clean calendar made with paint sample cards

Buy/make: Make it.
Cost: around £5

If you know someone whose calendar is crammed with events (or crossings-out), this reuseable calendar made from free paint colour sample cards is the perfect gift.

All you need is a collection of paint sample cards (try your nearest B&Q), a large glass picture frame (about £5 from Wilko or Ikea) and a bit of creative flair. Cut the cards to size and glue onto the back of the frame. See the example below for inspiration, and get collecting.

Read the Cheltenham Road blog, where you can find a step-by-step guide on how to make your own.

(Kids' spoiler alert...) A fallen bell from 'Santa's sleigh'

Buy/make: Buy it.
Cost: £2-5

This is sure to make the kids' eyes as wide as their smiles. Simply buy a sleigh bell (£1 or £2 on eBay), then attach it to a piece of ribbon. On Christmas Eve, put it in the garden somewhere visible from inside the house. In the morning, 'spot' the bell and point it out to your child. They'll feel really special to find a bell from Father Christmas's own sleigh.
For all the latest guides, deals and loopholes simply sign up today – it's spam-free!
Ideas for adults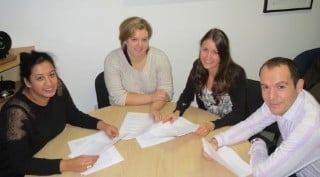 With all the great entries, the MSE judges (Archna, Helen S, Debs B and Martin, of course) had a tough time choosing winners. But after lengthy deliberation, discussions and some hard and fast defence of our favourites, we finally agreed on our top picks. And remember, cheesy as it sounds, any idea that comes from the heart is a winner.

Have your say in our forum!