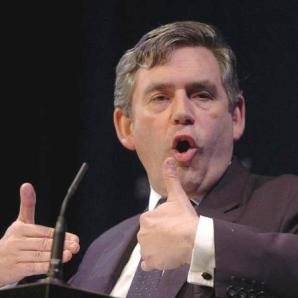 Want to know what Gordon Brown would do for your wallet if he is re-elected as Prime Minister?
With the General Election just over a week away, we asked the five major party leaders what they would do on the major MoneySaving issues you picked.
Of course, politicians are experts at avoiding questions, so make up your own mind on Labour leader Brown's (pictured, right) policies from his full answers below (with our questions in bold).
See the MSE leaders' debate guide for edited versions of the Conservatives', the Lib Dems', Plaid Cymru's and the SNP's responses.
Petrol Prices
MSE question: While the oil companies and retailers take a cut, 70% of the cost of petrol is made up of tax – so people are really paying the Government. Many consumers feel the price is crippling yet environmentally others argue it will be high.
Do you believe it should be lower – and, if so, will you cut the tax to make it happen?
Gordon Brown's answer: "The recent rises in imported oil prices have driven up petrol prices. That's why we decided in the Budget not to press ahead with the full planned rise in fuel duty and, instead, to stagger it over a longer period.
"What we have to do is balance the environmental effects and the impact on people's finances with the revenue raised. So we've made sure fuel duty has not risen as fast as inflation over the last decade."
Energy Bills
MSE question: Energy prices have dropped by seven percent this year, but wholesale prices have dropped much more. The average energy bill is now £1,150 a year for many people, making it the biggest regular bill after rent/mortgages.
What will you do to cut costs and/or the profits of the energy providers?
Gordon Brown's answer: "We will make the energy market more competitive and better for consumers by opening it up to new suppliers and increasing downward pressure on prices.
"We will legislate for a new statutory code of energy consumer rights so that everyone gets a clear and transparent bill, with information on every bill about the cheapest available tariffs. The code will also give the Ombudsman the power to force suppliers which break the rules to give compensation to consumers.

"We will use our new Energy Act to bring in more discounted tariffs for vulnerable customers, including around one million pensioner households who will have at least £100 off their annual energy bill.
"And the Post Office will help anyone to take advantage of cheaper direct debit tariffs with their new budgeting account.

"We will make the energy companies help fund insulation, so that all lofts and cavity walls are insulated by 2015. By 2020 every home will also have a smart meter to help control energy use and enable cheaper tariffs.
"For people living in rented housing we will regulate landlords so that accommodation is properly insulated. And we will legislate to bring in 'Pay As You Save' financing schemes so that you can pay for home energy improvements from the savings you generate on energy bills."
Savings (Losings) Accounts
MSE question: The cut in base rate has left many savings accounts paying pitiful rates, leaving many savers losing money in real terms due to inflation. Will you introduce any NEW practical measures to help savers, especially those that rely on interest to boost their income?
Gordon Brown's answer: "We have raised the annual limit for Isas to £10,200 and we are committed to raising the limit in line with inflation. We will also make it easier to switch ISAs by bringing in single, transferable account numbers.
"For pensioners, the amount of savings they can have and still get the Pension Credit will be increased from £6,000 to £10,000.

"Our new Savings Gateway account for people on lower incomes will be available to over eight million families from this July. This gives savers an extra 50p for each £1 they save, up to a limit of £300. To encourage savings among young adults, we will also offer a matched savings account for basic-rate taxpayers aged 18-30.

"We will protect – not cut – the Child Trust Fund – which is already giving 4.8 million children a free nest egg for the future. We will give an additional £100 a year to the Child Trust Funds of all disabled children."
Bank Charges Future and Past
MSE question: What will you do to stop unfair bank overdraft charges in the future? Plus do you support helping those who've been charged them in the past, including low income and vulnerable consumers, to get their money back? If you do support reclaiming what will you do to make it happen?
Gordon Brown's answer: "The regulator has said that bank charges have halved on average since 2007. But we think the banks must move further and faster to treat consumers more fairly. So we will legislate to impose fair charges if progress on this is not good enough.

"If re-elected we will bring back – as quickly as possible – our legislation to give consumers a right to take collective legal action against the banks. The Conservatives blocked this in the last week of Parliament in April.

"And we will make it easier for everyone to switch their accounts to take advantage of better deals. We'll do this by bringing in portable account numbers for everyone, which will be transferable like your mobile phone number, to take the hassle out of switching."
Existing Mortgage Holders
MSE question: The supply of mortgage deals for existing customers is limited for the millions with a loan-to-value (LTV) of 75% or above.
House prices have dipped in many areas pushing even some who once had decent equity into this bracket, leaving many people languishing on their standard variable rates or locked in to trackers at 3-4% over base.
If interest rates rise back to 5% levels this will leave many on 8-9% mortgages. What will you do now and in the future to ease this potential financial disaster?
Gordon Brown's answer: "We will do all we can to keep interest rates low. We have put special arrangements in place to keep mortgages flowing and we have introduced new support for first time buyers during the recession, as well as a wide range of extra help for anyone struggling to keep up with their payments."
First Time Buyers & House Prices
MSE question: Many first time buyers are finding it increasingly difficult to get on the ladder, not just due to the cost of mortgages, but the huge deposits needed.
What practical steps will you take to help them? Plus, is it wise to encourage people into the property market at the moment? And in five years would you like to see house prices higher or lower than they are now?
Gordon Brown's answer: "Our HomeBuy Direct is a really popular scheme which the Lib Dems would scale back – we will keep it. This has already helped 10,000 first time buyers.
"It provides equity loans to help people who can afford a mortgage but struggle to find the levels of deposit needed to buy their home."
Credit Cards
MSE question: Thousands of credit card customers across the UK are receiving letters hiking their interest rates by up to 10%. How will you prevent excessive interest rates rises and what other plans do you have to change the credit card industry?
Gordon Brown's answer: "We have imposed new rules on credit card companies to end the sharp practices which sting so many credit card holders. When we did this we took into account the views of MoneySavingExpert.

"For example, they must change how your repayments are allocated to your credit card debt so the most expensive part of the debt is paid off first. This will help put hundreds of millions of pounds a year back into your pockets and purses.

"We will also give you a statutory right to reject interest rate increases, so that you can keep paying off your old debt at the old rate.

"And we will ban companies from hiking up the interest rates they charge you - or increasing your credit limit without being asked - if you are struggling to make ends meet. We have already banned credit card cheques."

Council Tax and Water Rates
MSE question: The current council tax banding system has been in place since 1991 in England and Scotland. It's time for a fair update so that 400,000 homes are no longer in the wrong band. How will you address this?
Plus, many people still pay water rates based on a valuation of their homes done in 1989 yet they can't appeal it. Will you change that?
Gordon Brown's answer: "We want an all-party commission to come up with proposals on council funding, including on updating the Council Tax bands.
"We will also review the role of Ofwat, the water regulator, to ensure customers are getting a fair deal and their voice is heard when prices are being set."
Financial Education
MSE question: Financial education was due to become a compulsory part of the curriculum in September 2011 but was scuppered due to disagreements over sex education.
Will you commit to legislation to put compulsory financial education on the curriculum by September 2011 as planned?
Gordon Brown's answer: "This was a plan that Labour announced with Martin earlier this year, and we are 100% committed to bringing back the legislation to make financial education compulsory – legislation that the Conservatives blocked – as quickly as possible if we are re-elected."
Stamp Duty
MSE question: The way stamp duty works is ludicrous. When you cross a boundary you pay the tax on the entire cost, not just the marginal rate. It creates an unbalanced and unfair system. Are you brave enough to change it?
Gordon Brown's answer: "We have abolished stamp duty for first time buyers buying homes under £250,000 for two years. This will lift 90% of first-time buyers out of paying stamp duty."
Further reading/Key links
Cut fuel costs: Cheap Petrol and Diesel, Cheap Gas and Electricity
Top accounts: Best Bank Accounts, Top Savings Accounts
Reclaim cash: Council Tax Rebanding, Bank Charges Reclaiming
Housing tips: Cheap Mortgage Finding, Free House Price Valuations, Stamp Duty Calculator
Discuss this MSE news story: MSE leaders' debate: What will Gordon Brown do for your wallet?