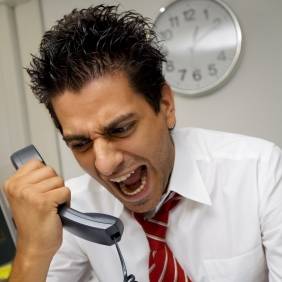 Complaints about financial firms to the independent Ombudsman Service were up by 18% during the second half of last year, after many banks and other providers wrongly rejected consumer gripes.
There were 82,136 new complaints during the second six months of last year, up from the 69,841 in the first half.
Lloyds TSB had the most complaints (9,952) during that period, closely followed by Barclays (9,836).
Taxpayer-backed trio Lloyds TSB, Northern Rock and Royal Bank of Scotland (RBS), as well as Alliance & Leicester, Barclays and HSBC led the banking hall of shame as the majority of complaints against those six firms to the Ombudsman were upheld in the consumer's favour.
They are not the worst offenders, however. All complaints against secured loan broker Ocean Finance and insurance provider Eisis were upheld (see the Financial Fight Back guide).
Anger over missold debt insurance dominates, as this issue represents all complaints about some firms, such as the duo above (see the PPI reclaiming guide for free template letters).
The Ombudsman supports irate customers in almost every insurance-related case against swathes of firms including Barclays, MBNA and Northern Rock.
How does your finance provider fare?
This is a breakdown of the big financial firms, with the number of new Ombudsman complaints, and the proportion it upheld (that were originally rejected).


Where's your provider in the complaints league table?

Financial institution

New complaints
(Jul - Dec 09)

Complaints upheld (%)

Alliance & Leicester

1,935

58%

American Express

84

59%

Barclays

9,836

65%

Black Horse

1,572

89%

Capital One

1,609

78%

Egg

1,060

82%

HSBC

3,048

57%

ING Direct

97

79%

Lloyds Bank

9,952

51%

Marks & Spencer

210

43%

MBNA

1,918

85%

NS&I

38

17%

Natwest

2,919

48%

Nationwide

1,349

31%

Northern Rock

394

65%

Ocean Finance

53

100%

Santander

2,983

47%

RBS

2,557

54%
To see full data, use the interactive tables on the Ombudsman website.
What counts as a complaint?

By definition, for a complaint to reach the Ombudsman, it has to have been turned down by the provider initially. Therefore, banks and other firms appear to be rejecting complaints where they know they are in the wrong, just to put people off.
Financial services firms typically uphold just 40% of complaints they receive initially.
However, the arbitrator now supports consumers in 53% of all cases as an average, though this is down from 57% during the first six months of 2009.
Providers' attitude to complainants has previously been described as "dismal" by the Ombudsman (see the Ombudsman slams banks MSE News story).
Interim chief ombudsman David Thomas says: "While the number of cases referred by consumers to the Ombudsman has continued to increase substantially, some businesses are committed to handling complaints better.
"The data we have released today clearly shows that some businesses still need to do more to ensure that they deal with their customers' complaints effectively and fairly."
Martin Lewis, MoneySavingExpert.com creator, says: "It's becoming a consistent tactic to put people off complaining by writing off-putting letters willy nilly regardless of the validity of the case.
"These companies need to be brought to account. Most people get put off as they trust the big banks when they say you do not have a case.
"It makes no sense unless the banks are deliberately trying to put people off."
How to complain
You can take your protest to the Ombudsman if you've had a firm rejection or if you've not had a satisfactory response within eight weeks from your financial provider (see the Financial Fight Back guide).
See the relevant MoneySavingExpert.com guides to get issue-specific complaints tips and free template letters (in the Bank Charges, Bank Charges Hardship, PPI Reclaiming, Credit Card Charges, Direct Debits, Setting Off