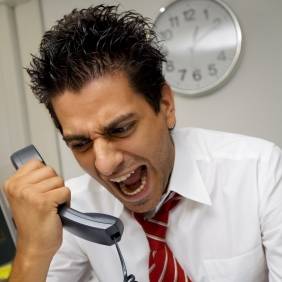 Orange and TalkTalk have been shamed as the most complained-about telecoms providers.
Figures from regulator Ofcom reveal Orange received the most complaints per 1,000 customers, at 0.5, about broadband services during the three months to the end of September.
It says a "significant spike" in complaints about Orange in September is likely to be due to the provider scrapping free broadband, a story first revealed by MoneySavingExpert.com.
TalkTalk received 0.39 complaints per 1,000 on landlines, while gripes about mobiles and TV services were much lower.
Here are Ofcom's complaint figures:
Landlines – TalkTalk worst
TalkTalk received 0.39 complaints per 1,000 customers.
BT, 0.21.
Virgin Media, 0.12.
Sky, 0.12.
Broadband – Orange worst
Orange received 0.5 complaints per 1,000 customers.
TalkTalk, 0.35.
BT, 0.34.
Virgin, 0.12.
Sky, 0.09.
Pay monthly mobile – T-Mobile worst
T-Mobile received 0.17 complaints per 1,000 customers.
Three, 0.16.
Orange, 0.16.
Vodafone, 0.14
Virgin, 0.10
O2, 0.05.
Pay TV – BT Vision worst
BT Vision received 0.23 complaints per 1,000 customers.
Virgin, 0.06.
Sky, 0.02.
How to complain
Ofcom receives about 300 complaints a day, although it doesn't resolve individual issues.
If a provider is unable to resolve a complaint within eight weeks, consumers can take their complaint to one of the two arbitration services, which are Ombudsman Services and the Communications and Internet Services Adjudication Scheme (CISAS).
Bad customer service
A poll we ran last month showed users rated TalkTalk and Orange as the major broadband providers with the worst customer service over the previous six months. Primus was worst on home phones, while Utility Warehouse fared best in both categories.
See Is your phone and broadband provider any good? for the full poll results.