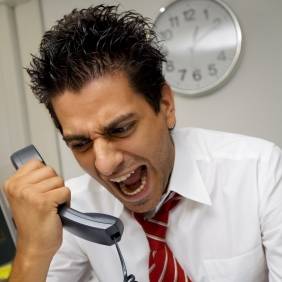 The shocking scale of consumer mistreatment is uncovered today as the lid is lifted on banks and other financial firms that brush off genuine complaints in the hope they will vanish.
Taxpayer-owned trio Lloyds TSB, Northern Rock and Royal Bank of Scotland (RBS), as well as Barclays, lead the banking hall of shame list.
Independent complaints body the Financial Ombudsman Services upheld the vast majority of complaints against the quartet during the first half of 2009 (see the Financial Fight Back guide).
Anger over missold debt insurance dominates, as this issue represents over 80% of complaints about some firms (see the PPI reclaiming guide for free template letters).
The Ombudsman supports irate customers in almost every insurance-related case against swathes of firms including Lloyds TSB, Egg, MBNA, Capital One, Northern Rock, RBS and Barclays.
The worst offender overall is Lloyds-owned Black Horse as 95% of complaints against the loan company were upheld in that period. Major credit card provider Capital One is another miscreant. The Ombudsman rules against it in almost all insurance and credit-related disputes.
By definition, for a complaint to reach the Ombudsman, it has to have been turned down by the provider initially. Therefore, banks and others are rejecting many complaints where they know they are in the wrong, just to put people off.
Financial services firms typically uphold just 40% of complaints they receive initially, as revealed last week by the Financial Services Authority (see the Banks' rejection spike MSE News story).
Yet the arbitrator now supports consumers in 59% of all cases. This figure jumps to 90% as an average of all PPI claims.
Providers' attitude to complainants has previously been described as "dismal" by the Ombudsman (see the Ombudsman slams banks MSE News story).
Complaints against all regulated firms (banks, lenders, insurers, investment firms and adviser firms) were compiled during the first six months of the year across all product areas (banking, bank charges, mortgages, credit cards, loans, insurance, pensions and investments).
Company totals

Complaints to the Financial Ombudsman by firm (Jan-June '09)
Govt owned?
Total complaints
Upheld
Insurance complaints (i)
Upheld
Black Horse
Part
1,009
95%
836
99%
Capital One
No
1,744
91%
330
98%
Egg
No
912
88%
481
99%
Lloyds TSB
Part
6,947
81%
3,466
98%
Northern Rock
100%
593
78%
430
98%
RBS
Majority
1,812
71%
1,013
94%
Barclays
No
8,283
71%
2,085
93%
Abbey
No
2,493
67%
236
60%
A&L
No
1,786
66%
544
74%
MBNA
No
2,298
63%
1,233
99%
Natwest
Majority
2,379
60%
582
89%
HSBC
No
2,177
60%
621
79%
HBOS
Part
5,804
52%
1,227
79%
Nationwide
No
1,149
41%
227
63%

Source: Financial Ombudsman Service, (i) Primarily relates to missold payment protection insurance (PPI).
Problem worsening
The percentage of complaints upheld by the Ombudsman has been steadily rising. In the 2008/09 financial year, consumers won in 57% of cases, compared to the current 59%.
Yet just 6% of consumers whose complaint is rejected by their financial provider take their case to the Ombudsman, despite them having a high chance of victory via that route (see the Banks' rejection spike MSE News story).
Broken down into product category, the Ombudsman upholds 61% of banking-related complaints, 41% of mortgage-related gripes, 70% of general insurance complaints and 42% of investment-related grievances.
Martin Lewis, MoneySavingExpert.com creator, speaking on GMTV this morning, said: "These statistics are outrageous, particularly the fact the Government-owned banks are wrongly rejecting people in large numbers.
"It's becoming a consistent tactic to put people off complaining by writing off-putting letters willy nilly regardless of the validity of the case. Why is this happening?
"These companies need to be brought to account. Most people get put off as they trust the big banks when they say you do not have a case.
"It makes no sense unless the banks are deliberately trying to put people off."
Also see the MSE Editorial comment on banks' complaints rejections.
Thousands of new complaints
During the first six months the year, the Ombudsman received 69,841 new complaints – of which 87% related to 142 financial businesses (out of more than 100,000 businesses it covers).
The number of new complaints about each of these individual businesses ranged from Preferred Mortgages with 31 to Barclays with 8,283.
Five banking groups: Lloyds TSB, the Barclays Group, Royal Bank of Scotland, Abbey and HSBC accounted for over half of all new complaints in this period. The Ombudsman stresses, though, that larger providers will naturally attracts more gripes because they have so many customers.
The good guys
While far from perfect, some firms performed much better than others. The Ombudsman only upheld 11% of complaints against Zurich Advice Network and 15% of gripes about Skipton Building Society.
Building societies generally perform much better than banks and loan and credit card firms. For instance, Nationwide lost 41% (out of 1,149) of disputes.
Chief Ombudsman Walter Merricks says: "We have already been providing comparative complaints data on a private basis to the larger financial businesses but this has led to no improvement in the standard of complaints handling by the worse-performing businesses.
"Putting this information into the open will give those worse-performing businesses vital encouragement to improve – which should mean fewer of their customers bring complaints to the Ombudsman that should already have been resolved."
British Bankers' Association executive director Eric Leenders says: "While it is inevitable that occasionally things go wrong, banks are not complacent and are continually working to improve service and efficiency.
"No-one wants to receive complaints but banks will always move speedily to solve any problems their customers have. These numbers published show that customers have no problems with their bank "
How to complain
You can take your protest to the Ombudsman if you've had a firm rejection or if you've not had a satisfactory response within eight weeks from your financial provider (see the Financial Fight Back guide).
See the relevant MoneySavingExpert.com guides to get issue-specific complaints tips and free template letters (in the Bank Charges, Bank Charges Hardship, PPI Reclaiming, Credit Card Charges, Direct Debits, Setting Off